Some UW-Madison students of color want the university to remove one of its most iconic landmarks, a statue of Abraham Lincoln, because of what they see as the former president's anti-Indigenous and anti-Black history despite Lincoln's legacy of ending slavery in the U.S.
Two student organizations, the Black Student Union and the Student Inclusion Coalition, pushed for the statue's removal in early June, days after George Floyd died in Minneapolis police custody and protests erupted nationally over racial injustice.
The students' efforts gained newfound attention after protesters tore down two other statues at the state Capitol earlier this week — one of Civil War abolitionist Hans Christian Heg and another of a female figure that represents the state's "Forward" motto.
The toppling of those statues divided the city, with activists arguing the action calls attention to inequities long ignored by white liberals and others denouncing the destruction of what they see as symbols having little to do with the Black Lives Matter movement.
The proposed removal of the Lincoln statue will likely fall along a similar fault line: Students of color say aspects of Lincoln's history disqualify him from being honored in the most prominent spot on UW-Madison's sprawling campus. Opponents, including UW-Madison Chancellor Rebecca Blank, question where the line can ever be drawn in recognizing the country's history if the "Great Emancipator" is among those to be booted.
Since 1909, the bronze statue depicting the 16th president has sat steadfastly atop Bascom Hill, looking down State Street toward the Capitol Dome. "Honest Abe" is baked into the Badger tradition: New students rub Lincoln's left shoe for good luck and his lap is often a last stop for seniors seeking a commencement photo.
But Lincoln's time in office includes several actions that the Black Student Union says warrants replacing the statue with someone "who stands for the justice of all people."
Lincoln ordered the largest mass execution in U.S. history, condemning 38 Dakota men to death by hanging in Minnesota in 1862. He signed the Homestead Act, which provided settlers with land taken away from Native Americans who were pushed onto reservations. During a debate speech, he argued that there is a physical difference between black and white races and that he favored the "superior" position assigned to the white race, according to a Chicago Tribune report. Lincoln also signed the Morrill Act, which established the nation's land grant universities, including UW-Madison, by seizing land from Native Americans.
"For him to be at the top of Bascom as a powerful placement on our campus, it's a single-handed symbol of white supremacy," Black Student Union president Nalah McWhorter said in an interview with the Wisconsin State Journal.
Past efforts
Student-led efforts calling for Lincoln's removal have unsuccessfully cropped up throughout the years.
In 2015, a different student group called "About Race UW" created a list of demands, including the removal of Lincoln from Bascom Hill. But the Badger Herald reported the idea was abandoned after being seen as "too extreme" within the Black community.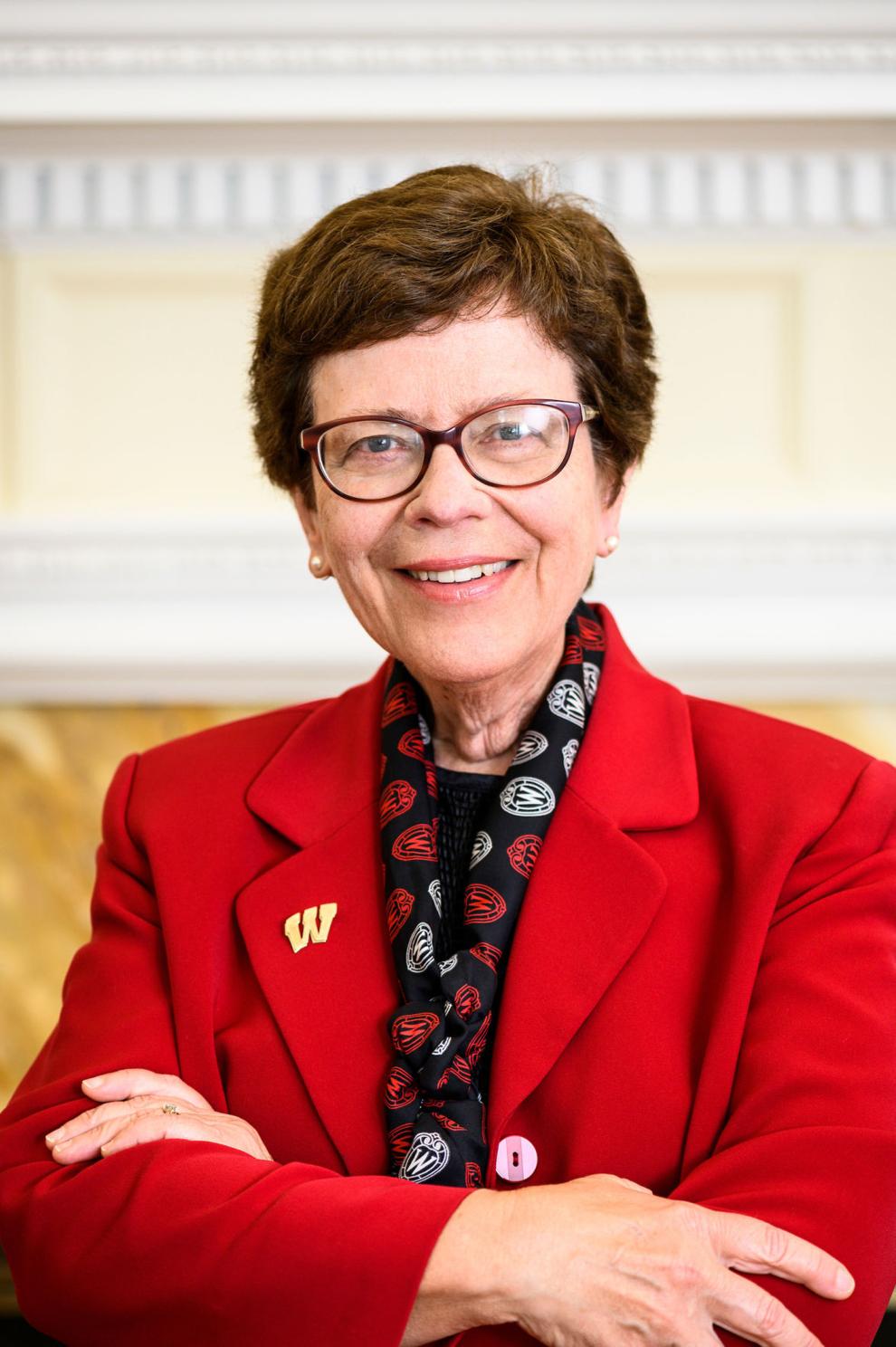 More recently, the university's student government called in 2017 for the addition of a plaque recognizing Lincoln's role in the deaths of the 38 Native Americans. The Daily Cardinal reported that Blank declined, saying Lincoln's role in the matter was "restrained" and he had refused a territorial governor's proposal to sentence 350 others to death.
In the years since, Blank has not changed her position on keeping Lincoln just outside her office in Bascom Hall.
"Like those of all presidents, Lincoln's legacy is complex and contains actions which, 150 years later, appear flawed," she said in a statement. "However, when the totality of his tenure is considered, Lincoln is widely acknowledged as one of our greatest presidents, having issued the Emancipation Proclamation, persuaded Congress to adopt the 13th Amendment ending slavery and preserved the Union during the Civil War ... I believe that Abraham Lincoln's legacy should not be erased but examined, that it should be both celebrated and critiqued."
Complex legacy
University of Connecticut professor and Civil War historian Manisha Sinha said she would be "horrified" if UW-Madison took Lincoln's statue down because of his long list of redeeming qualities. She characterized the recent push to expand statue removal beyond Confederate generals and other obvious symbols of slavery to include widely celebrated individuals with complicated pasts, such as slave-owning presidents, as "misplaced."
"History is complex and nuanced and a lot of the figures we revere, like (George) Washington or Lincoln, are not perfect in all things," she said. "We should be able to tell that complex story instead of saying, 'This guy was all bad and we should get rid of him.' You could destroy our entire history because it's based entirely on dispossession of Native Americans."
Taking down a statue of Lincoln won't erase the pain minority groups were subjected to then and continue to experience today, she said. A better strategy is to acknowledge and contextualize this history, as well as finding ways to make amends, such as funneling more money toward scholarships for students of color.
That's an approach UW-Madison has been pursuing in recent years to make campus more diverse and welcoming to students who have historically felt ignored.
The university installed a plaque on Bascom Hill last summer acknowledging that the campus was built on Ho-Chunk land and hired its first tribal relations director in the fall. The Wisconsin Union renamed two of its spaces previously named after prominent alumni who, while students in the 1920s, belonged to a campus group called "Ku Klux Klan." And a multi-year public history project is underway to collect stories of individuals who experienced and overcame prejudice on campus.
"Everyone agrees that there is much more to do," Blank said, adding that some new commitments will be announced in early July.
UW-Madison students of color said recent efforts are appreciated but do little to overcome the daily isolation of living on a campus where 2% of the student body is Black and less than 1% of students are Native American.
McWhorter, a junior studying marketing and management, said she understands the university is overwhelmed with challenges right now amid the pandemic and associated economic fallout.
"But I do wish to see more action to show that Black students do really matter here," she said. "It's a lot of talk about how they support us, but I just want to see more done."
State Journal reporter Tamia Fowlkes contributed to this report.
---
Photos: See damage from Tuesday night protests near the state Capitol
"For him to be at the top of Bascom as a powerful placement on our campus, it's a single-handed symbol of white supremacy." Nalah McWhorter, president of the Black Student Union
"For him to be at the top of Bascom as a powerful placement on our campus, it's a single-handed symbol of white supremacy."

Nalah McWhorter, president of the Black Student Union