There's a bulletin board on one of the floors in Elizabeth Waters Residence Hall that UW-Madison freshman Ethan Heckler passes daily.
"What are you most thankful for?" read the die-cut letters.
Surrounding the question are leaves stapled to the board for students to scribble their responses, but Heckler never has. He lives a couple of floors below in a basement-level dorm room, so he feels it's not his place.
But he thinks about that question, or rather, the answer to that question, almost every day.
Heckler, 19, would write three words on his leaf: Bucky's Tuition Promise.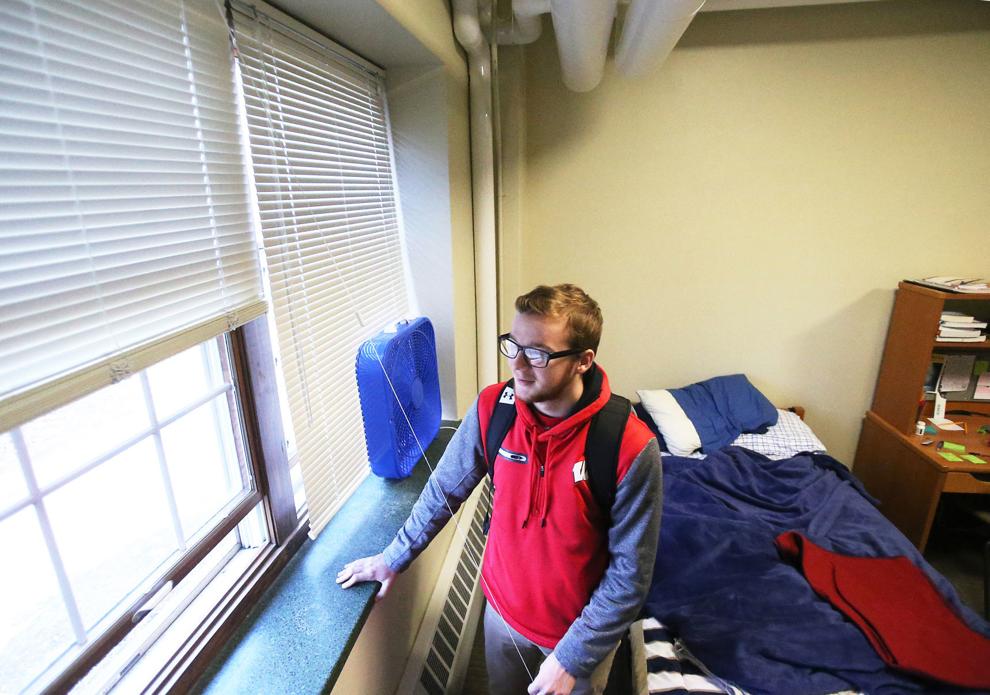 Bucky's Tuition Promise pledges to cover four years of tuition and fees — a total of $10,555 per year — for all incoming in-state freshmen whose families' adjusted gross income is at or below $56,000, roughly the state's median family income. Transfer students from Wisconsin meeting the same criteria will receive two years of tuition and fees.
The scholarship is a "last-dollar" award, meaning it covers whatever isn't covered by other aid a student receives. For example, a student who receives the maximum Pell grant award, about $6,000, and a $1,000 scholarship from the local Rotary Club would still face an outstanding tuition bill of about $3,500. That's when Bucky's Tuition Promise kicks in to cover the balance.
UW-Madison Chancellor Rebecca Blank announced in February that money for the scholarships comes from private gifts and institutional resources, not taxpayer dollars.
Bucky's Tuition Promise simplifies the financial aid process for students. Fill out the Free Application for Federal Student Aid (FAFSA) and wait. The UW-Madison's Office of Student Financial Aid notifies eligible students.
Last winter, more than 850 letters went out to the inaugural class of scholarship recipients.
One of those was sent to a home in De Soto, a small village south of La Crosse along the Mississippi River — Heckler's house.
Accepted
Like almost every other high school senior in the college search process, Heckler can remember exactly where he was when the email came in.
It was late last fall at his mom's house in De Soto. Heckler was playing video games in his room when he took a break, checked his phone and there it was: the acceptance letter from UW-Madison.
Heckler remembers less clearly the moment when he learned he qualified for Bucky's Tuition Promise.
He knows he was in the living room with his mom, Monica McQuade, one night. McQuade raised Heckler and his two siblings by herself following a divorce when Ethan was young.
Money was tight growing up, Heckler said. He wore hand-me-down clothes. The family cooked cheap meals — pasta, PB&J, hot dogs and baloney sandwiches — to reduce the weekly grocery bill. There was the year his sister got sick and medical bills piled up. One Christmas, the present was a shared air-hockey table. Heckler and his siblings played with it until it broke.
Getting the note about Bucky's Tuition Promise was exciting. Like the night when Heckler got his acceptance letter, he remembers his mom cheered. What Heckler remembers most is what they felt on that day: relief.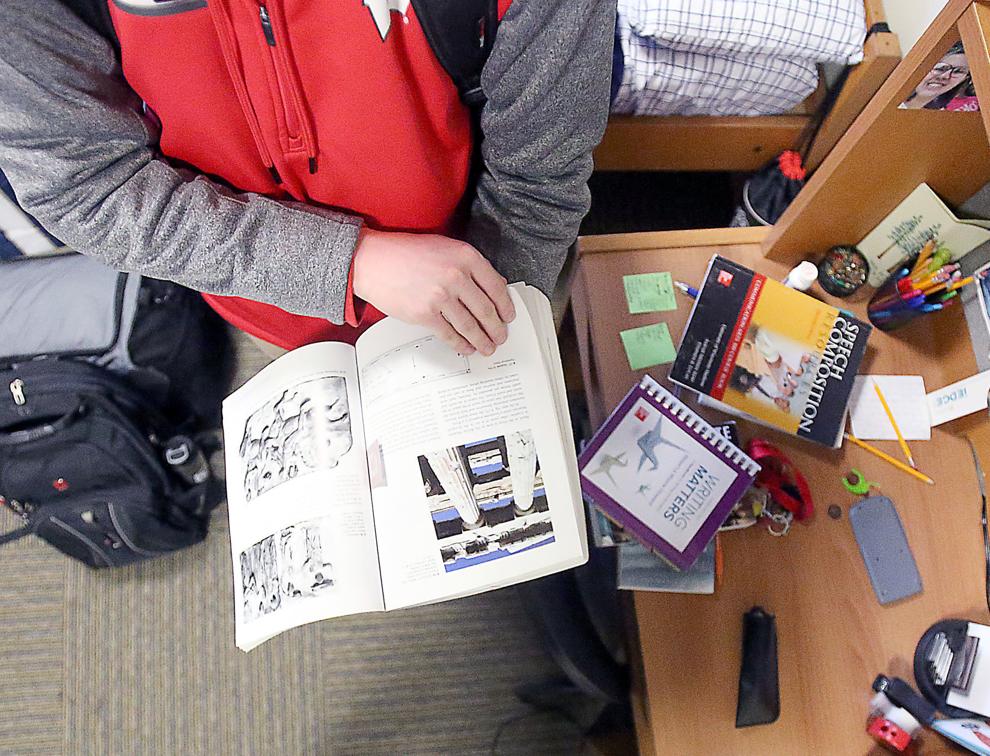 'A reality check'
Heckler's first semester has been a lot like that of the other 6,861 students in the Class of 2022.
He tacks high school mementos onto the back and sides of his dorm room desk. He tucks his shower shoes underneath his single bed. He wears red Wisconsin hoodies and hats on his walks to class.
Heckler joined the Navigators, a Christian-based organization where he made friends he will live with in an off-campus apartment next year.
There are moments still, however fleeting, when he recognizes he is different.
Like when he overhears a student complain he or she can't get the latest version of the iPhone.
Or when he sees expensive futons in other students' dorm rooms.
Heckler said those instances have been "a reality check." Many others in his high school graduating class of about 30 students came from circumstances like his.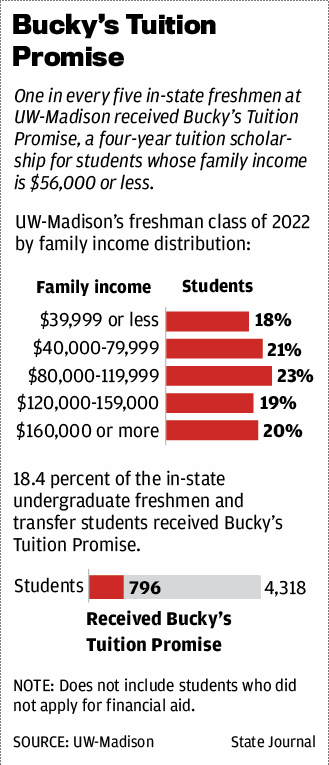 Among the 13 UW institutions, federal education data show UW-Madison has the smallest share of undergraduates receiving a Pell grant, the proxy higher education experts use as an assessment of how many low-income students a university serves.
"I'm not sending my kids to a campus that I paid tuition to and now other families get to go free while I have to pay," one alumna wrote.
"Ok...but what about previous students who fit this category and are now stuck with $20,000+ in student loan debt???" another commenter asked.
Still working
Heckler has done the math.
Even with his tuition covered through Bucky's Tuition Promise, he still has to come up with about $11,200 for housing and his meal plan this academic year. Books this semester cost $350.
For the past two summers, he worked at an ice cream shop back home where he wiped tables, scooped ice cream, stocked shelves and handled the cash register each week for $7.25 an hour plus tips.
Heckler landed an on-campus job before he even got to campus. He started working before classes began.
He works Friday afternoons and the 7:30 a.m. to 4 p.m. shift on Saturdays and Sundays at Witte Residence Hall. He empties the trash on all 11 floors, mops the stairwells, wipes down sinks and cleans the toilets.
"I don't think others understand how hard it is being in a low-income family," Heckler said. "It's like a whole other world."
Heckler looks to his older half-brother, Jesse Douglas, to see what his life might have been without the scholarship.
Jesse attended UW-Milwaukee, but the family didn't apply for as much financial aid as he would have qualified for, Heckler says. The process was confusing and overwhelming.
Jesse dropped out after about a year because of financial pressures. He's back home, "working like crazy" at the local YMCA, Heckler said, to pay off his debt and save up so he can eventually go back to school.
Heckler knows he will also face loans. He plans to attend law school after getting his bachelor's degree.
For now, he's focused on his first semester. His first set of final exams. The first snowball fight on Bascom Hill.
And the Thanksgiving holiday presented Heckler with another first, one he was really excited after months of working weekends.