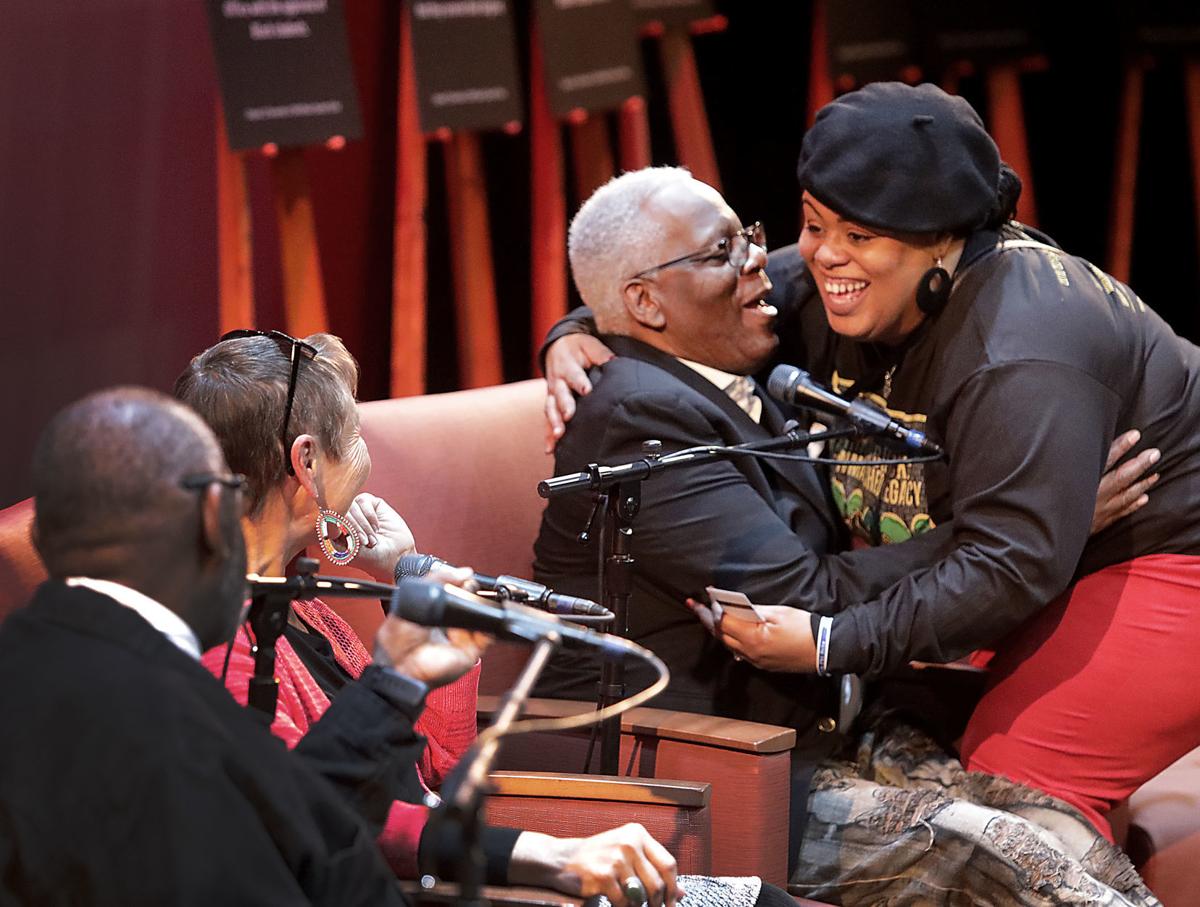 Both students came to Madison with the assumption that the city was diverse and progressive but were taken aback by its whiteness. Both had difficulty finding a barber familiar with cutting black hair. And both felt judged by their white peers at UW-Madison.
One of those students, Harvey Clay, joined other black students in a 1969 movement that would rank among the largest strikes in university history.
The other, UW-Madison sophomore Chelsea Hylton, 20, interviewed Clay as part of a university project commemorating the 50th anniversary of the Black Student Strike.
Hylton, who is black and Hispanic, was struck by how many similarities she found in Clay's campus experience and her own.
"I just saw so many parallels now with what Mr. Harvey was saying then," Hylton said. "It really made me question, 'Is progress really being made?'"
Hylton, who is studying journalism and Spanish, emphasizes that their stories aren't the same.
Driven by discrimination at an overwhelmingly white institution, Clay and other students turned to what they saw as their last resort.
"We met, we talked, we tried to come up with ways to get things changed," said Harvey Clay, 69, who participated in the strike when he was a sophomore at the university. "There was no response from the university, so it accelerated."
Joined and supported by white allies, students seized buildings, held rallies, boycotted classes, blocked building entrances, shut down State Street at times and marched to the state Capitol. They burned an "effigy" of the administration in the lap of the Abraham Lincoln statue on Bascom Hill.
The estimated security cost for the two-week period was about $2.5 million in today's dollars. The governor activated the Wisconsin National Guard, who carried rifles and fixed bayonets. Police released tear gas. An officer clubbed Clay with a riot stick on Bascom Hill, leaving a scar that is still visible.
Hylton acknowledges the blatant racism and turmoil in 1969 are gone. But the subtle slights Clay faced are ones she says still pervade UW-Madison's campus in 2019.
"We have to work twice as hard to validate why we're here on campus," she said of black students at UW-Madison. "We're asked what scholarship we're on or what sport to play. We're being followed at the grocery store. White people at parties using the N-word and thinking it's OK. That's the fight I'm talking about. It's honestly just disappointing that 50 years later the exact same fight is still being fought today."
3 percent
What drains black UW-Madison students the most isn't the national political climate or when a flashpoint issue crops up on campus, but the everyday isolation at a university where a small percentage of students look like themselves.
It's sitting surrounded by only white people in a lecture hall of 300 students. It's being called on during discussions about race and treated as the spokesperson for all black people. It's taking course after course where professors are white. It's justifying their right to belong at the state's flagship university.
These faint daily reminders wear on a person and research shows a link between academic performance and a student's sense of belonging at school.
A 2018 survey by UW-Madison's University Health Services found black students consider leaving UW-Madison at three times the rate of white students. Students of color cited the university's racial climate as the No. 1 reason driving them to leave.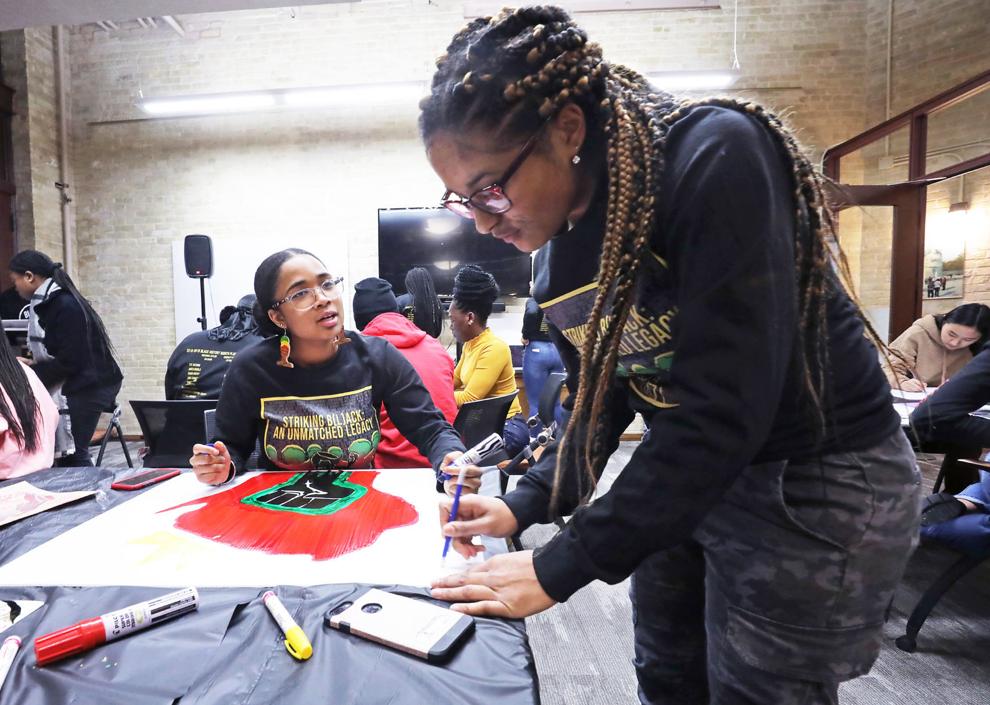 In fall 2018, 1,443 students identified as black, either solely or in addition to other identities. That's about 3 percent of the university's total enrollment. About 8.4 percent of Wisconsin's population ages 20 to 24 is black.
In fall 2017, UW-Madison employed 53 black faculty members, with an additional 23 identified as belonging to two or more races, as part of a total 2,133 faculty. In 2000, UW-Madison employed 48 black faculty members, according to University of Wisconsin System data.
UW-Madison launched a faculty hiring program last fall aimed at recruiting more faculty of color, Chancellor Rebecca Blank said at this month's UW System Board of Regents meeting. The program has led to a handful of new hires with 30 more recruitments in the works.
Patrick Sims, who became chief diversity officer in 2015, a position he also served in on an interim basis since 2013, and his office spent a year developing the university's diversity statement, seeking feedback from all campus stakeholders so the 86 words had institutional buy-in, instead of being handed down from administration.
Black students say UW officials must do more than deliver the diversity statement when racist events occur. Some say the university is far more interested in protecting the institution's image than addressing long-festering problems with its culture.
He compares campus climate to the stock market. Day-to-day events and interactions may dramatically fluctuate but long-term growth is key.
"Some days you have some really boom days and some days you just bomb," he said. "But generally speaking the trend (at UW-Madison) is heading in the right direction. … We've made progress, but the reality is there's more to do."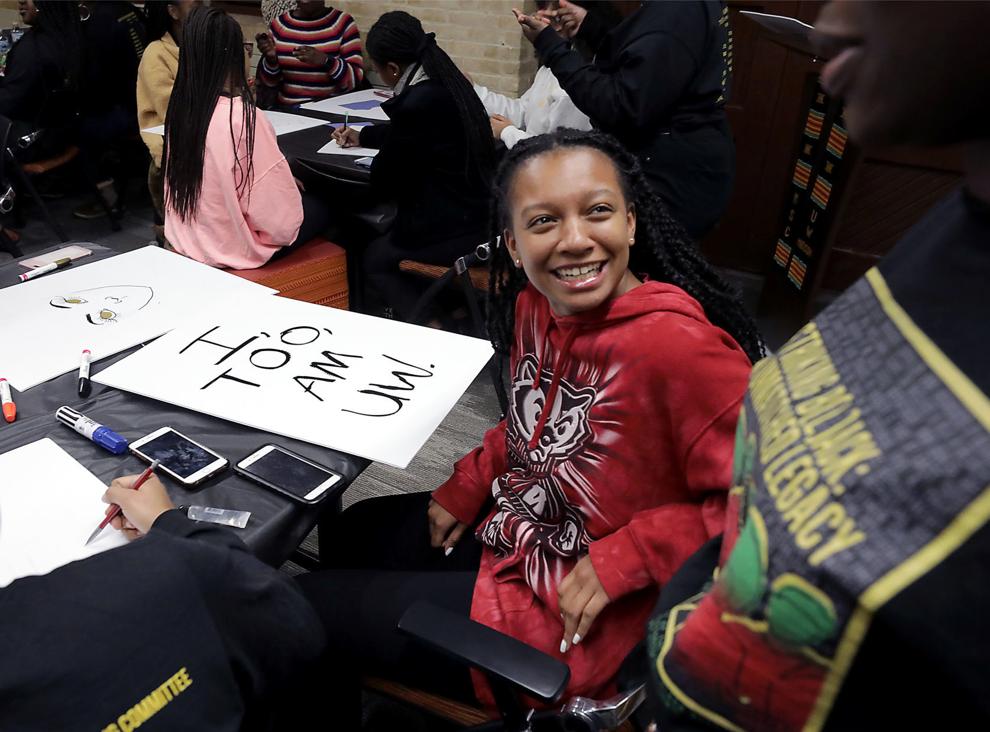 Common threads
Black students share stories with each other about their experiences. How white students and community members see them at night and cross the street or, worse, hurl racial epithets at them. How others assume they got in simply because of their race. How black upperclassmen warn incoming black students that Langdon Street, lined by fraternity and sorority houses, is no place for people of color.
The stories were relevant in 1969 and part of what propelled the strike.
The stories applied to 1987 and 1988 when a UW-Madison fraternity displayed a caricature of a black man on the house lawn before a Fiji Island-themed party and the pledges of another fraternity performed skits in blackface and Afro wigs in a mock "slave auction."
Campus officials were "dismayed and frustrated." They suspended the fraternities amid a university campaign to heighten racial awareness and increase recruitment of minority students.
The stories remained relevant in 2015 and 2016 and 2017 when a fraternity was suspended after members repeatedly used racist, homophobic and anti-Semitic slurs and then ostracized a black member who told them to stop. There was outcry over a student admitted to the university, despite a criminal conviction in a racially motivated arson spree. And a costume depicting Barack Obama with a noose around his neck appeared at a Camp Randall football game just days before the 2016 election.
A protest group called for more university action. Protesters taped demands to the Abe Lincoln statue in the heart of campus and asked administrators to comply within 48 hours or "further action will be taken."
Chancellor Rebecca Blank said the incidents "do not reflect our shared community values." The university hired more mental health counselors and rolled out a cultural competency program.
Students who arrived in the thick of the most recent period of racial turmoil say they are tired.
Junior Vershawn Hansen spent his freshman year, the 2016-17 year, educating others on their racism, an approach he has since abandoned.
"I don't put the burden on myself to make the ignorant person aware," he said. "Instead of fighting every battle, I pick and choose which ones are worth fighting. It gets so repetitive. It's tiresome. It's draining."
He's careful when called on in class.
"I don't want to come across as the angry black person," he said.
Kayla Cotton, a sophomore studying neurobiology and psychology, says she was the only black girl in her residence hall last academic year. Cole Hall can house about 240 students.
Cotton's floor had a group Snapchat that was changed one night to "Cole Klux Klan."
Cotton considered transferring out of Cole, but stuck it out. She, like many of the black students interviewed for this story, emphasized that she is proud to be a Badger and she has found a supportive group of friends.
But does she feel like she belongs on this campus?
"Sometimes, yes," she said. "And sometimes, no."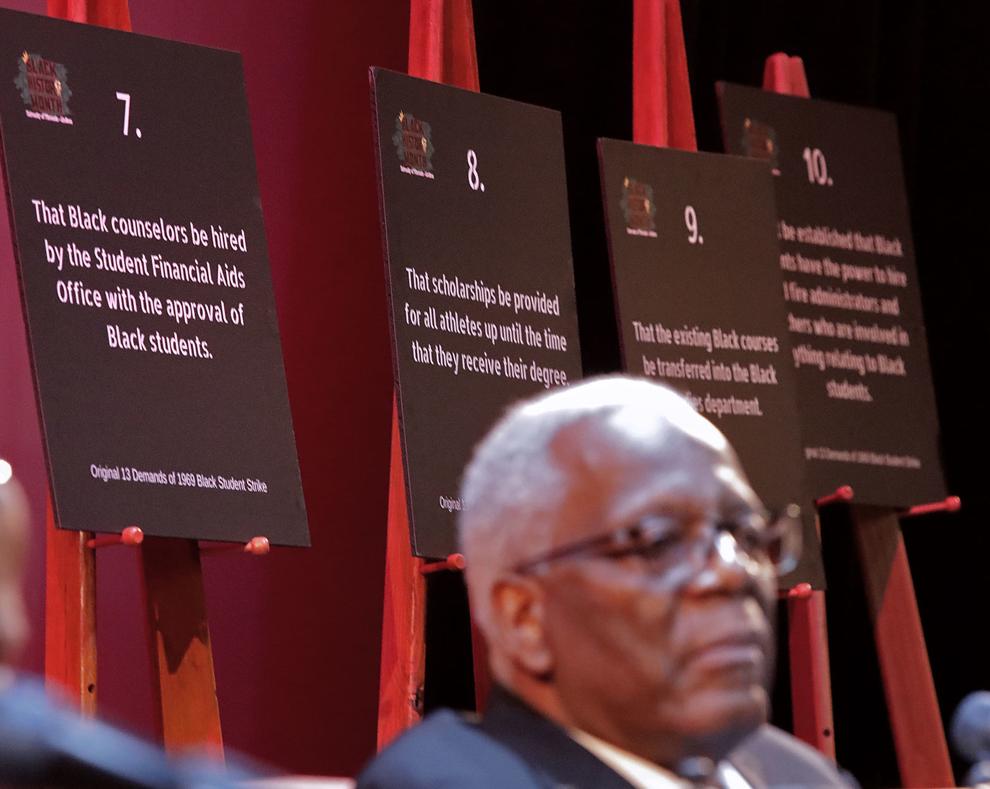 13 demands
After years of failed negotiations with university administrators for more protections, black students in 1969 sent a list of 13 "non-negotiable" demands for the university to meet.
"I didn't come to Wisconsin to go on strike," said John Felder, one of the strike's leaders. "I came to get a degree. It was only after we felt we were at an impasse that we decided to strike."
The No. 1 demand from students was the establishment of a Black studies department, headed by a black faculty member, where students could learn African-American history. Just a few weeks after the protest, the university's Faculty Senate approved an Afro-American Studies department.
The current chair of the department, Christina Greene, is white. She said through university spokeswoman Meredith McGlone that she did not seek out the position and was elected unanimously for it by a faculty that is majority black. The department has been led by black people in the past and the chairperson lacks sweeping authority because of strong shared governance principles.
Students in 1969 also asked for a black co-director to run the university's financial aid office.
The university would not identify the race of Derek Kindle, current director of the Office of Student Financial Aid, citing employee confidentiality.
Two other demands were drafted after 94 black UW-Oshkosh students were expelled for protesting. Students requested immediate enrollment for any of those students who wanted to attend UW–Madison. Faculty decided in a 524-518 vote not to admit those students.
Students in 1969 also requested that anyone participating in boycotts face no reprisal for their actions.
Some students were arrested and left the university shortly after the 1969 strike. Others, such as student leader Wahid Rashad, left voluntarily because of safety concerns related to their activism.
"I just felt everywhere I went, there was too much attention drawn to me," he said.
Black students also demanded in 1969 that the Black Cultural Center be in the hands of black students.
The center was badly damaged in February 1969 from suspected arson and eventually shuttered in 1973. A multicultural center serving several ethnic groups, including blacks, opened in 1988.
It wasn't until 2017 when the university re-established a dedicated Black Cultural Center, the walls of which include photos from students, including Felder, who participated in the strike.
Students in 1969 demanded that at least 500 black freshmen be admitted the following fall.
The earliest reporting of student's race in official university records came five years later. Records show 2 percent of the entire university, or 825 students, identified as black.
The Wisconsin Black Student Union will march Monday at 5 p.m. to commemorate the anniversary of the strike, carrying posters with their new demands and, in some cases, simply renewing what students of 1969 requested but never received.
At the group's first meeting of the spring 2019 semester, president Kingsley Pissang encouraged fellow group members to brave the cold and participate in the march.
"Somebody had to fight for us just to get to where we are now," she told the group.
This story has been updated to correct when the position of UW-Madison's chief diversity officer was created. Patrick Sims is the second person to hold the position.