UW-Madison's student government may soon launch a campaign against the university's use of a little-known ingredient, beef gelatin, in its beloved Babcock ice cream.
The sweet treat bucks the university's commitment to inclusivity by relying on an ingredient that effectively discriminates against certain faiths and lifestyles, said Yogev Ben-Yitschak, vice chairman of the Associated Students of Madison.
That's because the presence of beef gelatin prevents observant Buddhists, Hindus and Jews, as well as vegetarians, from enjoying the ice cream without violating their beliefs' dietary restrictions, according to the resolution.
Scott Rankin, who chairs the university's Department of Food Science and oversees the Babcock Hall Dairy Plant and Store, said Babcock, unlike most other ice cream producers, uses meat gelatin as a stabilizing agent, giving the ice cream a thicker texture and making it less prone to ice crystallization.
Ben-Yitschak, who is Jewish, co-authored the "Ice Cream for All" resolution, which does not specifically call for the elimination of ice cream that includes beef gelatin.
Instead, it calls on ASM to acknowledge "the marginalization of having the official campus Ice Cream not be inclusive to religious students"; urges student representatives on the Dining Hall Advisory Committee and on the Union Council to discuss the issue; asks members to work with Babcock Dairy officials to "help ensure that all badgers feel welcome"; and, in a show of solidarity with religious students, condemns university-sponsored events that include Babcock ice cream "until the matter is solved and finalized."
Babcock ice cream appears on several "bucket lists" of UW-Madison experiences, yet most students are unaware that beef gelatin is part of its recipe, Ben-Yitschak said.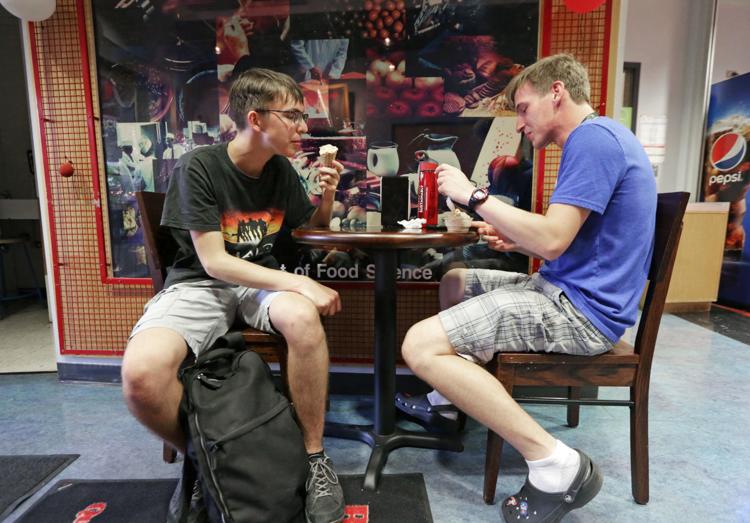 "I have a vegetarian friend who's been eating Babcock ice cream for years with no idea," he said. "And it's always a surprise in the Jewish community when I tell them it's not Kosher."
All packaged ice creams sold at retailers include lists of ingredients.
Ben-Yitschak, who is a junior studying marketing, said he would like more prominent signs displayed in the store and in campus buildings that sell the ice cream — such as Memorial Union and Gordon Commons — to alert students to the use of gelatin.
You have free articles remaining.
Register for more free articles
Stay logged in to skip the surveys
He would also like to see more "super premium" flavors, which use plant-based stabilizers instead of meat gelatin.
"We've really tried to have a pretty good profile of frozen desserts available," Rankin said.
RB Jacobson, a doctoral student in material sciences, has been a frequent visitor to the Babcock Hall Dairy Store going on 11 years. He said he is happy with the current recipe but would be open to slight changes. "As long as it tastes as good, I don't care," he said while enjoying a scoop of chocolate outside the store on a hot and humid Monday afternoon.
A "taste evaluation" by upper-level university officials more than a decade ago, however, confirmed that there is a noticeable difference between ice cream with gelatin and ice cream without it.
Rankin recalled the assignment to produce Babcock ice cream without gelatin took place about 15 years ago. He and his team contacted ice cream companies that don't use the ingredient, even bringing some of them out to the plant, for feedback.
Officials came to a consensus after sampling the result: "It was evident that if we were to omit gelatin, it wouldn't be Babcock ice cream," he said.
The taste test did lead to the introduction of the super-premium flavors, which Rankin said account for 10 to 15 percent of total sales.
"Like any business would, we make decisions on what product is selling and moving," he said.
ASM will consider the resolution at its Oct. 3 meeting, student leaders said. The vote was originally scheduled for Wednesday but pushed back because the date falls on Yom Kippur, a Jewish holiday.