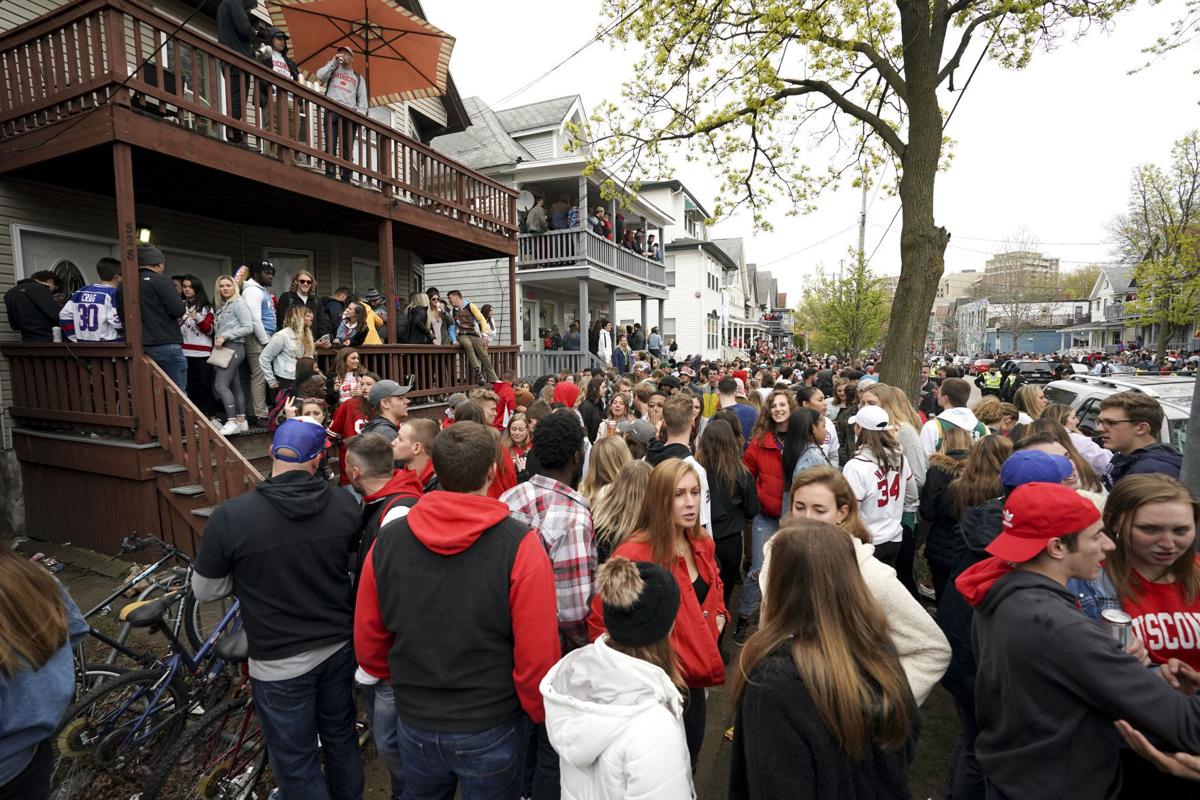 Messages sent to UW-Madison students last fall, like "Follow public health guidelines or risk suspension," laid out the high stakes for students weighing whether to break COVID-19 rules.
Disciplinary data show UW-Madison went to that extreme just once, suspending a single student last fall. The university sanctioned nearly 1,400 others for COVID-related public health violations so far this school year.
As the Mifflin Street Block Party slated for Saturday nears, Madison police are reminding students of rules requiring physical distancing at outdoor events and warning of potential fines. UW-Madison officials said the university will assist police in holding students accountable for any public health violations.
Colleges have long struggled to crack down on perennial off-campus problems, such as underage drinking and sexual assault, according to Michigan State University professor Kristen Renn, who studies college student behavior and conduct issues.
This year's unprecedented circumstances complicated matters even more, forcing universities to find a balance between education and enforcement: Take too tough of a stance and the university risks being seen as shaming or blaming students. Act softer and a school can put the campus and surrounding community at risk.
"There's been a shift in what conduct officers have to do," she said. "This is grueling and not the job they ever thought they'd be doing."
The volume of the workload has often been much higher this year, Renn said. That's in part because it's easy to tell when someone is breaking the rules, at least when parties take place outside.
Range of discipline
At UW-Madison, two-thirds of the 3,700 conduct investigations related to COVID-19 came in the fall semester, according to data provided at the Wisconsin State Journal's request.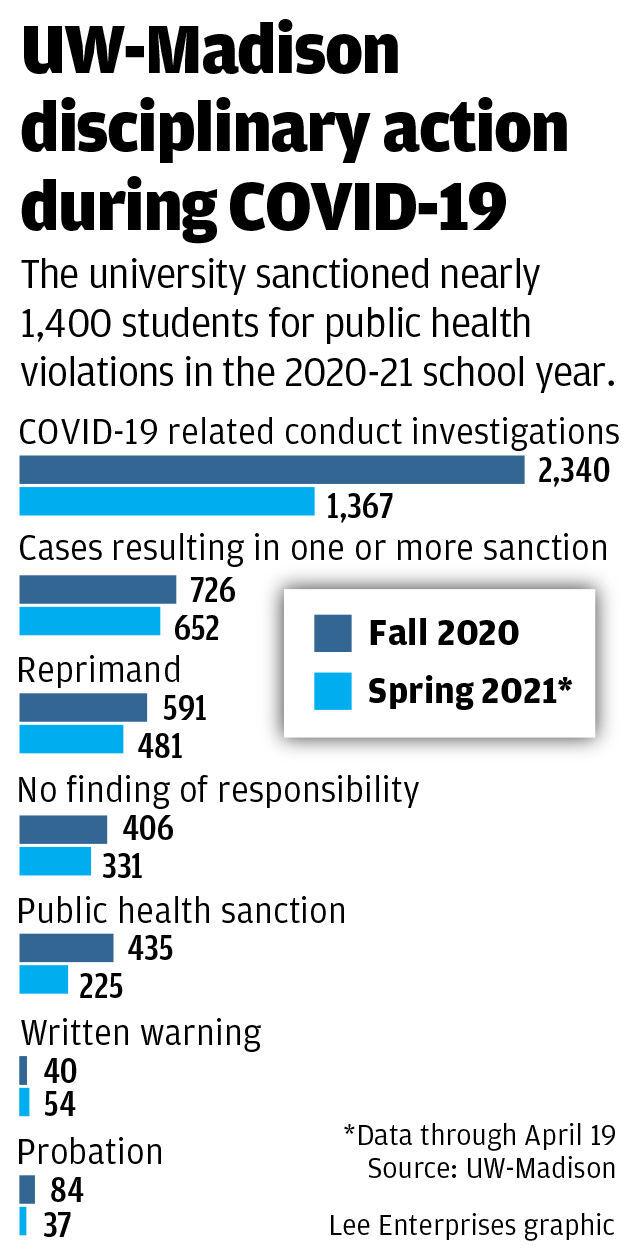 The most common resulting punishment was a reprimand, which is usually paired with what's called a public health sanction that includes an educational requirement, like reading an article about COVID-19 and writing a response essay. More than 1,000 students this year received a reprimand.
About 120 students were put on probation, meaning they remain enrolled but may face additional restrictions, such as being unable to participate in study abroad programs or potentially jeopardizing their chances when applying for admission to a school or college. Probation lasts between three months and two years.
University Housing revoked the dorm contracts of several students last fall. Each of those cases, however, was overturned after students appealed. This semester, two students had their housing contracts revoked.
Three dozen students were referred for emergency suspension, all but two of which happened last fall.
Under state law, an emergency suspension can't last more than 30 days unless the student agrees to it. Such cases typically last "a few days," university spokesperson Meredith McGlone said, until the student contacts the university's student conduct office and the student goes through a subsequent proceeding.
Just one of the 36 cases led to a full suspension, according to UW-Madison data. There were no expulsions.
Discipline can also come from the Madison city attorney's office, which prosecuted 43 individuals from last September through mid-April for violating a public health order. The State Journal confirmed 31 of them were listed in UW-Madison's student directory and had campus-area addresses.
Mifflin looms
The Mifflin Street Block Party normally brings thousands of UW-Madison students to the 400 and 500 blocks of West Mifflin Street on the Saturday two weekends before commencement.
Madison police usually take a fairly tolerant view of the annual event but last spring discouraged students from attending because of the county's COVID-19 stay-at-home order. No arrests were attributed to last year's event, according to the Police Department.
A new order by the city-county health department this month allows for outside events as long as individuals are spaced at least 6 feet apart. Indoor gatherings can include up to 150 people, with the caveat being each person must be spaced apart and wearing a mask.
Violating the public health order comes with a minimum $376 ticket. Other tickets, such as for underage drinking or supplying alcohol to those under 21 years old, may also apply.
The message from UW-Madison officials ahead of Mifflin is simple: With COVID-19 positivity rates at less than 1% for weeks, what students are doing is working. But it's too early to abandon those practices.
UW-Madison junior Aerin Leigh Lammers, who lives on Mifflin Street, has seen large parties thrown throughout the year without intervention. She credits the success of the spring semester to UW-Madison requiring off-campus students to get tested twice weekly.
Lammers, who was part of a student group that advised administrators on enforcement and compliance measures this spring, remembers the widespread outrage after the new testing program launched because the university started sending warnings about potential discipline to noncompliant students. But she has heard few complaints about the requirements in the past two months.
Lammers and her housemates are planning a small indoor get-together on Saturday with fewer than 10 people.
Just outside, she predicts, there will be underclassmen roaming the street "to get a real taste of the college experience, which I don't fault them for, but COVID is still a thing."
---
---
Photos: Scenes from 50th Mifflin Street Block Party in 2019
Mifflin Street Block Party 50th anniversary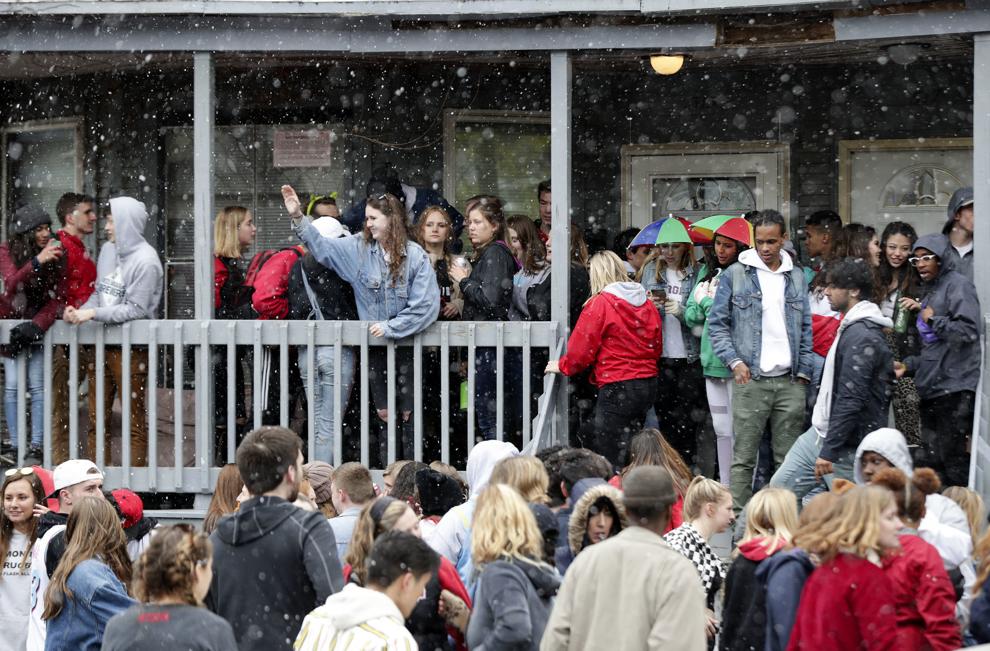 Mifflin Street Block Party 50th anniversary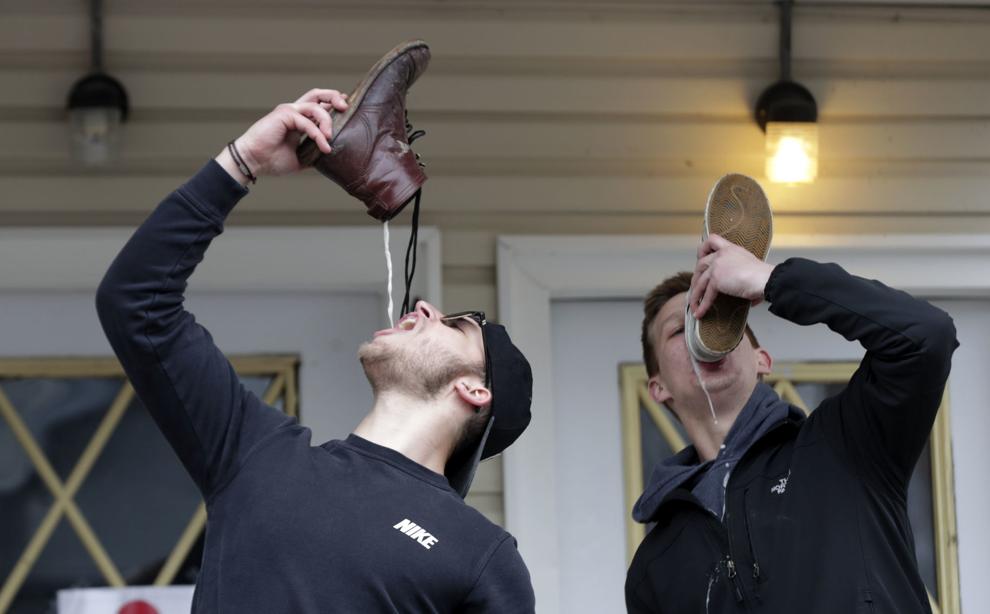 Mifflin Street Block Party 50th anniversary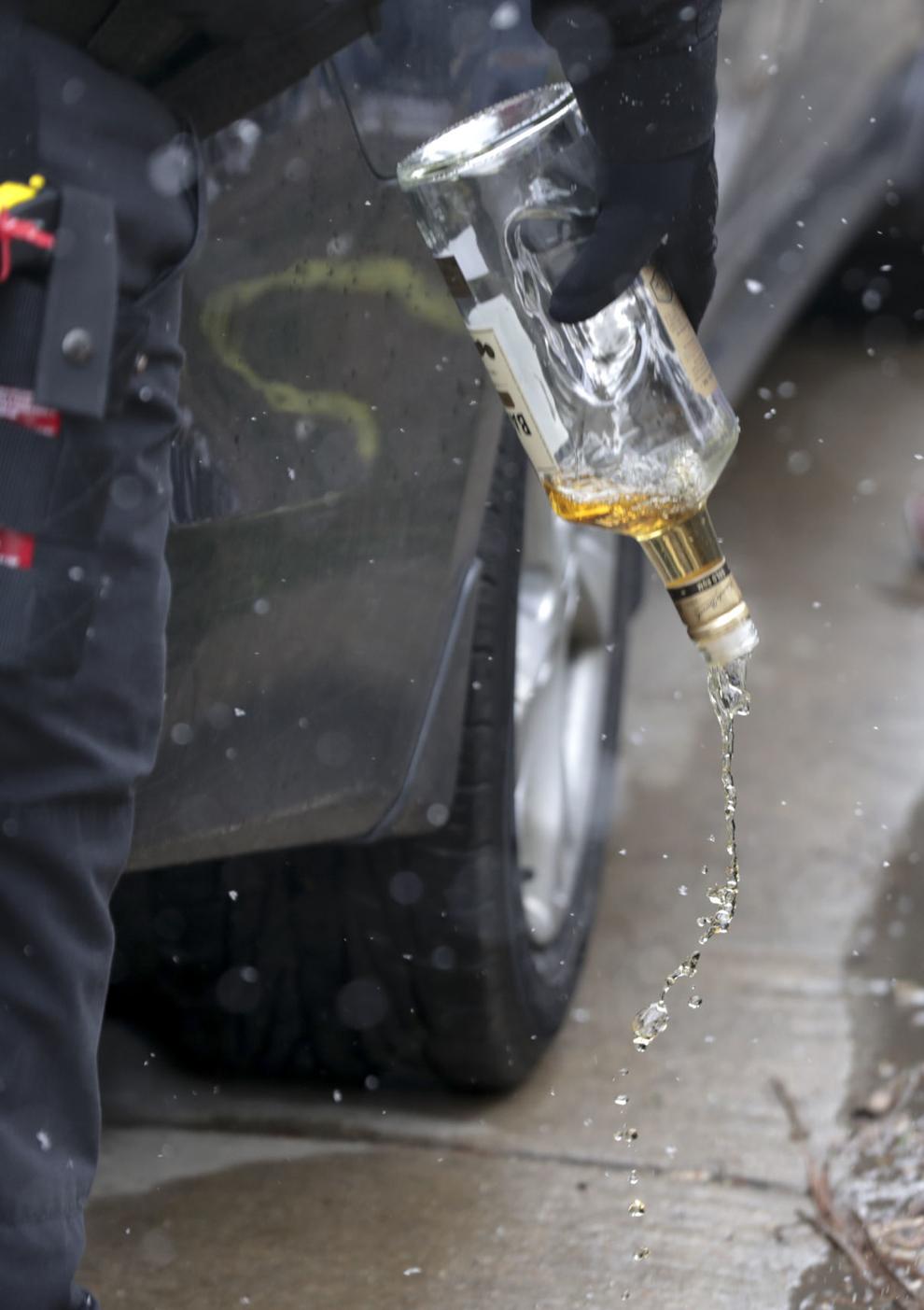 Mifflin Street Block Party 50th anniversary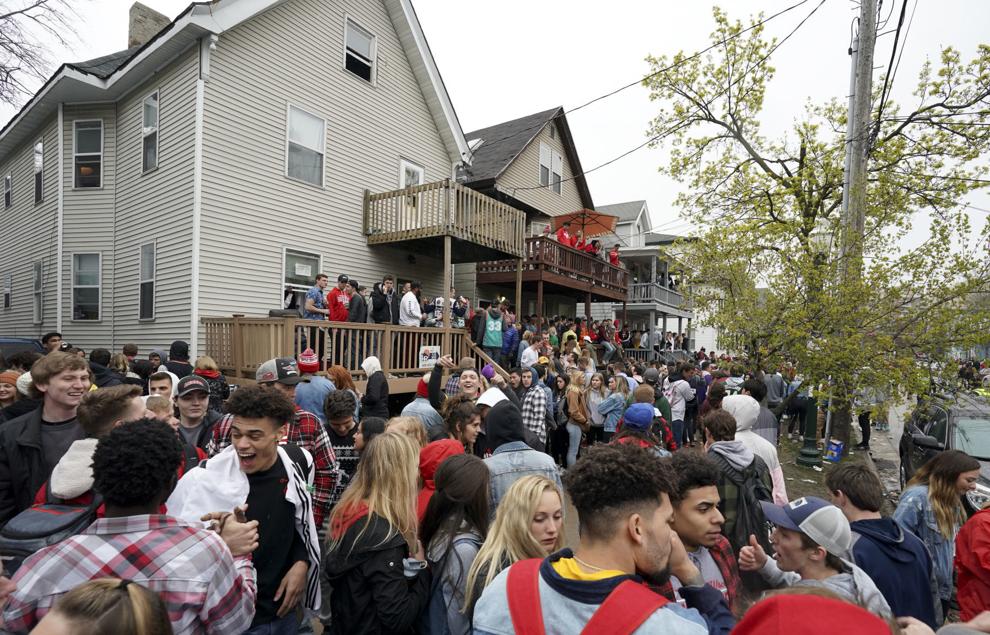 Mifflin Street Block Party 50th anniversary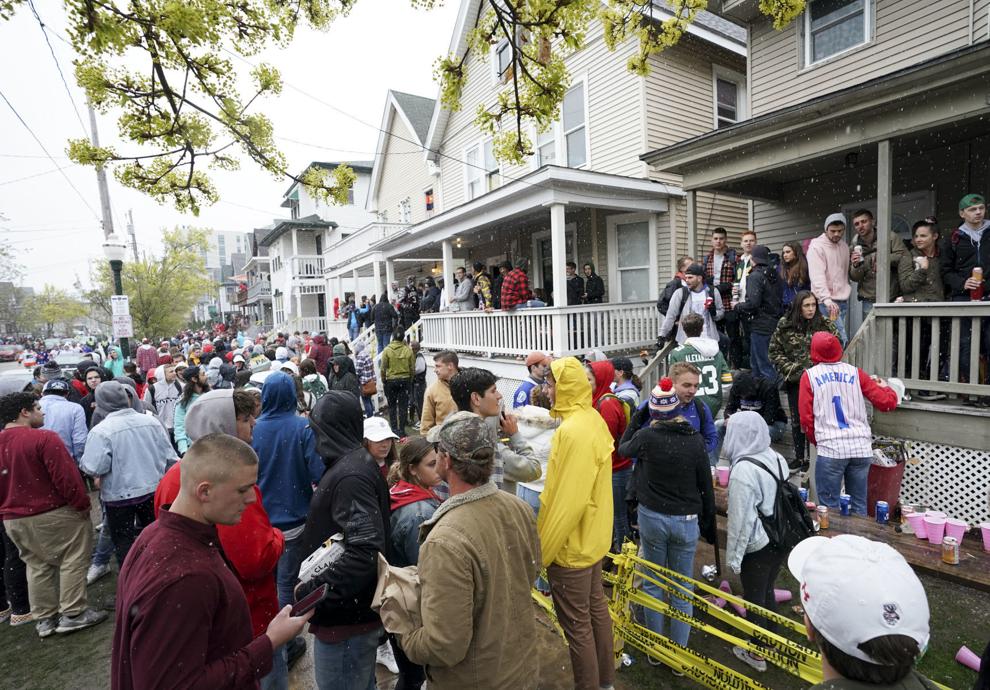 Mifflin Street Block Party 50th anniversary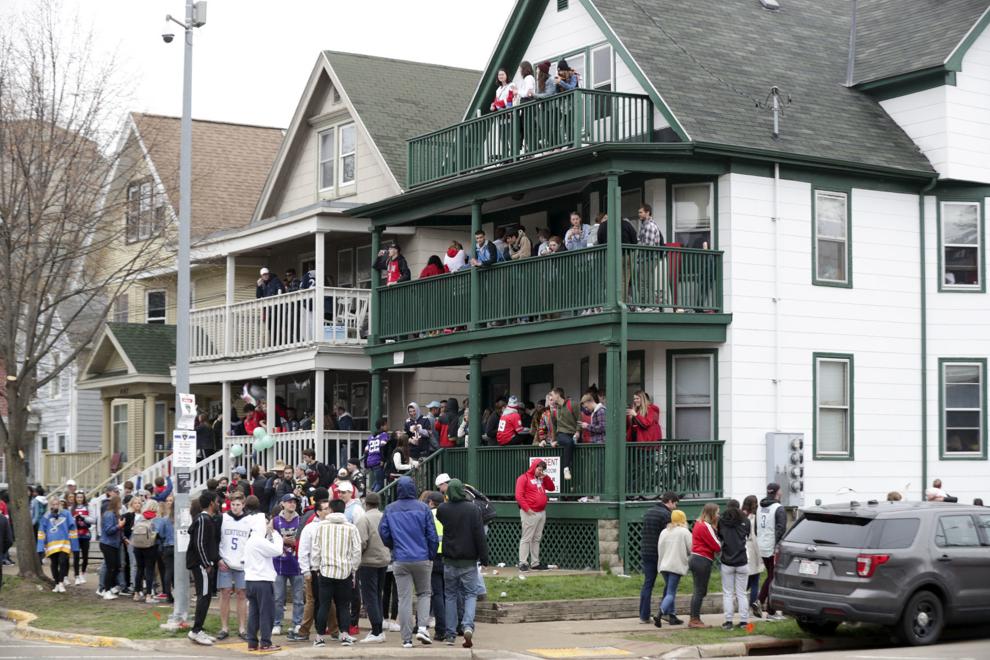 Mifflin Street Block Party 50th anniversary