Nine out of every 10 members of the UW-Madison campus community are fully vaccinated — even without mandating students and employees to get the shot, the university reported Thursday.
"I'm proud of our students and employees for taking this important step to protect themselves and others," Chancellor Rebecca Blank said in announcing the figures. "And I'm grateful to our staff, who worked tirelessly to achieve these results."
The data as of Wednesday show:
88% of students are fully vaccinated, and 91% have received at least one dose.
92% of employees working on the main Madison campus are fully vaccinated, including 99% percent of faculty.
92% of students living in dorms are fully vaccinated, and 94% have received at least one dose.
UW-Madison officials verified the rates through on-campus vaccination records and submitted documentation of off-campus vaccinations.
The data counter criticism UW-Madison received from those who have repeatedly called for the university to require vaccines. It may also offer other campuses in states where vaccination mandates are a politically fraught issue hope that a high level of protection can still be achieved.
University Health Services director Jake Baggott said he believes UW-Madison's rate is one of the highest in the country among large universities that lack a mandate.
With classes starting next week at full capacity, he said there will still likely be some breakthrough infections, which typically produce milder illness.
The roughly 6,500 students and staff who aren't vaccinated will be required to test weekly. And the COVID-19 dashboard tracking campus cases will transition on Tuesday from reporting once a week to every weekday.
Big Ten comparison
Vaccination rates at UW-Madison far outpace the statewide average. Only 62% of Wisconsin adults were fully vaccinated as of Wednesday, according to the state health department. That same day, the state recorded 2,370 new cases, 106 hospitalizations and 11 deaths attributed to COVID-19.
"Badgers have shown that they trust the science," said Dr. Jim Conway, a professor of pediatrics in the School of Medicine and Public Health and a UW Health pediatrician who specializes in infectious disease. "I continue to hope that more members of our state will follow our lead, as it is clear that vaccines are the best tool for controlling and ultimately ending this pandemic."
UW-Madison student vaccination data is similar to Big Ten peer schools with vaccine mandates that have reported data in recent weeks:
The University of Minnesota, which announced a mandate after the Pfizer shot received full approval from the U.S. Food and Drug Administration, is requiring students and staff to submit records in the next few weeks but didn't have data available to share Thursday.
Michigan State did not respond to a request for its student vaccination rate.
Among the four other Big Ten schools that lack a vaccine requirement, UW-Madison exceeds what it announced in recent weeks.
The University of Iowa reported "strong evidence" that its vaccination rate for new students was similar to its county's rate of 77% though record collection is hampered by a state law restricting public colleges from requiring collection of vaccination data. The state's Board of Regents also hasn't offered direction on whether campuses can simply encourage students to submit records, spokesperson Josh Lehman said.
The University of Nebraska didn't return a Wisconsin State Journal email seeking data.
UW-Madison officials credited the school's high vaccination rate to a number of strategies, including repeated marketing messages, translating COVID-19 information into multiple languages and helping employees on all shifts find ways to receive their shots.
UW-Madison expects vaccination rates to continue to improve, Baggott said. There's been an increased demand on campus over the past two weeks as students returned.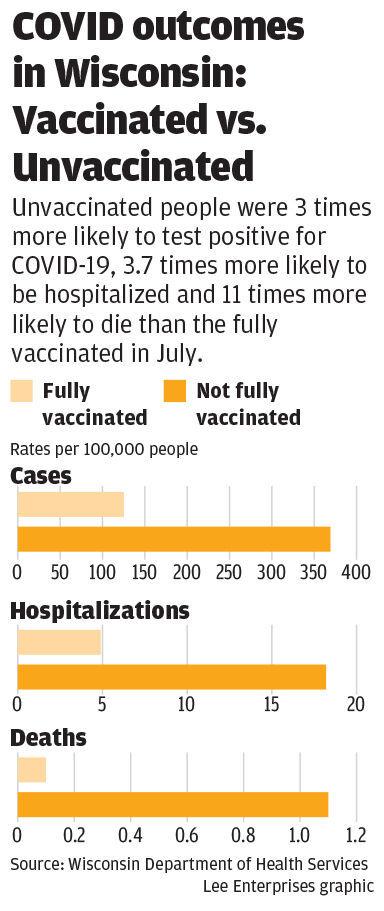 Other UW campuses
Just two other University of Wisconsin System campuses have reported vaccination rates to date.
UW-La Crosse on Wednesday became the first to meet a 70% student vaccination goal set by interim System President Tommy Thompson as part of his "70 for 70" campaign. The achievement unlocks at least seven $7,000 scholarships from the System.
If other UW campuses don't meet the 70% goal by mid-October, more La Crosse students could receive scholarships. Altogether, the System is distributing 70 scholarships raffle-style.
UW-Eau Claire reported on Monday that 52% of students were vaccinated, according to its COVID-19 dashboard.
Other UW campuses declined to share their data when asked by the State Journal last week, saying students were just returning and reporting it to their schools. Spokespeople said they expect to announce their campus vaccination rates by mid-September.