UW-Madison professors may soon call on the university's private foundation to divest from fossil fuel companies, a symbolic stance — though one more aggressive than previously taken — about the urgency of withdrawing financial stakes from an industry driving climate change.
The university's Faculty Senate scheduled a first reading resolution on divestment for its Monday meeting. Typically, resolutions are voted on after a second reading.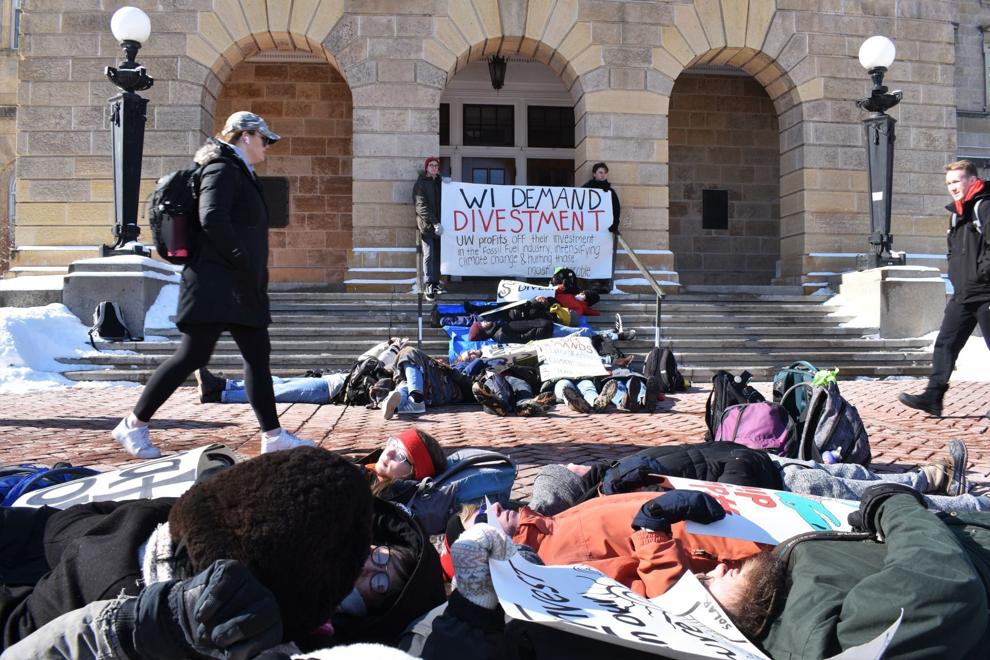 The resolution urges the UW Foundation to disclose how much of its $3.5 billion endowment is invested in companies producing fossil fuels, establish a plan and timetable to fully divest its assets in those companies, and develop a fossil-free alternative for donors.
UW-Madison professors haven't previously made the same kind of push. When the topic last came to the Faculty Senate in 2014, the body accepted a report advocating against divestment.
The UW Foundation declined to provide the Wisconsin State Journal with information on its investments beyond what's included in its annual report, which does not spell out which stocks and funds it invests in for the more than 6,300 accounts that make up its endowment.
"Donors understand that (UW Foundation) will invest their philanthropic gifts with risk and return objectives in mind to support the campus priority of their choosing," a foundation statement said. "The investment committee will continue to review our policies regarding investment in keeping with our fiduciary responsibility to our many unique donors."
The statement also noted that donors seeking to support education, research and programs on fighting climate change have "a rich menu of options."
Pros and cons
In 2013, a faculty committee formed to explore whether UW-Madison's Faculty Senate should take a stance on fossil fuel use and climate change.
A minority of committee members who authored the report cited the extensive, conclusive scientific evidence that global warming posed an overwhelming threat to society and characterized the argument for divestment as "really quite simple."
"There are many among us at the University of Wisconsin who feel that it is wrong to seek profit by investing in such monumentally irresponsible endeavors," the members wrote. "We do not want our own personal assets or those of the University that we love to be invested in pathways leading towards ecological destruction and potential societal collapse."
But a majority of committee members found the list of reasons not to divest much longer, including:
Investment returns could be negatively affected by eliminating fossil fuel companies as investment options.
Many people consider divestment a "political movement that is unnecessarily divisive."
Risk of alienating efforts already underway to invest in clean alternative energy sources.
Major university donors, according to UW Foundation, expressed their "strong disapproval" of divestment and would withhold support.
Potential weakening of UW's power to influence corporate behavior from within — a more effective strategy may be to buy more stock and build shareholder pressure.
Only a handful of other colleges supported divestment at the time, none of which had an endowment of more than $40 million.
"A lot of stuff has changed since then," said UW Law professor Steph Tai, who spearheaded the current resolution. "It's not so crazy to bring it up again."
The scientific certainty surrounding climate change is even more compelling and the window to address it is rapidly closing, the resolution states.
A report from Gov. Tony Evers' task force on climate change recommends divesting state funds from fossil fuel companies though it also acknowledges there is no clear mechanism to require university foundations, which are private entities, to divest.
The resolution also cites new research that found no conclusive evidence of negative effects to private university endowments.
More than 50 educational institutions have made some kind of divestment commitment, according to Fossil Free, an organization that advocates for renewable energy and tracks disinvestment pledges made by universities, churches, companies, hospitals, pension funds and municipalities. (Both Dane County and the city of Madison are on the list.)
At least two other Big Ten schools have already made moves to divest: Illinois, which announced its plans last fall, and Maryland in 2016.
Another, the University of Nebraska, has offered more information on its $1.7 billion endowment. The university's foundation told the Omaha World-Herald in late January that less than 4% of the foundation's investments are in companies that deal with fossil fuels, but that most of those companies also handle alternative fuels. A spokeswoman said the foundation continues to evaluate divestment, calling it "an important" issue" to work on with the university.
---
Photos: Students call for UW to divest from fossil fuel companies