A UW-Madison professor who was suspended for creating a "toxic" work environment for students will be removed from teaching duties and placed in an administrative role next semester if he returns.
The tenured engineering professor, Akbar Sayeed, has been reassigned from teaching to unspecified administrative duties in the Dean's Office while officials continue to develop specific oversight and monitoring procedures if he returns to working with students, College of Engineering Dean Ian Robertson said Wednesday.
"This assignment will remain in place until the department chair, the provost and I are satisfied that adequate measures are in place to provide oversight of the faculty member as a teacher, mentor and research adviser, as well as to prevent potential harm to students," Robertson wrote in a message to students and staff.
But a graduate student group in the Department of Electrical and Computer Engineering, where Sayeed's lab was housed, said Wednesday that he should not return to UW-Madison in any capacity.
"This action sidesteps the more pertinent issue — his return sets the wrong precedent for the appropriate response to abusive faculty," a statement from the Graduate Student Association said.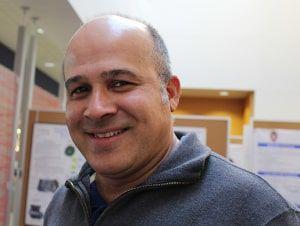 Sayeed's behavior, which a university report described as "abusive" and his lab environment as "toxic," came to light after a doctoral student in his research group, John Brady, died by suicide in October 2016. It was not widely known until the Wisconsin State Journal published a report on the episode and university investigation last month.
The university placed Sayeed on a two-year unpaid suspension, which ends Dec. 31. Officials said in late October that he has indicated his plans to return to campus and had no information Wednesday on whether that has changed.
Sayeed will earn his current $141,859 salary, said UW-Madison spokeswoman Meredith McGlone. He is not restricted from doing his own research in the future and can return to his lab, which was shut down during the suspension.
The college will determine what Sayeed's administrative duties will entail before his anticipated return to work in January, she said.
"Away from the students, to me, is better," Jim Brady, John's father, said of Sayeed's reassignment. "It is in a sense hiding him away, but I also can't imagine people searching his name and not finding all of the articles that are out there. That's something he'll need to come to grips with."
Sayeed has not returned calls or emails nor responded to a letter left at his home in recent weeks, including messages left Tuesday. He apologized for his behavior in a written response to the university report, but denied abusing his authority.
The reassignment comes one day after the Graduate Student Association published a petition online calling on UW-Madison Chancellor Rebecca Blank and Provost Karl Scholz to reopen the investigation into Sayeed's behavior. The petition had garnered about 275 signatures Wednesday.
A letter by the group last week called for "systemic" change to protect students' well-being.
"The key to a welcoming environment is trust and equal footing among members," the letter said. "This begins by including graduate students in departmental decisions."
The group asked for graduate students to be involved in policy drafting and included on department committees. Graduate students also want a seat at the table when a prospective faculty member interviews on campus and when faculty members receive post-tenure review.
And every time a graduate student leaves a lab, an administrator should be asking why. The surveys sent around at graduation are not enough to catch problems that may have been in place years earlier, said UW-Madison engineering doctoral student Kyle Daruwalla, who serves as vice president of the group.
"The main point we're trying to make is that oftentimes the only ones who can catch that these policies aren't working are grad students," he said. "A lot of administration and faculty miss key details that have a big impact on our lives."
Some of the group's requests are already in place, university officials said. For example, students provide direct input on teaching evaluations, which become part of faculty members' tenure and post-tenure evaluations.
"I appreciate the questions and concerns that our graduate students have, and I'm committed to continuing an open dialogue on these issues," Susan Hagness, chairwoman of the Department of Electrical and Computer Engineering, said in a university statement. "I know that we share the common goal of ensuring the best possible climate for our students, faculty and staff."
Be the first to know
Get local news delivered to your inbox!