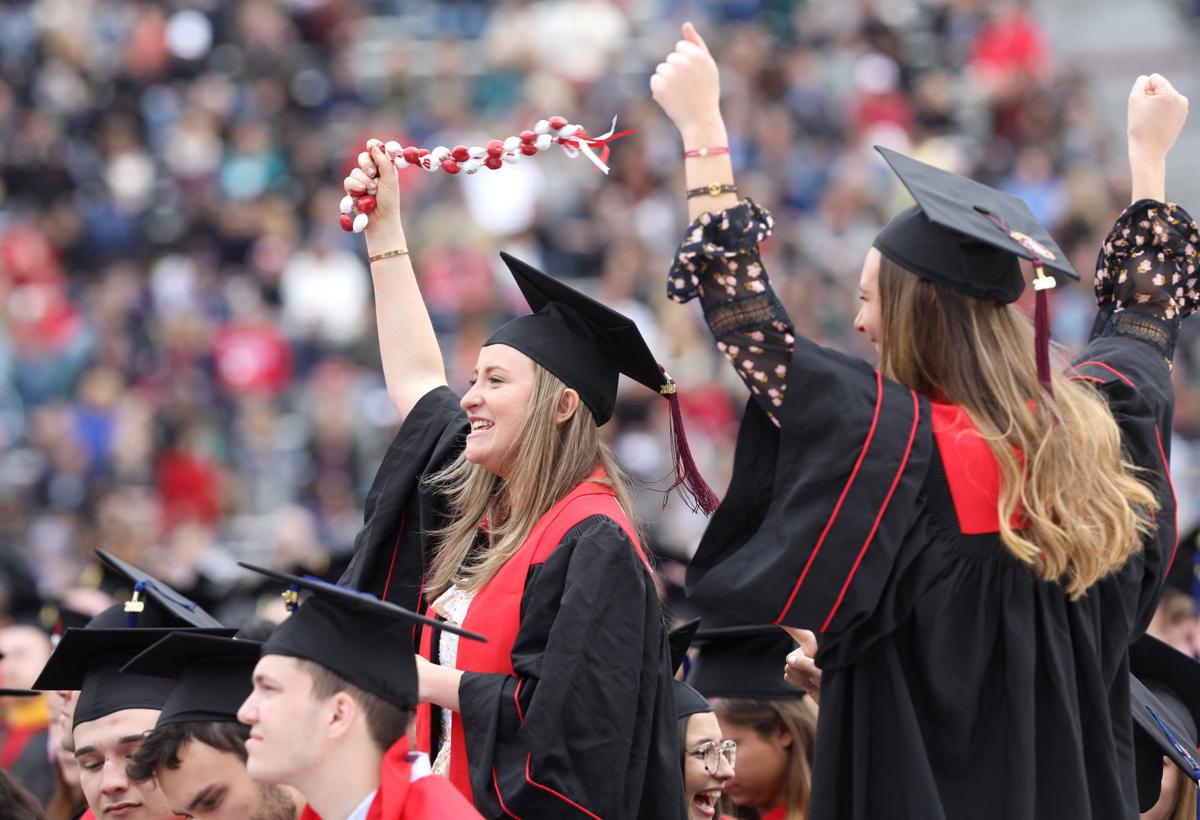 Add commencement to the list of cherished UW-Madison traditions postponed by the COVID-19 coronavirus pandemic.
The university announced Monday that the springtime graduation ceremonies at Camp Randall and the Kohl Center will be postponed to sometime later this year. Officials are working with senior class officers on a "virtual commencement" to be held May 8, the day before the in-person event was scheduled to occur for most students.
The announcement was expected but still disappointing for many in the Class of 2020.
"Our senior year has totally changed," said Chris Gitter, a graduating UW-Madison student and senior class events director. "We're going to do as best we can (with the virtual ceremony), but I'm not going to kid myself into saying it's the same thing as being with tens of thousands of people in Camp Randall."
Details on when the postponed event would take place and how closely it would resemble other classes' ceremonies are being worked out, according to senior class officers.
"If we do it right and with as much grandeur as a normal ceremony would have, I think (the postponed event) would offer closure," said senior class vice president Alyssa Birkeland. "I hope the university and chancellor do everything in their ability to have it look and feel as much like commencement at Camp Randall as possible."
UW-Madison Chancellor Rebecca Blank said she and university officials "held out" on the graduation decision for as long as possible in the hope that the pandemic's prognosis for late spring would improve.
But cramming about 7,000 graduates and their families into Camp Randall on May 9 is the exact opposite of what local, state and federal health officials are urging in an era of social distancing caused by a global health crisis. The Kohl Center ceremony honors about 900 graduate and professional students while the stadium ceremony attracts more than 40,000 people.
"Of all the decisions we've had to make in this extraordinary time, this one has been the most heartbreaking for me," Blank said in a message to students. "The coronavirus pandemic has changed many things. But it doesn't change the exceptional achievements of the Class of 2020."
Blank said the lack of an in-person commencement ceremony doesn't mean students are not graduating. Diplomas will still be sent out.
Several other Wisconsin universities have announced that their graduation ceremonies would be postponed or canceled. Madison Area Technical College canceled its spring ceremony and said last week that it was working to find an "alternative way" to recognize graduates' accomplishments. Edgewood College made a similar announcement Monday.
Gitter and other senior class officers closely watched how other universities across the U.S. handled the graduation festivities. He said he perceived student backlash from institutions that offered only a virtual ceremony as a substitute.
Most UW-Madison students Gitter heard from in recent weeks said they preferred postponement of the in-person ceremony. He said he sees the university's plans to hold both a virtual and postponed in-person ceremony as a good compromise, given the circumstances.
Will "Jump Around" still be a part of the virtual ceremony?
"I hope so!" Gitter said. "I think it would be good to get people's blood pumping a bit at home."
Concerned about COVID-19?
Sign up now to get the most recent coronavirus headlines and other important local and national news sent to your email inbox daily.