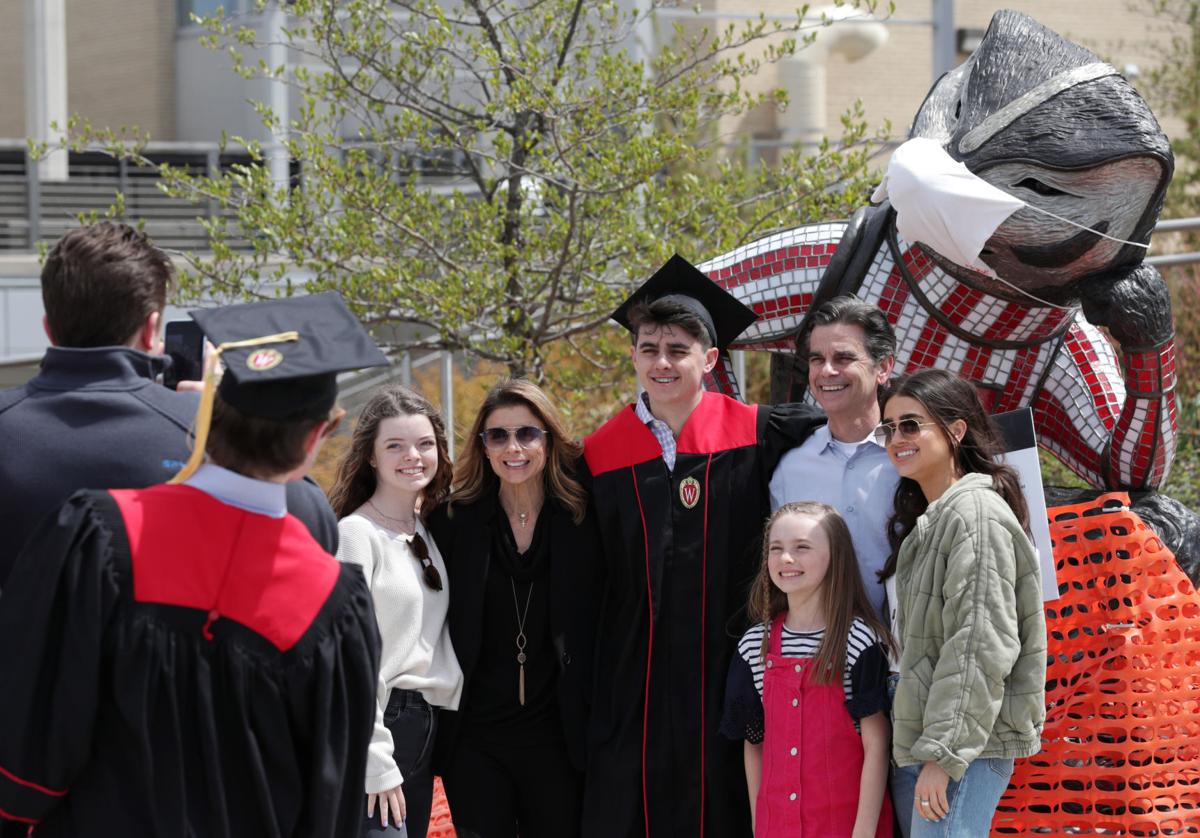 UW-Madison's Class of 2021 can expect to celebrate commencement at Camp Randall this May — just not with their families or other guests.
The university announced Thursday that its traditional stadium ceremony will be held for only graduating students in two ceremonies, one for undergraduates and another for graduate students, both of which will be May 8.
Families, friends and guests can watch a livestream of the ceremony, among other "virtual engagement opportunities."
"Even though this year's ceremonies will look different, we can still Jump Around, sing 'Varsity,' and throw our caps in the air," senior class president Alec Bukowiec said in the announcement.
The plan to offer an in-person ceremony for the first time since December 2019 is contingent on COVID-19 cases remaining low on and off campus, officials said. Students participating in the ceremony will need to have a negative COVID-19 test result on file and wear a mask during the ceremony.
Senior Maddie Gogolewski said she was "extremely excited" to hear the news but her parents were a bit bummed they wouldn't be able to celebrate alongside her, even joking that they should bring their COVID-19 vaccination cards to try to get into the ceremony.
"It's a little sign of hope and a great last chance to see everyone one last time," she said.
Alison Cardella, a senior studying psychology, said she was fully expecting an online ceremony. She was happy to hear of the change in plans but said the arrangement may be a little awkward for her parents, who booked a hotel room for commencement weekend nearly a year in advance and will now watch from the hotel as she receives her degree at Camp Randall.
Still, after a "sad" senior year stripped of many experiences, Cardella appreciated the university's efforts to provide some sort of closure for the senior class.
"You can tell they're doing the best they can for graduation," she said.
The Camp Randall ceremony held each spring typically brings 40,000 people to the stadium. But in order to accommodate 6 feet of physical distancing between people, restricting the ceremony only to graduates is necessary, officials said. Also, the Centers for Disease Control and Prevention currently advises no travel in order to limit the spread of COVID-19.
"We really wanted to find a way to get our students together to safely celebrate the way Badgers are supposed to," UW-Madison Chancellor Rebecca Blank said in a video announcing the tentative plan for a face-to-face ceremony.
Public Health Madison and Dane County spokesperson Christy Vogt declined to say whether the city-county health department supports UW-Madison's plan and said the agency didn't provide feedback on it. With May two month away, she said the agency anticipates a much larger percentage of the population will be vaccinated then so gatherings and other activities will carry less risk.
Students were disappointed when commencement ceremonies across the country were canceled last year after the pandemic hit.
Some schools, including UW-Madison, offered a pre-recorded ceremony for students to watch online, along with a promise to provide an in-person ceremony when public health conditions allow for it. The university said Thursday that it is planning an in-person ceremony for spring and winter 2020 graduates sometime this fall.
Other institutions' plans
Edgewood College is committed to providing an in-person commencement ceremony this spring, spokesperson Ed Taylor said. Details, including where and who would be allowed to attend, will be released possibly as soon as next week.
Madison Area Technical College is planning for another online ceremony.
In pre-pandemic times, graduates celebrated at the Alliant Energy Center, a venue that is currently subject to public health restrictions.
"The health conditions and associated regulations at this time ... are not favorable to presenting an in-person commencement ceremony in May," Tim Casper, the college's vice president for institutional learning and effectiveness, said in a statement.
MATC is identifying safe ways for students to celebrate, he said, and the college is optimistic that in-person graduation ceremonies could return by December.
---