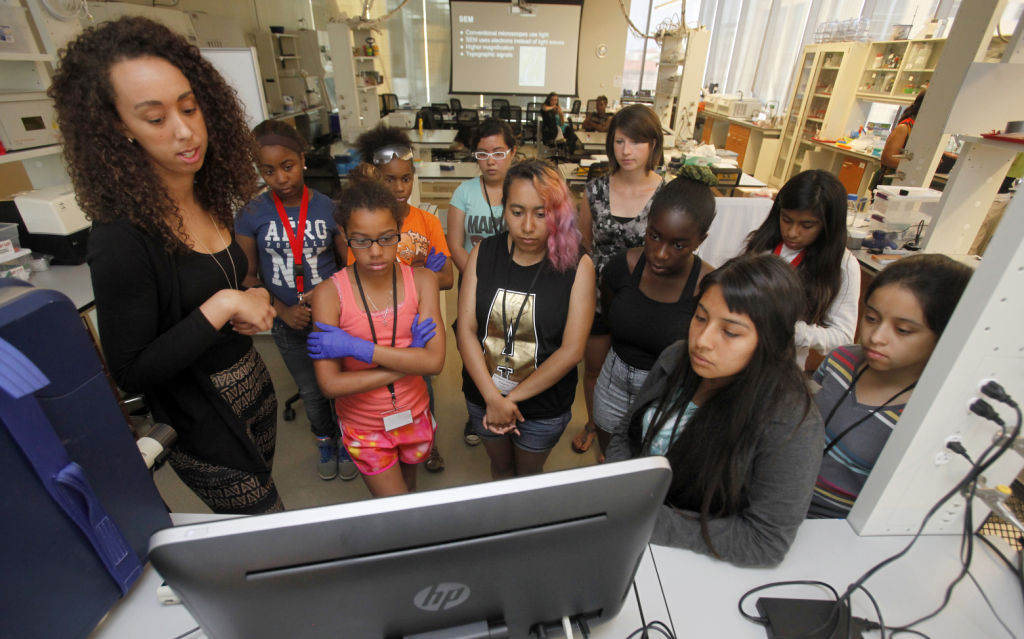 A popular UW-Madison outreach initiative will cut back programs that help disadvantaged students in the suburbs of Milwaukee and Madison prepare for college, while ramping up services for students within Wisconsin's two largest cities, campus officials said Monday.
The result, administrators say, will be a Precollege Enrichment Opportunity Program for Learning Excellence, or PEOPLE program, that better supports students.
The revamp comes one year after a critical evaluation found the initiative was falling short of several goals.
Milwaukee students will be the biggest beneficiaries of the changes. They will be able to join the program earlier and will have access to new after-school tutoring sites UW-Madison plans to launch in the city.
But the shift means students from school districts in Sun Prairie, Verona, Middleton, Waukesha, Kenosha and Racine won't have access to PEOPLE starting this fall.
"We were pulled thin," said Patrick Sims, a PEOPLE administrator and UW-Madison's vice provost for diversity and climate. "We felt we needed to more focus, more tailor, our approach."
PEOPLE will also spin off its services in the Menominee Indian School District into a new program officials are still developing, Sims said.
About 850 low-income and minority students are taking part in PEOPLE's pre-college initiatives, including summer programs in which participants live in UW-Madison dorms to help prepare them for life on campus. Those who are admitted to the flagship campus get full tuition scholarships.
A 2016 evaluation of the PEOPLE program criticized its lack of central organization and the lagging graduation rates of its students once they got to UW-Madison.
You have free articles remaining.
The evaluation noted the program offered varying levels of services to students in different school districts around the state. Although PEOPLE was founded in 1999 as a college pipeline for children in Milwaukee, the earliest those students could start taking part in the program was the summer before their sophomore years in high school; students in Madison could join as early as elementary school.
And while PEOPLE is one of several programs in Sims' office that recruit minority students in an effort to make UW-Madison more diverse, the evaluation found less than half of its participants wound up enrolling there. UW-Madison spends between $3.5 and $4 million on PEOPLE each year.
Under the program changes announced Monday, which Sims described as a "reset" that standardizes services, all participants will start PEOPLE at the same time — during eighth grade. That change, which will take effect in fall 2018, is meant to help students make a more seamless transition to high school, Sims said.
The program will also focus more on preparing students to attend UW-Madison or other University of Wisconsin System institutions.
Despite the reduced number of sites, UW-Madison officials said PEOPLE will take in more participants from Madison and Milwaukee under the changes, potentially increasing its enrollment to 1,000 students in the pre-college program.
Students from suburban districts who are already enrolled in PEOPLE won't be affected by the changes, officials said. They will be grandfathered into the program's scholarship and support services. There are 81 PEOPLE participants from the three Dane County districts that will no longer have access to the program.
Although PEOPLE will not take new participants from those districts, UW officials said students still will have access to other pre-college programs.
Laura Love, director of secondary education in the Middleton-Cross Plains School District, said she understood why PEOPLE administrators wanted to go back to their "core mission" of helping Madison and Milwaukee students.
Still, Love said, "It certainly is always a loss when a program like the PEOPLE program is no longer available to our families."
Gail Ford, assistant director of pre-college programs at PEOPLE, said it would have cost about $900,000 to provide the kinds of ramped-up services PEOPLE is bringing to Milwaukee in all of the suburban districts, at a time when the program's funding has been flat amid budget cuts around UW-Madison.