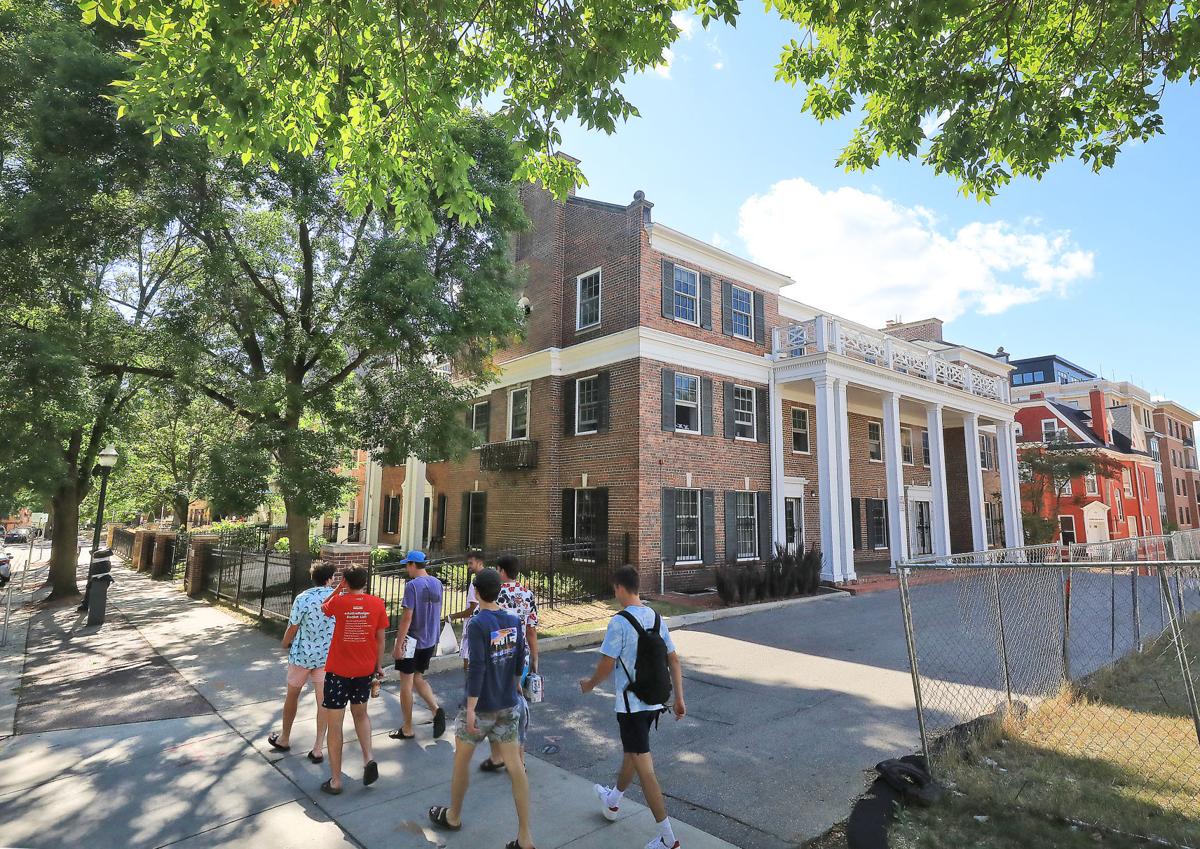 More than half of sorority and fraternity houses near UW-Madison's campus are now under quarantine for at least the next two weeks.
Of the roughly 1,500 fraternity and sorority members who live in university-recognized chapter houses, 820 have received quarantine orders from UW-Madison and the city-county health department. This includes the 420 members put under quarantine last week after 38 members recently tested positive.
The Greek life quarantine orders are in addition to the more than 2,200 students quarantined in Witte and Sellery halls and 124 students in the university's separate quarantine housing. Altogether, there are at least 3,100 students in quarantine, or roughly 10% of the undergraduate student population, though the number is likely higher when accounting for the unreported number of students who live in off-campus, non-Greek housing also in quarantine.
There are four additional houses recently placed under quarantine. These houses lost their status as registered student organizations because of misconduct, such as alcohol violations, so they are not included in UW-Madison's list.
An estimate of the number of positive cases among members in the chapters recently put under quarantine was not available Friday. The latest quarantine order was sent Wednesday to all chapters with one or more positive cases among live-in members.
In addition, university officials asked all other chapters to quarantine immediately, regardless of whether they received a letter requiring them to do so, because the spread of the virus is "accelerating" in the Greek community.
Students may be subject to university sanctions, including immediate emergency suspension, if they don't comply with the quarantine order or contact-tracing efforts.
They may also receive a court order to quarantine and/or a fine of up to $10,000, according to Public Health Madison and Dane County.
Some members of the university's Greek life community said Friday that they're trying to do their part to prevent the spread of the virus.
Nadya Siddique, 18, a sophomore sorority member, said people think the Greek community is made up of students who only care about partying and aren't taking the pandemic seriously, but she said that perception is not true.
Lately, Langdon Street, where most Greek houses are located, has "calmed down," Siddique said. She hasn't heard of any parties happening.
"Everybody's taking it really seriously," Siddique said.
Two sophomores went for a walk outside their sorority house with masks on Friday afternoon. The young women, who did not want to be identified for fear of getting in trouble with the university if they were doing something wrong, said their house was one of the first to be ordered to quarantine.
They only go outside for walks around their house while staying on their property. Inside they stay 6 feet apart, wear masks in all common places, have Plexiglas to separate showers from each other, get meals in individual packages and do extra cleaning of surfaces.
But Siddique said it's tough to prevent spread when living in close quarters with a bunch of other girls. She decided to stay in a hotel for the quarantine because her roommate got COVID-19. She said her sorority is "tighter than a dorm" in terms of space.
"You all live in one house. You're all hanging out with the same people. They're sharing rooms," Siddique said. "What'd they expect was gonna happen? You're bringing 40,000 kids back to campus."
UW-Madison's entire Greek community includes about 5,000 members. Students who live in chapter houses were required to get tested by Friday unless they had tested positive for COVID-19 within the past 90 days and were not experiencing symptoms.
The university's Office of Fraternity and Sorority Life has an unspecified number of isolation spaces for chapter members who test positive.
Campuswide, UW-Madison reported on Friday that another 285 students tested positive for COVID-19 either at a university testing site or off-campus. The total number of cases reported among students and staff is now at 1,745, with just 27 of those coming from employees. The seven-day average for students tested on campus is 9%.
Photos: UW-Madison graduates gather after virtual commencement ceremony