UW-Madison has opened a second investigation into the professor at the center of a "toxic" engineering lab who was previously disciplined after the suicide of a graduate student.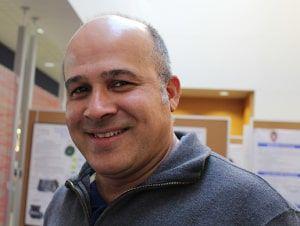 Former students from tenured professor Akbar Sayeed's lab described the environment as "toxic," "abusive" and harmful to their well-being, according to a university report. An investigation launched after the 2016 death of John Brady, one of Sayeed's graduate students, found the professor violated UW-Madison's policy on hostile and intimidating behavior.
Officials suspended Sayeed for two years and he returned to work in January.
The Wisconsin State Journal first reported on Brady's suicide and the previous investigation last fall.
The newspaper asked UW-Madison in February for copies of any more recent misconduct investigations into Sayeed. Officials responded Tuesday, acknowledging the existence of an investigation, but denying the request and further details because it has not concluded. Under the state's public records law, universities must withhold records from still-active investigations.
Asked when the most recent investigation opened, university spokeswoman Meredith McGlone said it is "currently underway regarding additional information that surfaced in fall 2019."
McGlone said there is no timeline to complete the investigation. She declined to provide additional information, citing the university's need to protect the integrity of the investigation and respect the rights of everyone involved in it.
College of Engineering Dean Ian Robertson initially planned for Sayeed to return to teaching and research alongside students with additional oversight measures in place. But he shifted course in November, saying Sayeed would not teach in the spring semester and instead work in the dean's office. Sayeed is not restricted from his lab, which was shut down during the suspension.
Sayeed did not return a voicemail and email Tuesday. He has not responded to multiple inquiries from the State Journal, but apologized for his behavior in a written response to the university's original investigation.
Graduate students within the Department of Electrical and Computer Engineering, where Sayeed works, called on UW-Madison last fall to revoke its decision allowing Sayeed to return to campus. A group of about 200 students held a protest in December demanding the university hold abusers accountable.
The College of Engineering has taken several steps in the years since Brady's suicide to address the inherent power imbalance between professors and their graduate students. The college launched a tool for students to confidentially request a meeting with administration and assigned employees within departments to monitor lab turnover.
UW-Madison Chancellor Rebecca Blank said last fall that the university will begin centrally tracking complaints of hostile and intimidating behavior so reports "do not simply remain hidden inside a department or unit."