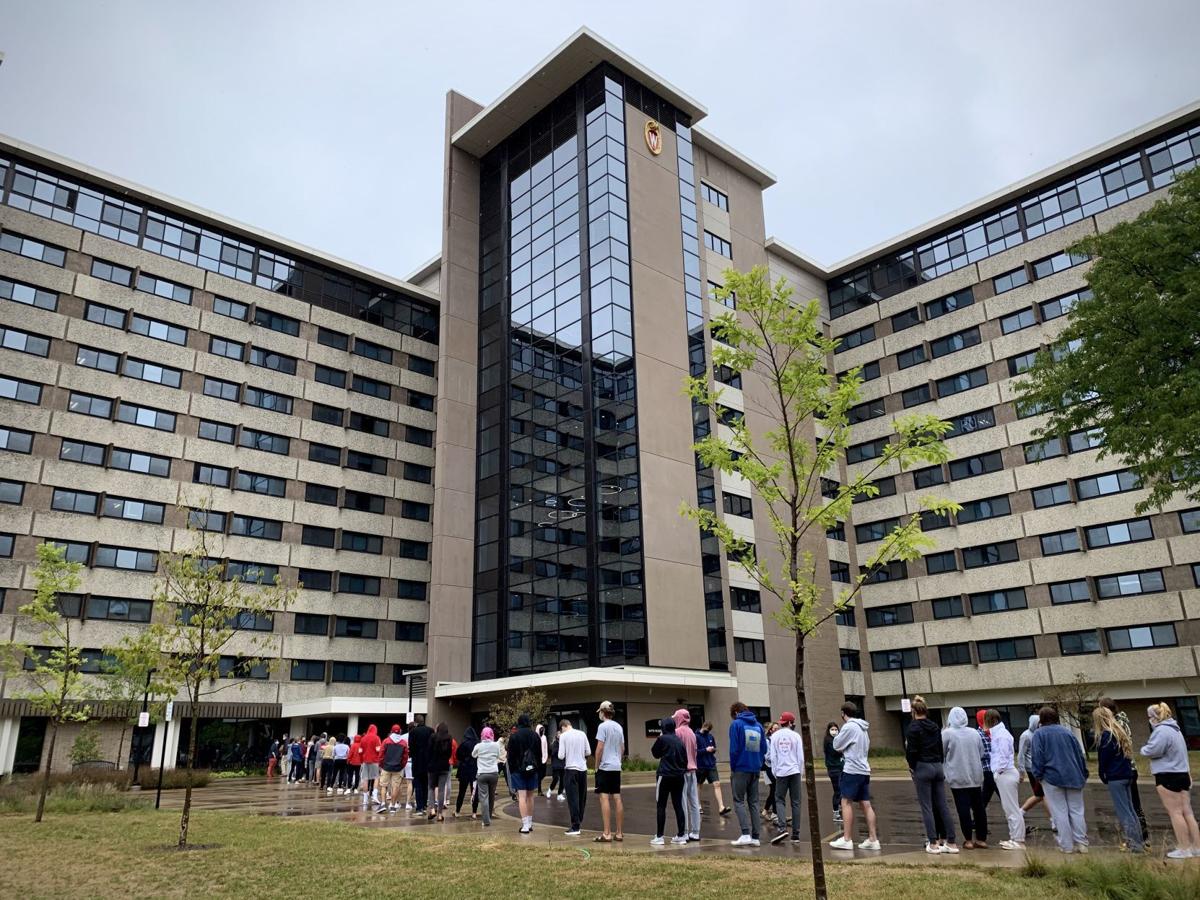 UW-Madison required residents of two large dorms to get tested Monday as the number of COVID-19 cases on campus rises to a level unseen since September.
Nearly 300 students and staff have tested positive for COVID-19 during the past week, according to the university's data dashboard. The seven-day percent positive rate for students tested on campus, which hovered in the 1% range for most of October, has crept up to 2.7%.
The mandatory testing comes about 10 days after Halloween weekend, a period in which at least some students violated public health orders and threw large gatherings in off-campus residences.
Madison police found one apartment party with 91 people, according to a complaint filed by the City Attorney's Office. At another, the tenants told police they were aware of the order limiting indoor gatherings to 10 people, but said they thought the gathering was allowed because of the roughly 23 people in attendance, all but 10 had previously tested positive for COVID-19.
UW-Madison requires all dorm residents to get tested weekly, but an email to residents of Witte and Sellery informed them of an "adjusted testing plan" requiring them to get tested on Monday in order to identify any other positive cases immediately. The email noted "a few new cases" in those dorms over the past few weeks.
The two dorms were quarantined in September when test results showed a positivity rate among students at nearly 10% in Witte and 17% in Sellery.
Mandatory testing also took place last week in Ogg and Witte, UW-Madison spokesperson Meredith McGlone said on Monday. Test results did not indicate a need for further action beyond isolating students who tested positive and quarantining their close contacts.
"We have this modified testing process to use when needed, so that when we see a rise in cases in a residence hall we can quickly identify any clusters and take focused action, hopefully avoiding building-wide quarantines," she said. "We've been expressing concern for several weeks now, along with local and state leaders, about the continuing spike in COVID-19 cases in Dane County and throughout Wisconsin. It is unfortunately not surprising that we are also seeing an increase in positivity rates on campus, although our rates continue to be below the surrounding community."
As Thanksgiving approaches, UW-Madison is urging students planning to travel home to limit out-of-home activity as much as possible and follow public health guidelines. Increased on-campus testing will be available before the holiday break begins.
---
The Big Ten is testing football players for COVID-19 every day. Here's how it works.
The Big Ten is testing football players for COVID-19 every day. Here's how it works.
There's a pre-dawn start
The testing staff arrives to the Badgers' training facility around 4:45 a.m. to start setting up. Starting at 6 a.m., there are scheduled times for players, coaches and staff to provide a sample for the testing process.
They can return to team rooms while awaiting results.
"That portion of the day adds just a tiny bit of time to their schedule," Moll said.
Testing is capped at 170 people
Under Big Ten regulations, the football team each week identifies 170 people who will be tested and can be in close contact as part of practices and games. Those who have tested positive for COVID-19 in the previous 90 days and have recovered aren't subject to testing, Moll said.
The group of 170 is considered to be Tier 1. A Tier 2 group includes other essential game personnel that aren't present on practice days but are required for games. The latter includes officials, team physicians and video staff, and they're tested both on game day and the previous day.
After a short wait, it's a quick test
Once the sample is collected, a reagent is added and the sample is placed on a card. After sitting for 15 minutes, it's inserted into a diagnostic machine that provides a result in about a minute.
The Big Ten said it is using Quidel's Sofia 2 SARS Antigen FIA test system. This video from Quidel shows how it works:
Moll monitors the test results and reports them to the football staff to confirm who can be on the field for that day's practice or game.
There's more testing if the result is positive
A positive rapid test triggers Moll to put the subject into isolation as a polymerase chain reaction test, which is considered more accurate but takes longer, is conducted to confirm the result.
If the PCR test also is positive, the person is put into 10 days of isolation and monitoring before cardiac testing and follow-ups with physicians.
A minimum 21-day absence is required if a positive is confirmed
A confirmed positive test requires a minimum 21-day absence from competition under Big Ten protocols. That could take a football player out from one-third of the nine-game schedule if he tests positive during the season.
"The message that we've tried to encourage our student-athletes to understand is to take every precaution to try to avoid this right now," Moll said.
It's not to be confused with a vaccine
Even with the enhanced testing, Badgers officials are stressing to athletes that they need to avoid situations where they could be infected with the coronavirus or risk a long absence from competition.
"It's important to note, and I know our student-athletes have taken this to heart: In no way, shape or form is there a belief that testing is a vaccine," deputy athletic director Chris McIntosh told the Athletic Board.
"Testing gives us the ability to practice and to compete in an environment that greatly reduces or eliminates the transmission of the disease. But it does not prevent the disease. For that, we need our student-athletes and our staff and our coaches to make responsible decisions."
A 'drastically different' look is ahead for 2020 game days
McIntosh extended the precautionary message to the team's fan base.
"Games in and around Camp Randall this fall are going to look drastically different than what we've all become accustomed to," he said. "There won't be tailgates taking place around our stadium. There won't be Badgerville. The union won't look like Union South normally looks on a game day.
"We would encourage everybody to stay at home and watch the game on television and cheer us on. We'll come back in the fall of '21 in a big way and get back to normal. But we all need to participate in the role that we can to make sure that we have a chance to play. We feel good about our chance right now but there's not a guarantee."