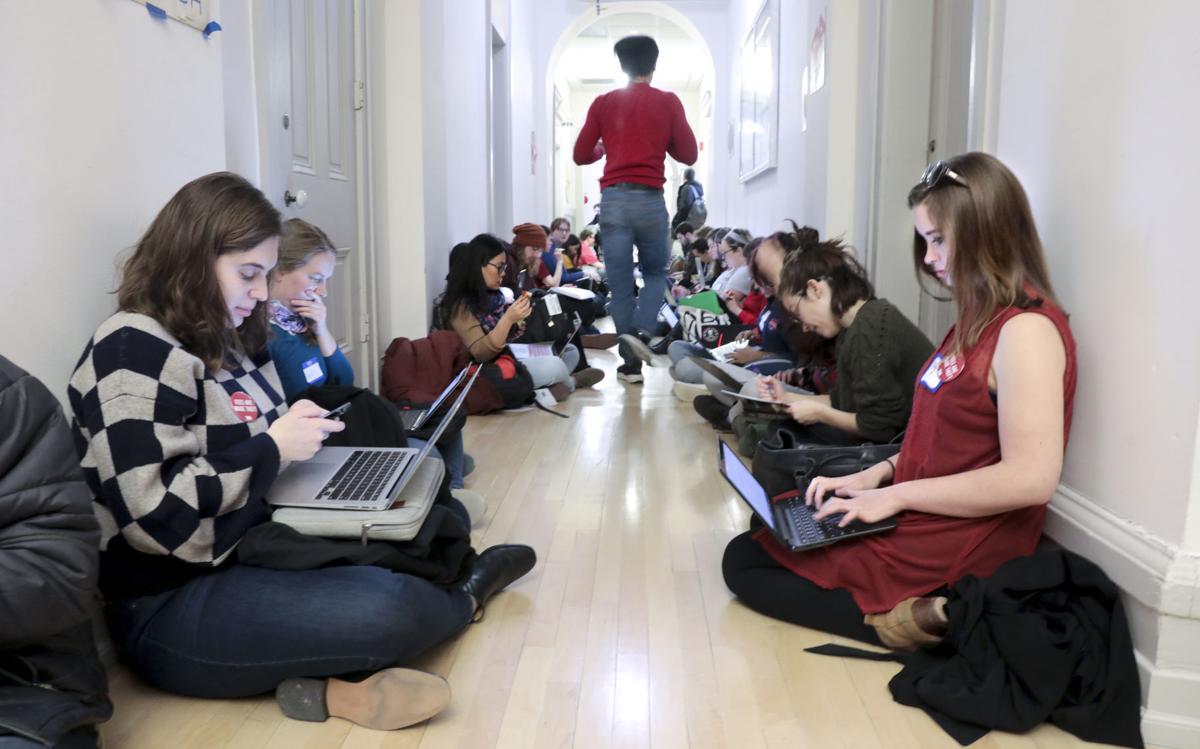 Hundreds of UW-Madison graduate students staged a sit-in Friday at Bascom Hall, seeking to have their student fees waived, a "living wage" and passage of policies governing their employment that have been under discussion with the university's administration for almost two years.
The Teaching Assistants' Association, the oldest graduate student employee union in the U.S., has a long history of fighting for higher wages and fee waivers. The organization, which marks its 50th anniversary this year, coordinated a campaign bringing awareness to what they say are poor wages and working conditions for the nearly 5,000 graduate assistants employed as teaching assistants, research assistants and project assistants.
The union's efforts culminated Friday with about 400 graduate students protesting for the university to meet six demands, according to co-president Sara Trongone.
"People began sharing stories with the union or within their own departments," she said. "People saying 'I can't afford rent.' 'I can't put food on the table.' We were hearing murmurings about this from every corner of the university from engineering to history to the professional schools. There's broad and deep support for these six demands to improve our working conditions and, quite frankly, to keep us out of poverty."
The sit-in comes at a time of national discontent among graduate student workers.
At the University of Illinois at Chicago, graduate students seeking a higher salary and fee waivers recently reached a tentative agreement with administration after more than two weeks on strike. Michigan State graduate students held a teach-in rally two weeks ago. Graduate students at the University of Colorado-Boulder protested student fees last month. Teaching assistants at the University of North Carolina-Chapel Hill, who threatened to withhold grades last semester over a controversial Confederate statute, have new demands, including fee remission.
All UW-Madison students will pay nearly $1,300 in fees this academic year. The money goes toward student bus passes, the Wisconsin Union, University Health Services and other student services. International students pay an additional $200 per academic year.
"We value the contributions of our graduate students to the mission of UW-Madison," Laurent Heller, vice chancellor for finance and administration, said in a statement issued through a spokeswoman. "They are vital to the university's academic and research excellence."
But waiving mandatory fees for roughly 8,100 graduate students would have "substantial funding implications for the university," he said.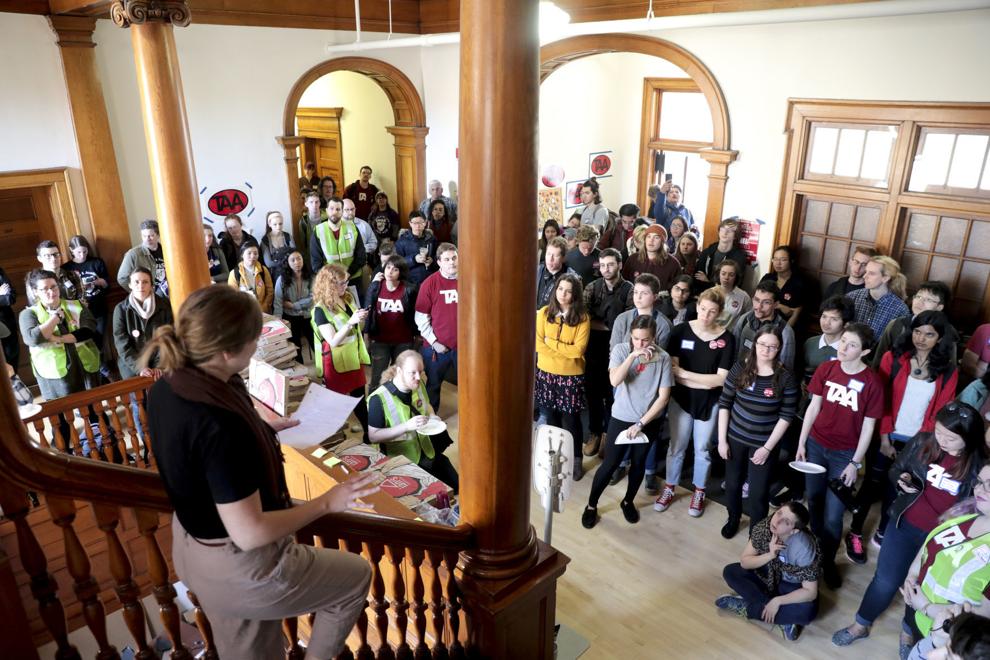 Fees, lack of policies
The university's Faculty Senate passed a resolution last May urging the administration to move toward a policy of full fee remission for graduate employees. The resolution noted that at least half of other institutions within the Big Ten provide some amount of fee reduction for graduate employees.
"This semester is the last semester we pay mandatory fees," Jon Isaac, a graduate worker in the English department, told the Bascom Hall crowd. "This semester is the last semester we work without policies and procedures."
"We've been in limbo since Act 10," Trongone said, referring to former Republican Gov. Scott Walker's legislation that removed collective bargaining rights.
The union has worked with university administration on a new set of policies regarding employment-related matters since fall 2017. The policies, once planned to be finalized last July, are still in draft form, she said.
A university official said the policies are close to being finalized.
Trongone credited the university's human resources department for trying to "champion" graduate workers' rights, but said "It's been months and months and we haven't even been given a clear answer to what's behind the delay."
"There has been no deliberate delay," university spokeswoman Meredith McGlone said. "We want to have clarity as well and are motivated to get this done; however, a collaborative approach takes time and we also want to get it right."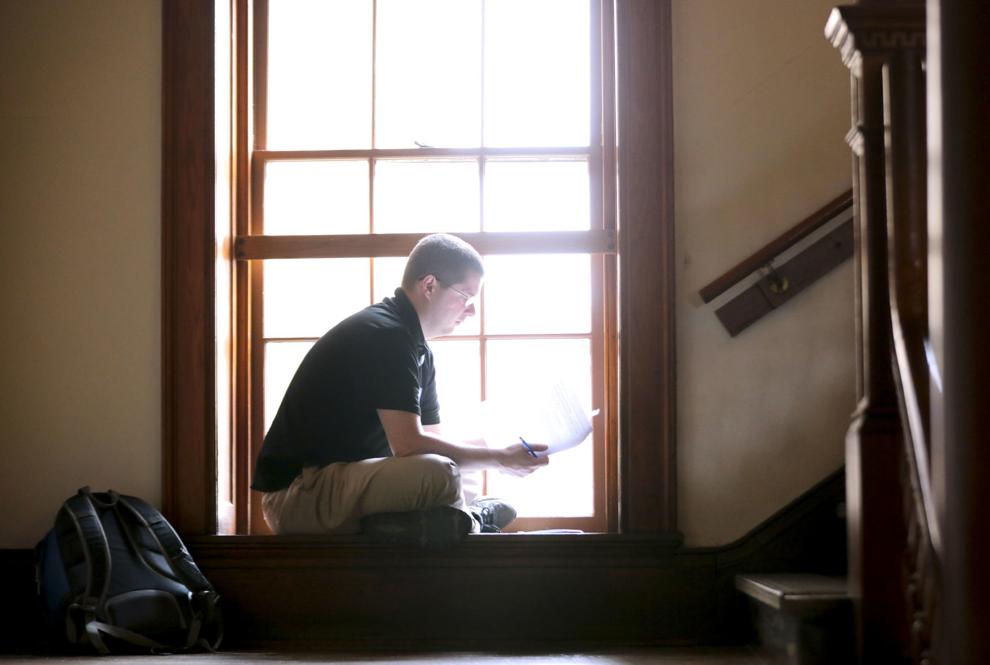 Moonlighting discouraged
Graduate students who work at least 33% employment are paid a stipend as well given free tuition for their own studies.
The university has raised teaching assistant pay from about $14,100 in 2013-14 to $20,000 next academic year. Pay increased in that same time period for research assistants from $16,700 to $20,300 and from $17,300 to $22,400 for project assistants, according to 50% employment figures provided by UW-Madison.
Still, graduate students say it's not enough money to live on — especially when they say the university discourages them from pursuing second jobs to supplement their part-time income.
Megan Kennedy, a fifth-year doctoral student in the Department of German, Nordic and Slavic, said she often hears from administrators that graduate students' penny-pinching lifestyle is only temporary.
"I'll be here for seven or eight years," she said. "That's not an insignificant amount of time."
While serving as a teaching assistant and privately tutoring on the side, Kennedy spent two years on food stamps. Others regularly visit food pantries.
Kennedy recalled bracing for calls from a debt collection agency about an unpaid $700 medical bill one year. She said she could not address the bill until her university fees were paid.
Ellen LeClere, who will graduate this year with a doctorate in information studies, said the annual fees represented about 10% of her take-home income.
'Less and less'
Friday's sit-in featured tables throughout Bascom Hall's first-floor lobby for students to learn about the union's history, receive campaign buttons with slogans such as "Fees are wage theft" and write letters to Chancellor Rebecca Blank.
A poster taped to a wall outside Blank's office asked: "If our administration does not listen, what do we do next? How do we win?"
Scribbled answers — striking, withholding grades, blocking Observatory Drive at 5 p.m. as administrators head home — represent clear escalations from the non-confrontational style on display Friday. A student strummed guitar, others waited in line for slices of Ian's Pizza and many hunched over laptops to grade or work on research.
Barret Elward, a research assistant for the nuclear engineering and engineering physics departments, said he hopes the sit-in will spark a real conversation with administration and isn't seen as "just a bunch of bohemians grubbing for money."
"Adjuncts and TAs everywhere are getting paid less and less to do more and more," he said. "People have legitimate grievances."