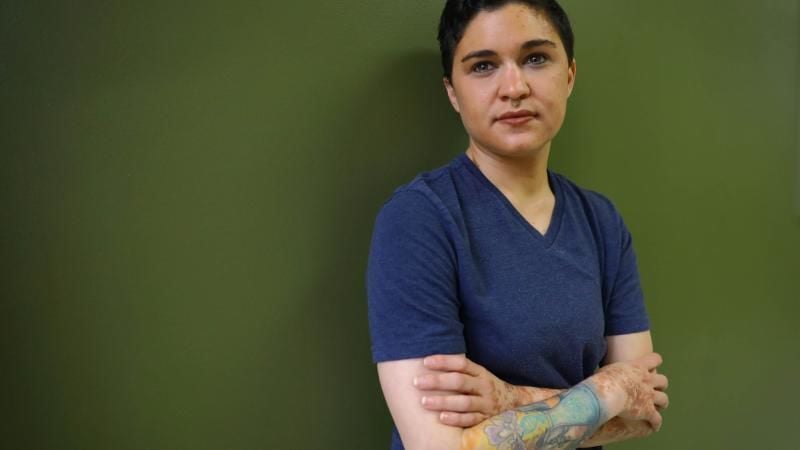 A UW-Madison graduate student apologized and resigned from a teaching position at the university after falsely claiming to be a person of color.
CV Vitolo-Haddad, a graduate student in the School of Journalism and Mass Communication who uses they/them pronouns, said they identify as Southern Italian/Sicilian. But in a series of apologies issued over the past week, they said they have distorted their ancestry, failed to correct others' assumptions about their ethnic origins and relied on their parents' "conflicting stories" of their heritage.
"I have let guesses about my ancestry become answers I wanted but couldn't prove," Vitolo-Haddad wrote in an apology posted Sunday on the blogging platform Medium. "I have let people make assumptions when I should have corrected them."
In a second apology posted Tuesday, Vitolo-Haddad wrote that when asked if they identify as Black on three separate occasions, they did not say no.
"In trying to make sense of my experiences with race, I grossly misstepped and placed myself in positions to be trusted on false premises," Vitolo-Haddad wrote. "I went along with however people saw me. … All of those actions were deeply misguided and have caused an incredible amount of hurt for the Madison community, those I organize with, and everyone who has been exposed to this public reckoning. It was my choice and error to identify any differently."
The deception was unearthed just days after another scholar, Jessica Krug, admitted last week that she had been lying about her identity as a Black woman, and more recently as a Black Latina, for most of her adult life. Krug, a history professor, earned her doctoral degree from UW-Madison in 2012 and resigned from her job at George Washington University on Wednesday.
Vitolo-Haddad declined an interview request but told the Wisconsin State Journal in a series of text messages: "I repeated things I heard growing up from my family that I now know to be lies. I am so sorry. I take full responsibility for spreading these lies and am deeply sorry."
'Colossal betrayal'
Vitolo-Haddad's false implications of their identity garnered swift criticism from the academic community.
The graduate student union, where Vitolo-Haddad served as co-president before resigning from the position in recent days, condemned Vitolo-Haddad's "appropriation of Black and Brown identities" and acknowledged that the union had enabled harm by electing Vitolo-Haddad to a position of power.
"We have unknowingly rewarded the toxic opportunism of performing Blackness," the Teaching Assistants' Association said in a statement.
The union vowed to change its election process to allow people to provide more feedback about candidates, both in public forums and through anonymous mechanisms. It also plans to hold a Monday town hall for members to ask questions.
Union president Alejandra Canales said she was unaware of Vitolo-Haddad's background before it spilled out online over the past week.
"You should trust people to be who they say they are and that's part of what it makes so upsetting to a lot of people," she said. "Deliberately lying about that flattens the experiences of those who have marginalized identities."
Canales, who is Latina and has served on her graduate program's diversity committee, said Vitolo-Haddad's actions represented a "colossal betrayal of trust."
University spokeswoman Meredith McGlone confirmed Vitolo-Haddad is no longer a teaching assistant at UW-Madison.
"UW-Madison expects that people represent themselves authentically and accurately in all aspects of their academic work," she said.
Vitolo-Haddad told Inside Higher Ed that they benefited "socially" in certain ways from the situation but never applied for scholarships, fellowships or awards for people of color, nor did they identify as Black on any forms asking about their identification. Vitolo-Haddad's scholarship includes papers on white nationalism and the rhetoric of far-right groups, but they said they had never posed as Black in their published work.
Vitolo-Haddad was active in social justice circles on campus.
Isthmus reported in 2017 that Vitolo-Haddad was a member of the Student Coalition for Progress, a group that criticized a free speech bill that proposed protecting offensive speech. Vitolo-Haddad told the newspaper the legislation was a threat to marginalized students.
Also in 2017, Vitolo-Haddad authored a blog post alleging another UW-Madison teaching assistant posted racist and anti-Semitic statements on social media. The other student denied holding racist views but was removed from his teaching position.