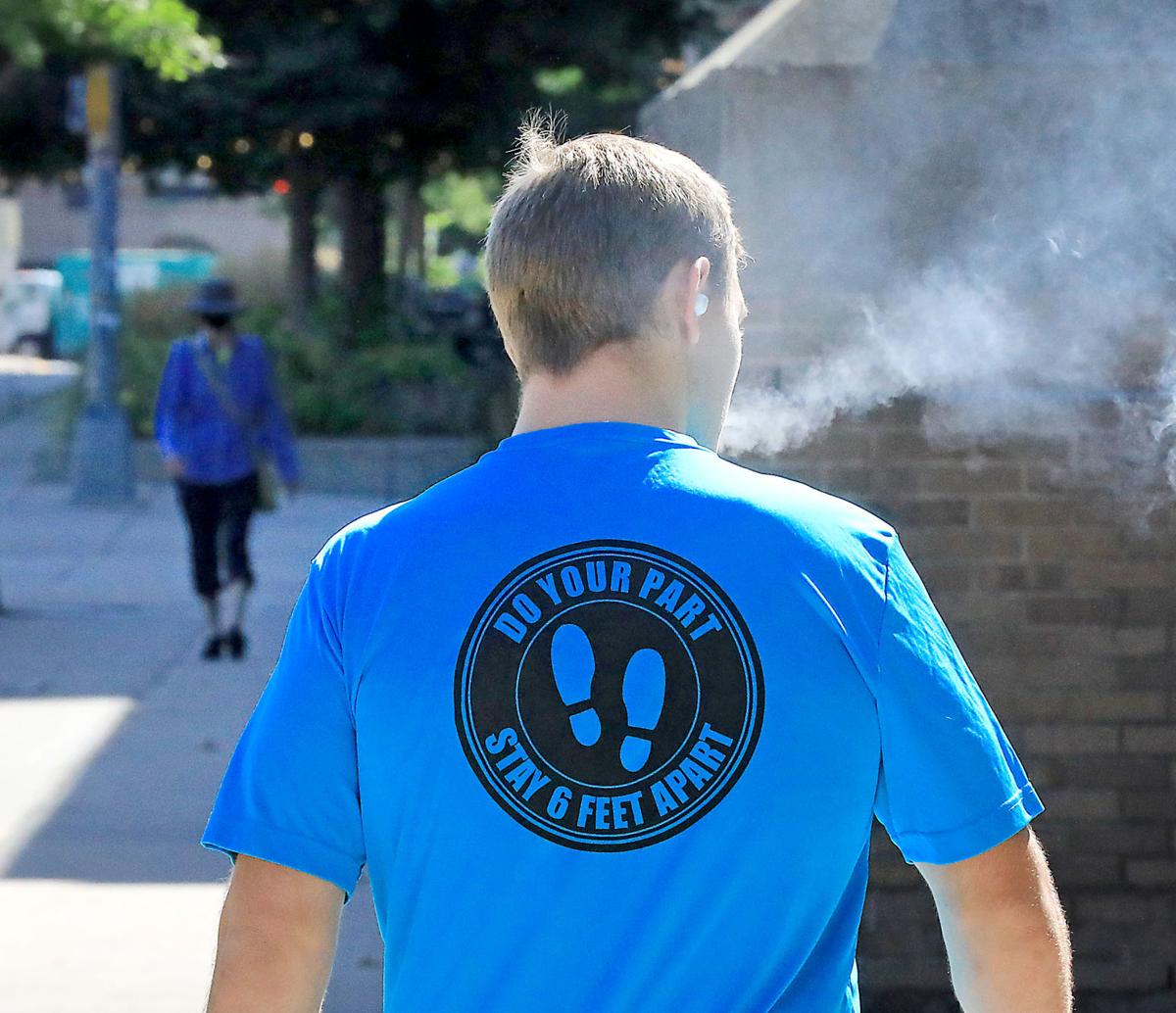 Tensions between UW-Madison and the community at large escalated on Monday when Chancellor Rebecca Blank called on Dane County's top leader to stop criticizing the university's reopening plan and instead address the county's increased COVID-19 caseload together.
Dane County Executive Joe Parisi asked the university in early September to move all classes online and send most students living in the dorms home. His request came after a surge in virus cases, the vast majority of which the city-county health department tied to UW-Madison students. Parisi has repeated those calls to UW-Madison officials over the past two weeks to no avail.
The best way to reduce the number of infections, Blank said, is "not by issuing press releases calling for students to leave, but to partner in developing collaborative solutions for the benefit of all residents." She warned that the county is unlikely to see a rapid decline in cases until agencies with jurisdiction over off-campus areas take action.
"It's long past time to stop arguing," Blank said in a statement. "We'd welcome a conversation on how we can work together to help our community."
Parisi was baffled by Blank's latest statement, saying UW-Madison went ahead in reopening this fall despite both he and officials with Public Health Madison and Dane County expressing concern.
"The university did not ask for our permission," he said in an interview. "They informed us. For them to somehow shift the responsibility of their decision onto the community doesn't really pass the smell test."
UW-Madison started the semester with an inadequate testing ability and number of contact tracers on staff, straining the county's public health resources, Parisi said.
"We talk about the Wisconsin Idea, working together with the community in which you exist, that's not the way the decision was made by the university administration to reopen and that's not how it's running right now," he said. "They went forward on a plan that we didn't want them to do. They created this problem in the community and now they're turning to us and saying, 'Fix it.'"
Parisi isn't the only public official to voice his concerns about UW-Madison's reopening. More than two dozen other local elected leaders signed a letter in late August asking for similar actions that Parisi echoed in his own request.
Public Health Madison and Dane County spokeswoman Sarah Mattes avoided criticizing UW-Madison, saying the agency continues to work closely with the university and Parisi's office. She did, however, point out the percentage of people testing positive in some residence halls, fraternity houses and apartments is as high as 50%.
"We have not seen this in other Dane County congregate living environments," she wrote in an email. "To us, this indicates ongoing transmission, rather than case-finding through testing alone."
'Cautiously optimistic'
Blank has repeatedly defended reopening campus. With the majority of the student body living off campus, she said most would have returned to the city to honor their apartment leases this fall even if UW-Madison started the semester with online-only classes.
"Students are an important part of the Madison community," Blank said. "You can't simply wish them away, nor should you. This is where students live, where they work, where they vote, and their presence supports hundreds of local businesses and the Dane County economy."
After the city-county health department identified at least 46 separate outbreaks tied to UW-Madison earlier this month, the university moved all classes online for at least two weeks and quarantined two of its largest dorms.
University leaders are "cautiously optimistic" about the latest data. The seven-day average positivity rate of students tested on-campus is 5.7%, down from a high of 10.4% on Sept. 13. The number of new cases has declined each of the past five days, according to UW-Madison's data dashboard.
The two weeks of restrictions expire later this week. Students, staff and community members alike are looking to see what, if any, restrictions are lifted and whether UW-Madison officials can explain how another similar surge would be prevented.
Some changes have already been made. For example, the university nearly doubled the number of contact tracers on its staff since early September, with more hires in the works.
Test results are coming back more quickly through a partnership with the Wisconsin State Laboratory of Hygiene and the Wisconsin Veterinary Diagnostic Laboratory and with UW-Madison's commercial partners, according to Laurent Heller, vice chancellor for finance and administration. He said at a faculty committee meeting on Monday that questions emerged about the level of infection in Chadbourne Hall, so leaders decided on Thursday to test each of the dorm's roughly 500 residents. The majority of students were tested Friday and most results were received Saturday.
University officials wrote in the daily dashboard briefing that test results show no further actions, such as a building-wide quarantine, are needed.
Off-campus enforcement
Students' ability to place public health above their impulse to socialize is key to keeping infection levels on campus and across the greater community low.
It's an unfair request to make of young adults, critics say, particularly when universities make decisions like bringing back Badgers football games.
UW-Madison lacks jurisdiction to shut down gatherings off campus, Blank said, putting the onus on agencies with enforcement authority to take additional action.
Parisi took issue with this suggestion, explaining that the county does not have the resources to "create a party patrol" and keep in check the students that UW-Madison invited back to campus.
He hopes the university announces this week that classes will remain online for the rest of the semester, which he said would reduce some students' gatherings and encourage those in dorms to return home.
But Heller pointed out in the faculty meeting that some students leaving the dorms aren't headed back to their parents. Instead, they're securing off-campus apartments, a sign that students want to be in Madison. He also said offering online-only classes doesn't entirely eliminate the problem.
Look at Michigan State University, he said. The Big Ten school announced over the summer that it would deliver classes online in the fall and asked students signed up to live in dorms to stay home for the semester. Many students with off-campus leases still returned to East Lansing.