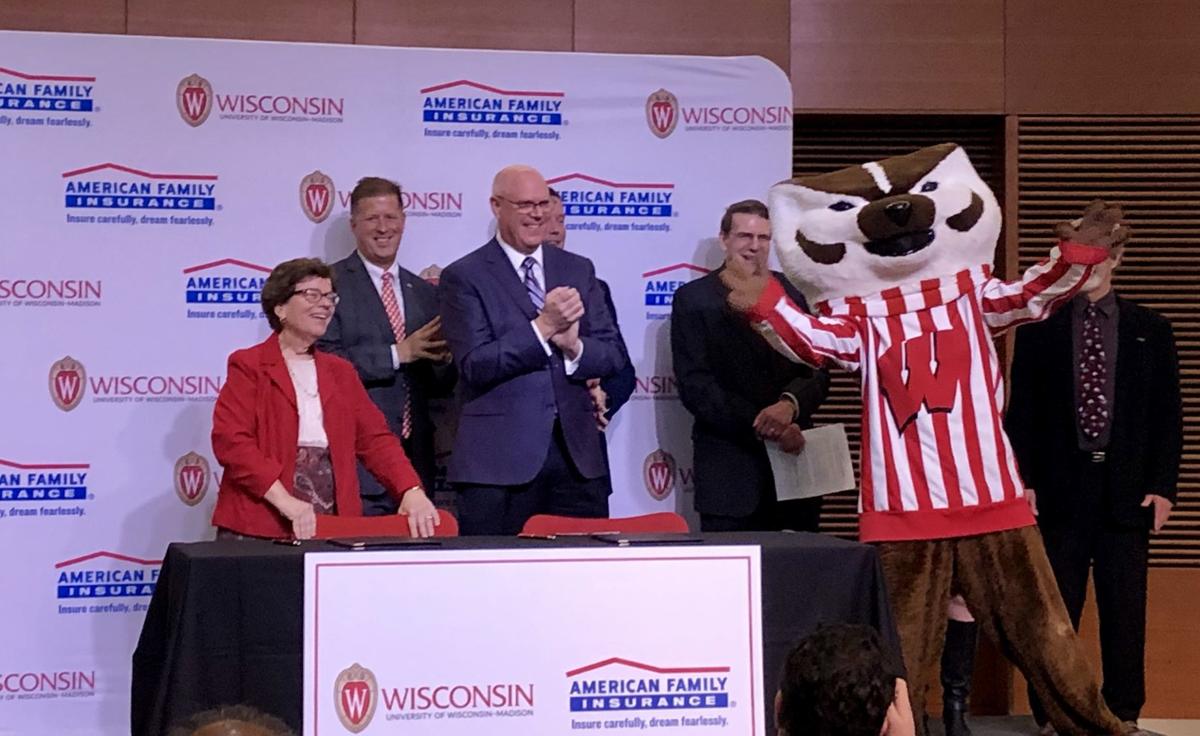 UW-Madison pledged to expand its reach in the growing field of data science with a $20 million gift from American Family Insurance to establish a data science institute on campus.
Jack Salzwedel, CEO of American Family Insurance, and Chancellor Rebecca Blank made the announcement Friday at the Wisconsin Institutes for Discovery building on campus.
"This strengthens that pipeline between students, graduates, companies and employers and this overall leads to jobs," Salzwedel told a small crowd, about half of which were company employees. "It's a win for everyone."
Student demand in fields such as computer science has surged in recent years, far outpacing the number of instructors available to teach courses. In some cases, the department cannot secure lecture halls large enough to accommodate the number of students seeking to enroll.
A university report produced last fall called for a host of recommendations to raise the university's profile, rank and research output in the computer and data science fields. Once as high as No. 5 in the 1980s, UW-Madison's computer science department slipped from ninth in 2007 to 13th in 2018, according to U.S. News & World Report.
Undergraduates will be available to register for a data science degree, one of the report's proposals, by the end of the fall, Blank said.
Another recommendation was to start fundraising for a research-focused data science institute.
American Family Insurance will invest $10 million to endow the American Family Insurance Data Science Institute on campus, which will be located in the McArdle Cancer Research building and begin work July 1.
You have free articles remaining.
Some of the endowment may be used to support graduate students or provide faculty with more time to work on projects, Blank said.
Brian Yandell, professor of biometry, statistics and horticulture, will serve as interim director.
The other half of American Family's gift will go toward research in data science over the next 10 years.
Salzwedel said the company will not direct UW-Madison on what research to produce. Instead, American Family will pursue collaborations on shared interests, such as driverless cars, crash-avoidance technology and climate modeling.
"We have a lot of shared research interests, which makes this really exciting," Blank said.
Research agreements will determine intellectual property rights of research coming from the institute. Those agreements aren't in place yet because Blank and Salzwedel signed a general letter of intent Friday.
"I don't anticipate any problems on that front," Blank said of intellectual property rights.
American Family has had a longstanding relationship with UW-Madison. The company's founder, Herman Wittwer, was a 1911 graduate of the university.
More recently, the university signed a 10-year, $40 million agreement in 2015 that has led to research on, for example, identification of risk factors for Alzheimer's disease.
Separate from American Family's investment, Blank announced the hiring of three new faculty in the data science field.