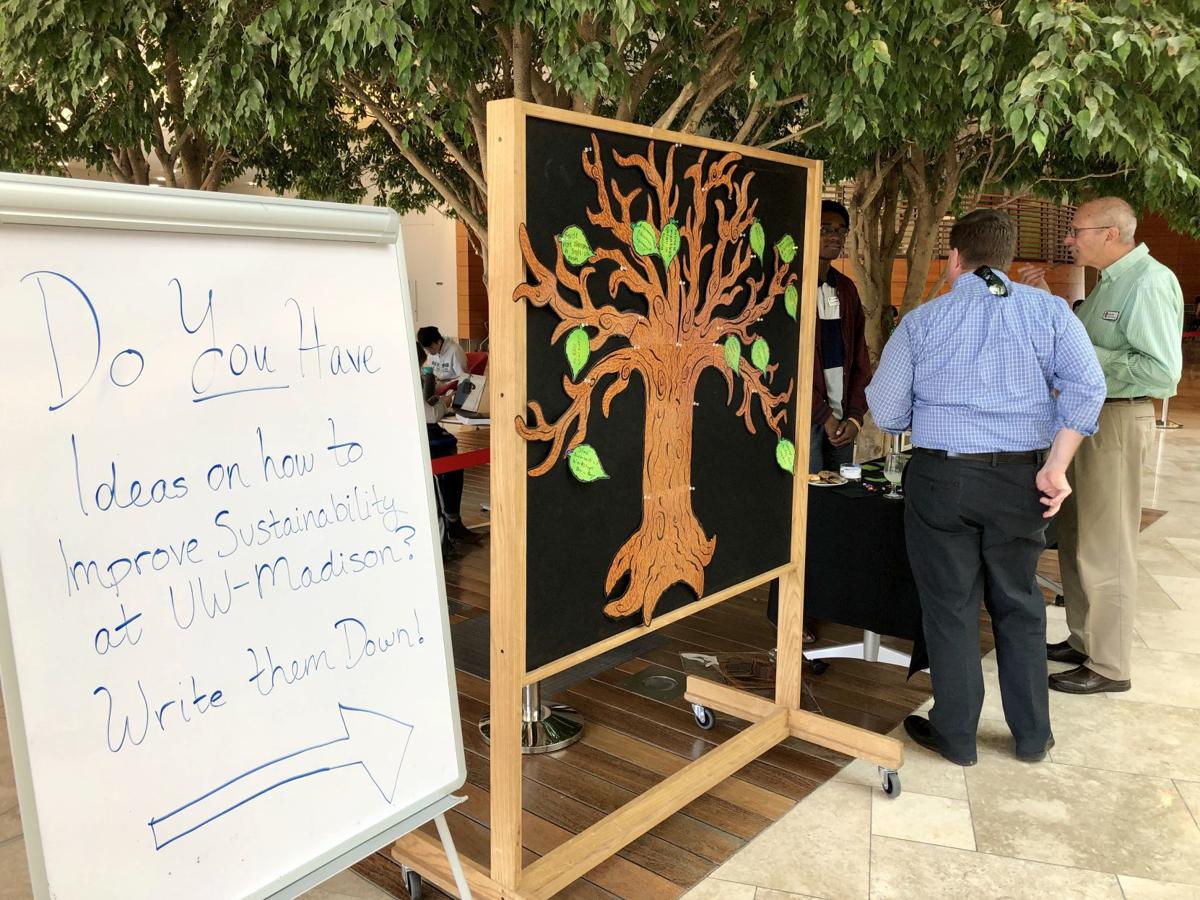 UW-Madison scored silver in its first time being rated by a national organization that aims to boost environmental sustainability on campus.
Merely earning a ranking is seen on campus as an accomplishment. To receive one, institutions must collect reams of data in areas including energy consumption, course offerings, dining hall policies and more from a range of different departments. More than 150 people on campus spent eight months putting together UW-Madison's 244-page report.
"Don't print it!" UW-Madison Chancellor Rebecca Blank said of the report to a small crowd gathered Monday for the announcement. "Read it online."
Blank said earning silver is typical for a university, particularly a large institution, to receive in its first time submitting a report. How UW-Madison scored on its first try represents a baseline assessment of where campus sustainability efforts are and where to improve. It can also be used, she said, to compare the campus to its peers and help in recruiting students and employees.
"People want to be on a campus that cares about the environment," Blank said.
The majority of other University of Wisconsin System campuses have already been rated by AASHE. For example, UW-Stevens Point, UW-River Falls and UW-Oshkosh all received gold last year, while UW-Platteville and UW-Whitewater scored silver.
UW-Madison was one of the last universities in the Big 10 to hire a full-time sustainability director. Missy Nergard started in August 2018.
Nergard spearheaded submission of the report, something she said university employees had tried three times before, but never completed.
"We needed to know where we are so we can set some aspirational yet doable goals," Nergard told the State Journal after the event, which was advertised as "zero-waste," with attendees wearing dry-erase board name tags and served locally sourced food.
The university received one of its lowest scores in the category of buildings, receiving 0.64 out of eight points.
Nergard said she expects operations to be one of the areas that will take UW-Madison the longest to address, as making changes depends on securing funding, and donors aren't typically interested in making energy efficiency-specific investments, such as for a boiler room.
2012 directive
She also said the university's building operations may be more energy-efficient than the report indicates.
That's because UW-Madison may have met Leadership in Energy and Environmental Design (LEED) certification requirements for new buildings, but did not pursue the certification after a 2012 executive order by Republican Gov. Scott Walker called for state buildings to merely meet or exceed commercial code requirements for energy efficiency. The order overrode a 2006 executive order by Democratic Gov. Jim Doyle that encouraged agencies to pursue LEED certification.
The university also lacks a climate action plan, something Nergard said the campus is working on in conjunction with Dane County, the city of Madison and the Department of Atmospheric and Oceanic Sciences.
About 7% of faculty engage in sustainability research and roughly 6% of course offerings include sustainability, but no incentives exist for faculty to develop new programs or incorporate sustainability into existing ones, according to the report.
High points
Some of the areas where UW-Madison performed well are:
Many students and employees commute without a car, and the campus has more than 15,000 bicycle stalls.
The fund supports student-initiated projects that reduce the environmental footprint and operating costs of on-campus facilities. For example, civil and environmental engineering students conducted life-cycle analyses of equipment in residence halls, ultimately leading to the installation of new water-efficient toilets at Tripp Hall that will save $740,000 and 410 million gallons of water over the toilets' 20-year life span.
More than 450 tons of organic waste was composted instead of sent to a landfill. The dining halls offered only reusable to-go containers last fall, eliminating 386,000 disposable containers while saving $55,000 in the program's first year.