A costume depicting President Barack Obama with a noose around his neck at Saturday's Wisconsin football game has ignited a firestorm on social media and on campus, with students, faculty and others denouncing both the people who wore it and what some considered a weak response to the incident from UW-Madison.
Outrage over the costume grew over the weekend and through Monday, raising questions about free speech and whether the university appropriately handled a display many saw as highly offensive.
According to UW-Madison, Camp Randall Stadium's guest services staff asked the person wearing the noose to take it off, which he agreed to do during the first half. The fans were allowed to stay in the stadium, officials said.
On Monday, UW-Madison spokeswoman Meredith McGlone said, "Stadium staff monitored the fan to ensure that he did not put the noose back on and was prepared to remove him if he did."
However, Wisconsin State Journal photos taken late in the third quarter of Saturday's game show the duo walking around Camp Randall Stadium with one of them once again wearing the noose and a mask of Clinton.
Marc Lovicott, a spokesman for UW-Madison police, said the department monitored the costume wearers with a camera throughout the game, but "from our vantage point, it appeared as if the noose had remained off."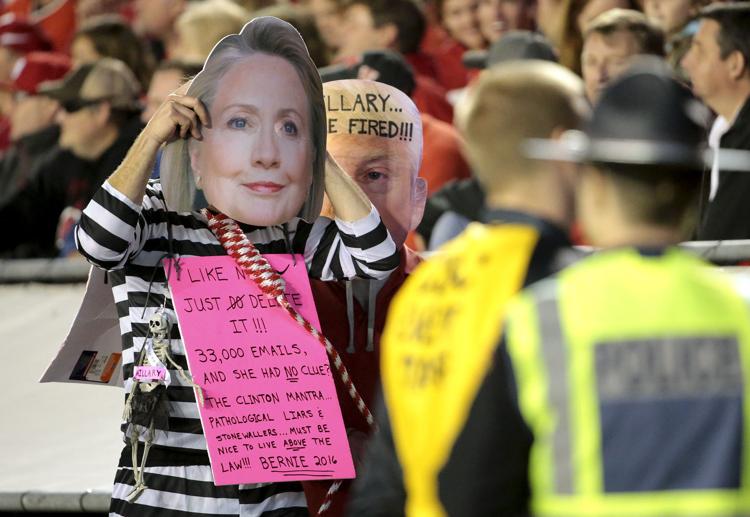 Free speech questions
As photos of the costume drew national attention, UW-Madison students and others questioned why the fans weren't kicked out of the game.
You have free articles remaining.
Blank and campus officials have said the fans who wore the costume were not ejected because their display was protected by the First Amendment.
UW-Madison professor and First Amendment expert Donald Downs said there is not a definitive answer to whether UW had the authority to kick the fans out, since universities are allowed to place some restrictions on speech in settings such as a football game. At issue is whether the use of a noose violates UW's conduct rules for fans at Camp Randall, Downs said.
"If they had done this outside the stadium … that would be a public forum and they would be completely protected in doing that," he said of the fans. "The university does have some rights to set some limits … inside the stadium."
Ultimately, Downs said he approved of how officials handled the costume, saying that institutions should defer to allowing speech if their ability to restrict it is up for debate.
Response criticized
Professor Christy Clark-Pujara, who teaches about the history of lynching in the UW-Madison African-American studies department, was one of several people who took issue with the university's response to the incident.
"It's kind of boilerplate: 'This is awful, this is not who we are,'" Clark-Pujara said.
Although Blank and campus officials condemned the costume, Clark-Pujara said their statements glossed over the brutal history of lynchings, in which thousands of black men and women were killed, and fell short of teaching students about why the image of Obama in a noose is so appalling.
She said UW-Madison's statements also failed to acknowledge that the costume was part of broader problems people of color face at the predominantly white institution, where a series of racially charged incidents this spring led to protests and new programs aimed at improving the climate on campus.
"This is a really big deal and it should be treated that way," she said.