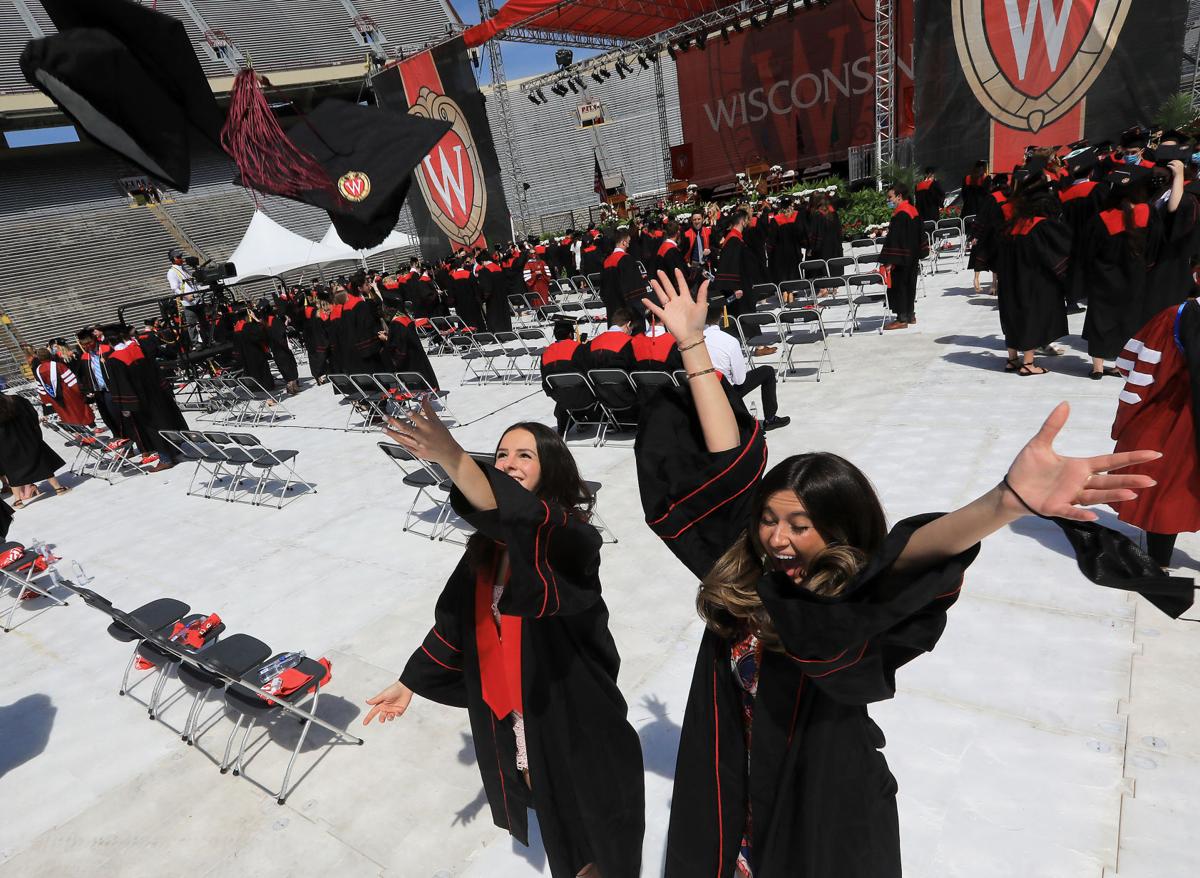 Representing the School of Nursing at UW-Madison's commencement ceremony Saturday, Noor Bontz carried the school's flag into Camp Randall Stadium.
The 35-year-old mother was nominated for the honor because she works in a medical respiratory intensive care unit in Milwaukee. Bontz graduated as part of the university's BSN@Home program, which is designed for working adults with an associate degree in nursing to earn a bachelor of science in nursing online.
The past year has been rough, Bontz said, as she cared for vulnerable people, continued her education and supported her children learning from home.
But when Provost Karl Scholz told the graduating crowd that "Noor helped treat the first and subsequent waves of COVID-19 cases," her efforts were met with thousands of peers cheering in support.
After a senior year challenged by the pandemic, UW-Madison's Class of 2021 enjoyed a semblance of normalcy Saturday as the university held its first in-person commencement ceremony in a year and a half. Camp Randall Stadium was again the scene of smiling, robe-clad grads taking selfies with friends, jumping around and throwing mortarboards into the air.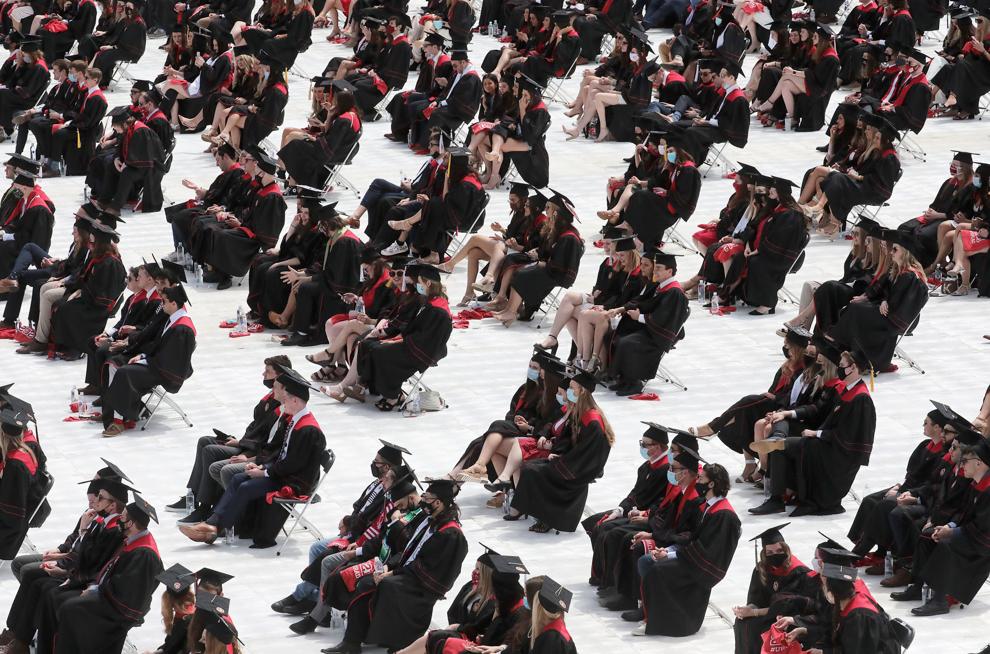 But reflecting the continuing reality of the public health crisis, students were assigned to "pods" of up to four people on the field and in the surrounding bleachers, many wore masks, and family and friends weren't allowed in — instead watching a livestream of the ceremony from halfway around the world or at a bar on State Street.
Katherine Azem, 22, said she was grateful for her family's support in earning a bachelor's degree in history. She plans to move back to Chicago and find a job with a nonprofit, preferably helping at-risk teens or in a women's shelter.
"It was a big curveball for COVID and having to transition to online classes," Azem said. "But we carry on and just got to push forward."
Tony Award-winning Broadway actor and singer and 1970 UW-Madison alumnus André De Shields told the graduates to embrace their individuality.
"This is what I charge you with, understanding that there is no one like you, there has never been anyone like you, and there shall never be anyone like you," De Shields said in a video keynote speech. "Therefore, know yourself, be yourself, authenticity is everything."
He also urged the graduates to reflect on recent challenges, particularly the pandemic and the police killing of George Floyd in Minneapolis, and to approach tough topics rather than avoid them.
"Every problem disguises a blessing," De Shields said. "This is your opportunity not to act in pain, not to react in fear, not to be stressed out, not to be depressed, not to be frustrated, but to do what we know is correct in this moment."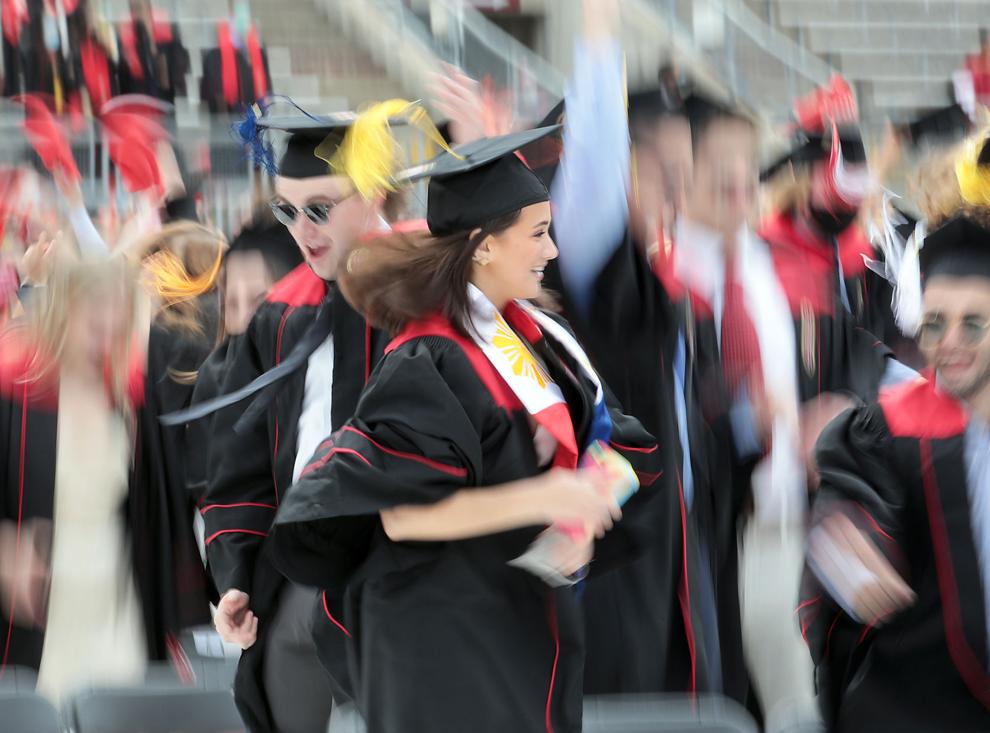 Commencement brought 5,167 undergraduate students and faculty into Camp Randall for the noon ceremony, which ran about 25 minutes longer than expected. A recent negative COVID-19 test or proof of vaccination was required to attend.
"It feels good to actually do something with everybody here," said Gary Grosskopf, a graduate from Waunakee who majored in personal finance.
In total, about 5,500 students are expected to earn a bachelor's degree this year. A second in-person commencement ceremony for graduate students was held later in the afternoon. Approximately 1,260 master's degree students and 870 doctoral candidates are projected to graduate.
"As a class, we have been through a lot. We have endured an agonizing final year," Bukowiec said. "I could not in these brief remarks list the memories that could have been or the loss and pain that has been felt. But we have been resilient and have so much to look back on."
Joziah Mays graduated with a bachelor's degree in computer science. The Fort Washington, Maryland, native already has a job lined up in software engineering for Target Corp., which he can begin remotely.
"It really hasn't been that bad. I'm used to being stuck at home on my computer anyway because of computer science," said Mays, 22, a first-generation college student. "But just not being able to interact with people was a big thing."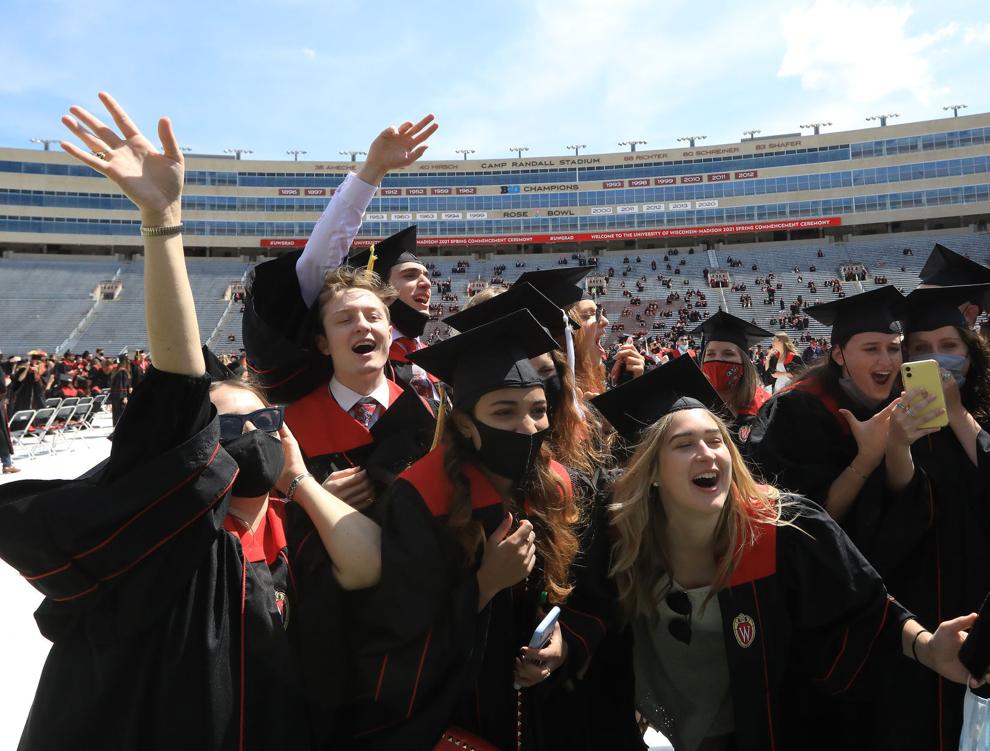 Lusayo Mwakatika told his fellow seniors about the excitement and fear he felt leaving his home country of Malawi in eastern Africa for the first time in 2017 to travel to Wisconsin for school, knowing little about the state.
But Mwakatika, who was selected to be the student commencement speaker, said he didn't realize in America he would be defined more by his skin than his ethnicity, faith or "even my crazy jokes."
"I found out people viewed me as a Black man before any other identity, which meant that people saw me with stereotypes I didn't even know about," he said.
Mwakatika said he experienced situations where the seats on either side of him in class were the last to be filled or he was the last to be chosen for group projects. But Mwakatika said he was proud of the way his class has worked to address issues of systemic racism and urged them "to fight for justice and equality in our next destination."
---
"It feels good to actually do something with everybody here."

Gary Grosskopf, a graduate from Waunakee who majored in personal finance