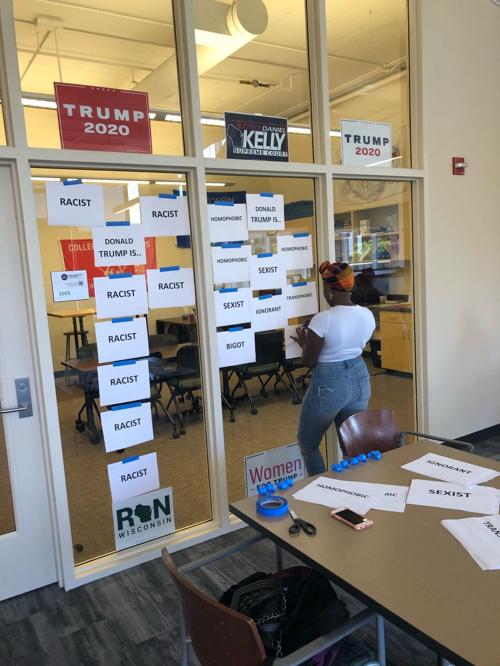 Someone covered the outside of the UW-Madison College Republicans' office with signs labeling President Donald Trump as racist and sexist, according to a video the group shared on Twitter Wednesday.
A woman is seen in the video taping to a glass wall nearly two dozen printer-size sheets of paper, a few of which read "Donald Trump is..." and the others containing adjectives such as racist, sexist, homophobic and bigot.
Another person, whom College Republicans chairman Ryan Christens identified as a university employee, walked up to the woman and said, "Yeah, I'm sorry, you can't do that," but the woman continued to tape signs to the wall as a song critical of Trump played from a phone.
It's the latest example of the political tension colleges face in protecting free speech on campus. Conservatives say their ideology is denigrated at progressive institutions, and liberals say policies promoted by Republicans that punish students who protest end up chilling free speech.
Part of the freedom of expression policy in place at UW-Madison and other University of Wisconsin System campuses is up for deliberation by the UW System Board of Regents. They meet Friday to consider taking another step toward implementing punishments for students who interfere with campus speeches.
The College Republicans said Wednesday's protest was a clear violation of university policy, calling the individual an "intolerant student in complete hysteria" and chalking the episode up to "another example of total intolerance from the left in an environment that is supposed to welcome a marketplace of ideas."
TODAY: intolerant student in complete hysteria targets UW-Madison College Republican student office. Another example of total intolerance from the left in an environment that is supposed to welcome a marketplace of ideas. *disclaimer contains explicit language* pic.twitter.com/qtSDA3SKri

— GOP Badgers (@GOPBadgers) October 9, 2019
Christens, a junior studying business management and marketing, told the Wisconsin State Journal he introduced himself to the woman hanging up the signs and asked her to stop. Her response, according to Christens, included an expletive and a comment to the effect of, "This white boy thinks he can stop me." The woman is black.
Two female students serving on the College Republicans' executive board were in the office during the duration of the protest, and Christens said they feared for their safety, afraid to leave because of the woman's aggressive behavior.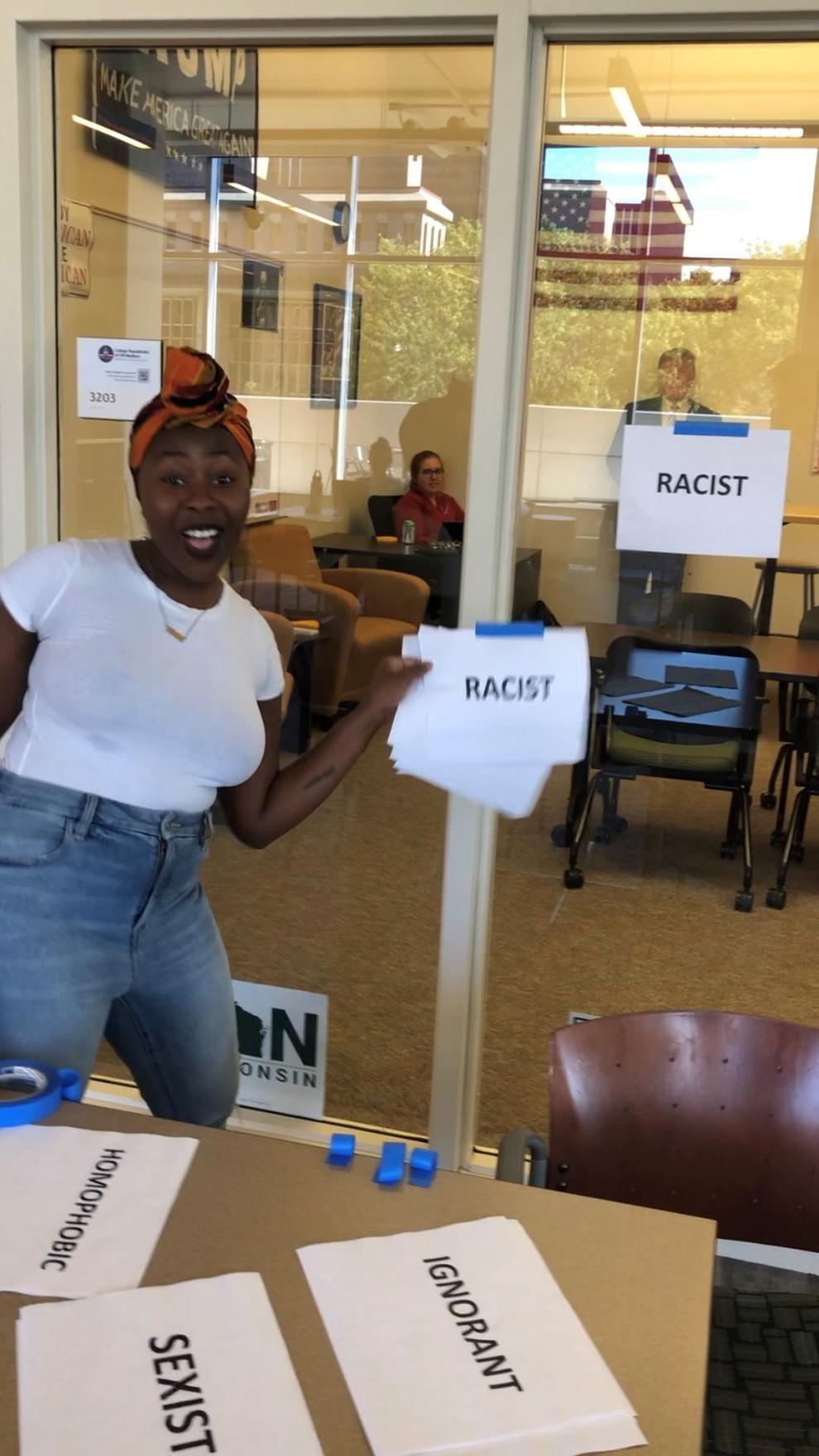 The demonstration occurred in the Student Activity Center, an area where many groups' offices are housed and students can study. A few students sitting nearby joined the woman hanging the signs after she yelled for them to participate, he said.
Asked if Trump was any of the words taped to the group's office, Christens said the group is proud to support the president who wants all Americans to prosper regardless of race, gender, or country of origin.
"College Republicans are always willing to engage in respectful dialogue with students we disagree with, but it was clear this student had no intention of engaging in a civil discussion," he said. "It seems that some students are incapable of even tolerating a College Republicans office on campus."
UW-Madison wrote in a series of tweets that the university supports students' right to free speech and civil discourse around political issues.
UW policies ban the posting of unapproved signs, posters and other material in public spaces, their statement said. The Office of Student Conduct and Community Standards is reviewing the incident and will follow up as appropriate.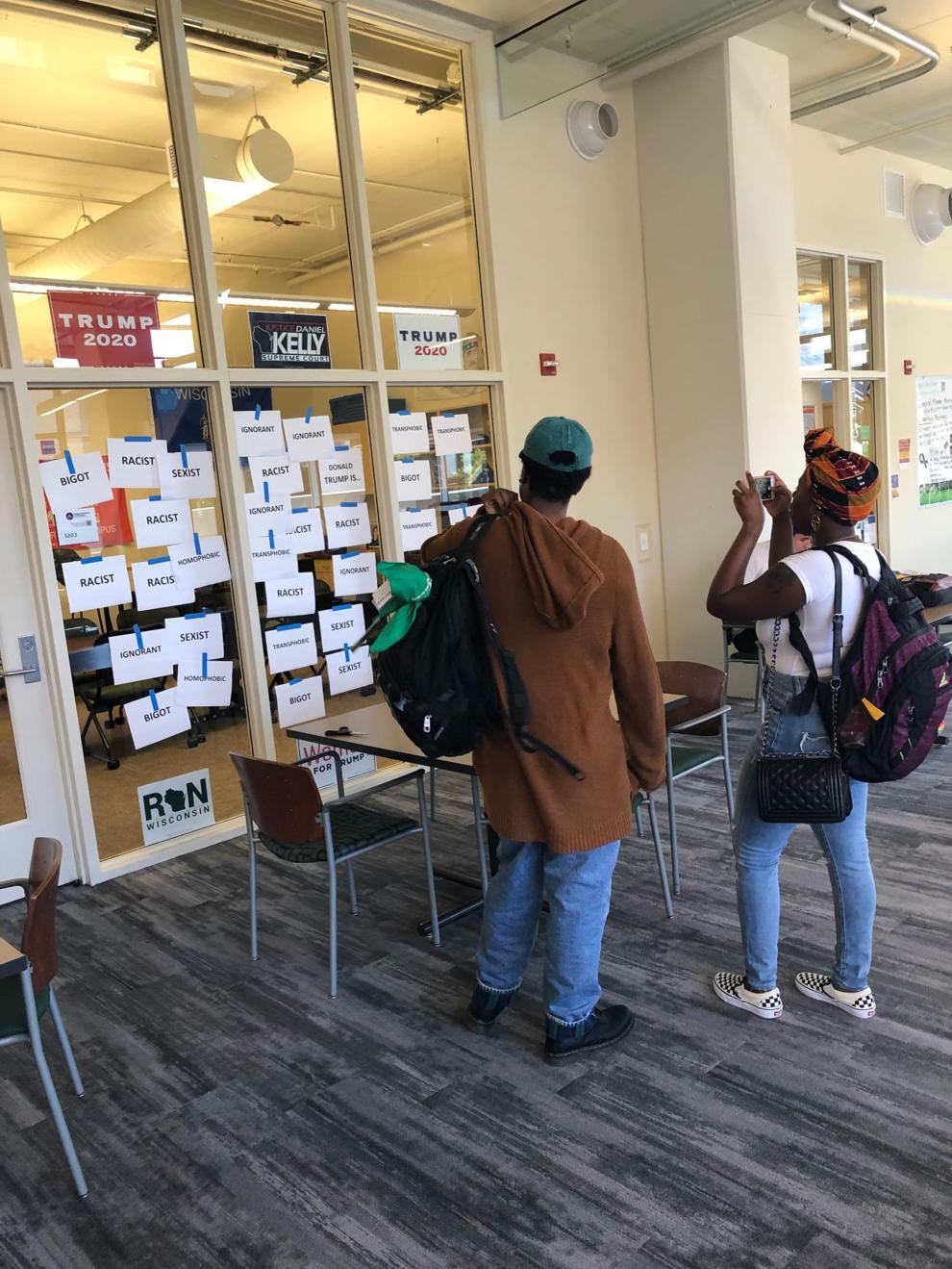 The woman who hung the signs left after the Dean of Student's Office was contacted, Christens said.
The College Republicans are pleased with how the university handled the situation so far, he said. An employee started to take down signs, and both Assistant Dean of Students Kipp Cox and Dean of Students Christina Olstad stopped by the group's office later Wednesday afternoon to discuss what happened.
Free speech policy under review
The Regents adopted a three-strike free speech policy in the fall of 2017. It requires UW campuses to suspend students who disrupt the free expression of others in a substantial way after a second time. If students are found to have done so three times, they are expelled.
The policy hasn't taken effect, however, because the UW System's administrative rules haven't been amended to include it. The board will consider approving a scope statement Friday that will prompt at least one more public hearing before the proposed rule heads to the governor's desk.
Approval by Democratic Gov. Tony Evers appears unlikely.
His spokeswoman, Melissa Baldauff, said in July that Evers opposed the policy, which he voted against when he served on the board at the time of its adoption. She did not respond to a request for comment Wednesday.
"It seems that some students are incapable of even tolerating a College Republicans office on campus." Ryan Christens,

College Republicans chairman
"It seems that some students are incapable of even tolerating a College Republicans office on campus." 

Ryan Christens, College Republicans chairman