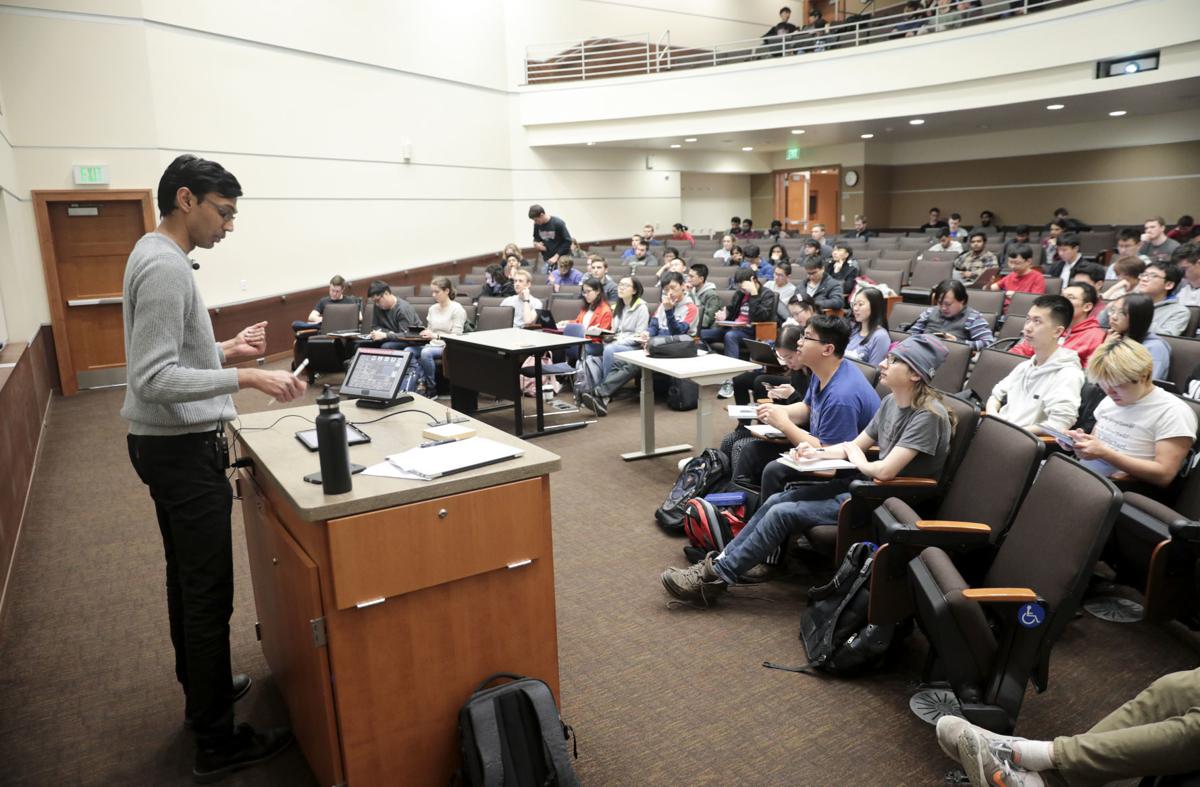 Surging student demand for data science skills and an abundant supply of jobs for people with related expertise have led UW-Madison to create a new school, add an academic program and hire more faculty focused on data science.
After years of strained resources for individual academic departments teaching technology skills, the university's new School of Computer, Data & Information Sciences is a concentrated, coordinated effort to equip more students with what college officials see as required tools to work in the modern world.
"A hundred years ago, you may have thought of mathematics as that kind of basic tool that everybody needs to go study other fields," said Department of Computer Sciences chairman Remzi Arpaci-Dusseau. "Now we believe that computation, data, and then being ethical in how you apply those things, are that next level of foundation."
UW-Madison announced the creation of the school last month and is in the midst of hiring more faculty members in data-related fields. The UW System Board of Regents on Friday approved a new major, data science, to be housed within the school that will train students for the millions of data-related job openings projected by the U.S. Bureau of Labor Statistics over the next decade.
The new school will include the Department of Computer Sciences, the Department of Statistics and the Information School, all of which have recently added or will be adding faculty members to their departments.
The difficulty is that UW-Madison competes for hiring not only with other institutions, but also with Facebook, Google and other tech companies who offer higher salaries.
The computer sciences department had 37 faculty members last year and added five hires this year, but that's still far behind the median department size among the country's top 10 computer science programs of 75 members.
The statistics department grew by five members over the past two years. University officials have given the Information School authority to hire during this recruiting season.
More faculty means shorter student waiting lists to enroll in classes, more specialized courses and expanded access for non-majors to gain expertise in a field that seemingly overlaps with every aspect of society — science, business, government, media and more.
"One of the goals of the school is certainly to reach out and make this kind of new generation of students who maybe don't necessarily just want to study deeply in the domain but really want to apply it to a different field," Arpaci-Dusseau said.
Another goal is to simply better address the demand from students choosing to major in these programs. Statistics, computer sciences and the Information School together enrolled nearly 2,700 undergraduates and graduates last year.
Computer sciences surpassed biology as the university's most popular undergraduate major in 2017 and continues to increase in popularity. The statistics program saw the third-highest rate of growth among 145 majors over the past decade, from 29 students in 2009 to 294 in 2018.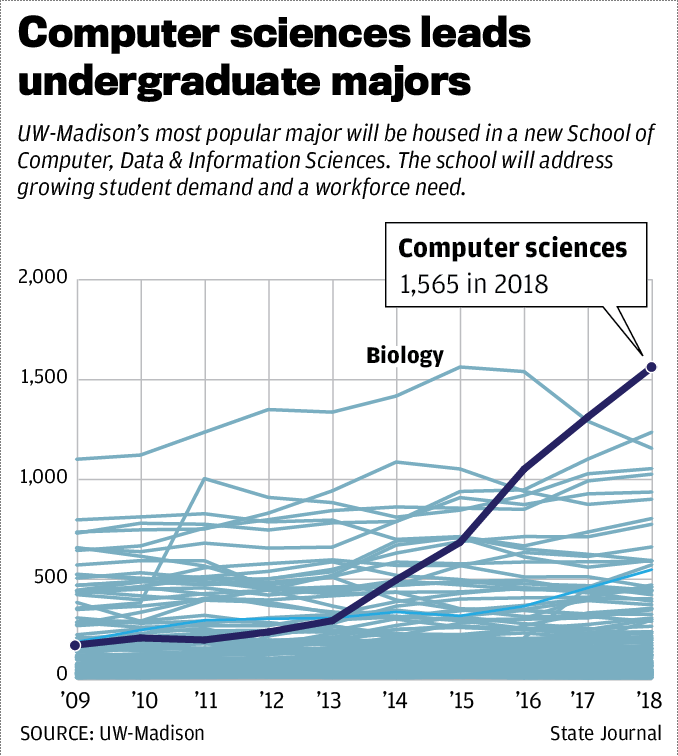 Those interested in the data science major can begin taking courses that will count toward the new degree. Starting in fall 2020, students can declare it as their major. Course requirements include calculus, data modeling, programming and data ethics. The school projects nearly 500 students in the program by 2022, according to documents submitted to the Regents.
New building planned
UW-Madison hired Tom Erickson, an alumnus and technology entrepreneur, to lead the school. He and others are looking to expand certificate programs, or what other institutions call minors.
Continuing education courses in computer and data sciences, often geared toward working professionals seeking to update their skill set, are a relatively untapped market the school hopes to further pursue. For example, Milwaukee-based Johnson Controls encouraged employees to take professional courses at the University of Illinois because UW-Madison's computer sciences department didn't have the staff and resources, according to a 2018 report.
The school's long-term goal is to physically bring together each of its departments scattered across campus into one building.
"I'm just going to be really blunt," Erickson said. "We're overflowing. We don't have the classrooms to be able to fit that increased (demand), we don't have the offices to accommodate additional faculty and graduate students whether that's here (in computer sciences) or in statistics and eventually in the Information School as well."
The 2018 report found UW-Madison's computer sciences building is roughly twice as old as peer institutions with about 65% of the space others have.
Erickson said there is not yet a timeline for a new building. A fundraising campaign has begun.
The establishment of the school — the first since the LaFollette School of Public Affairs was established in 1999 — along with the new data science major represents the beginning of what could become a major hub for tech talent in Wisconsin and beyond.
"It sends a signal of the priorities of the university in a very large way," Arpaci-Dusseau said.
Be the first to know
Get local news delivered to your inbox!