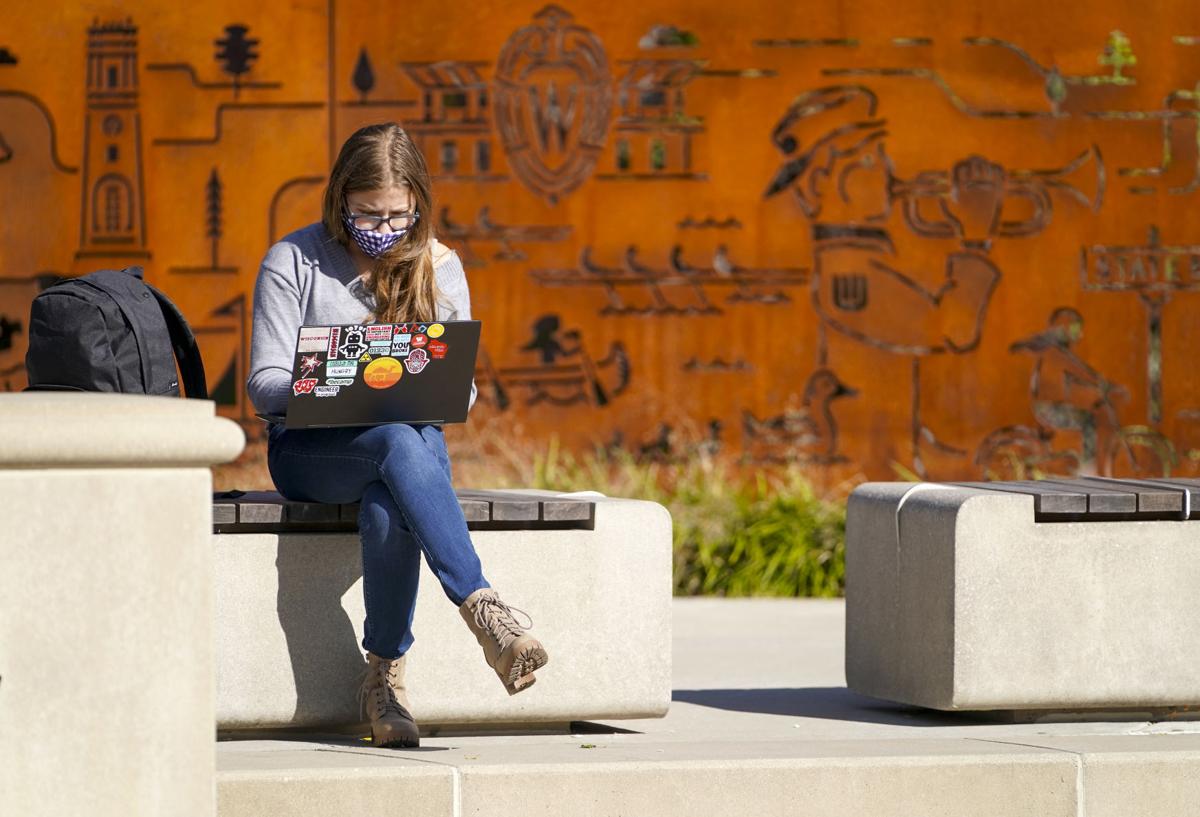 UW-Madison's spring semester will look a lot like this fall with a mix of online and face-to-face classes, promotion of public health guidelines and dorms open to students who want to live on campus.
One major difference, however, is that more students will be taking COVID-19 tests.
UW-Madison currently tests students who live in dorms, as well as a small group of employees who work in dining halls or dorms, every week. Appointments are also available to the larger campus community.
Next semester, all students who live on campus, attend in-person classes or use campus spaces, such as a library, gym or Wisconsin Union, will be tested twice each week. Regular testing will also be required for employees working on campus.
The spring semester plans announced Wednesday coincide with the continuation of a fierce debate over the university's decision to reopen this fall. COVID-19 cases spiked just a week into the start of classes in what many saw as a predictable and inevitable outcome when a large university welcomes back tens of thousands of young adults — a scenario that could potentially repeat itself when students return for the start of classes Jan. 25 and have fewer outdoor options to safely socialize.
Student government chairman Matthew Mitnick said he was glad to see increased testing included in the spring plan, but his support stopped there.
"Students were not consulted in this decision," Mitnick said. "This again represents how shared governance is no longer what the name implies — it is merely an advisory model in which administration pretends to listen to us."
University spokeswoman Meredith McGlone said UW-Madison continues to consult with students both through shared governance, which is represented through many different groups across campus, and directly through surveys, such as one recently sent to dorm residents and another that will soon be sent to students asking for feedback on their classroom experiences.
Mitnick and some other undergraduates, along with members of the graduate student union and other labor unions on campus, have repeatedly called on UW-Madison administrators to move all classes online and empty out the dorms, suggestions echoed by some elected leaders, including the Dane County Board and Dane County Executive Joe Parisi.
Hybrid support
But UW-Madison has amassed supporters from students yearning for an on-campus experience and businesses whose livelihoods depend on campus customers.
Senior class president Alec Bukowiec said he did not consult with UW-Madison on the specific plan announced Wednesday, but university leaders regularly seek his and other student cabinet leaders' feedback on general COVID-19 planning.
He supports the spring plan because it gives students the freedom to make their own educational choices. Those who feel unsafe taking in-person classes can sign up for an entirely online schedule. But many others, including himself, enjoy the classroom experience over Zoom learning. He was glad to see the hybrid model of classes continued for his last semester of college.
"Obviously, this isn't how I expected to be feeling my senior year, but I'm trying to take as many wins as I can," Bukowiec said.
Spring outlook
Several variables in the spring semester plans are still question marks at this point:
UW-Madison's fall semester began with 45% of classes including some form of in-person instruction. After all classes temporarily moved online for a two-week lockdown, only about 30% of them returned to the physical classroom. The percentage of classes that will be offered online or in hybrid format next spring was not available Wednesday.
On-campus testing sites conducted between 6,800 and 9,100 tests per week so far this fall. The university expects a "substantial increase" in testing next semester, but had no specific numbers to share Wednesday.
Commencement ceremonies are scheduled for May 7 and 8. No decision has been made on whether they will be in-person or online.
Nearly 6,500 students moved into residence halls in late August, but roughly 1,000 had canceled their housing contracts by early October, reducing the density of some dorms. University Housing does not have a specific goal or occupancy rate in mind for its dorms this spring.
"After adjusting for the spike in COVID cases in September, we feel we've demonstrated success with this year's policies and protocols in the residence halls, and we want to support students who would like to get an on-campus experience next semester," McGlone said.
For several weeks, the seven-day average positive rate for students tested on campus has been at or below 1.1%, according to the university dashboard. UW-Madison has reported about 2,900 COVID-19 cases among students and staff from testing sites on and off campus since Sept. 2.
Photos: UW-Madison graduates gather after virtual commencement ceremony