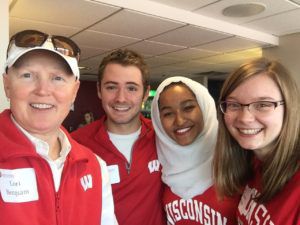 UW-Madison Dean of Students Lori Berquam is leaving the position following spring commencement in May.
Berquam, who has been fighting breast cancer for the past year, will become one of 45 fellows in the American Council on Education Emerging Higher Education Leaders program.
"This opportunity is a natural next step, both professionally and personally, and I feel honored to take on this new role in higher education," Berquam said in a letter Wednesday to the UW-Madison campus community.
"But I won't lie, it's going to be hard to leave the students, friends, and colleagues at UW-Madison, and I will greatly miss the community I love."
You have free articles remaining.
Berquam has been dean of students for more than 10 years.
No announcement has been made yet by the university on who will be named interim dean of students.
"Life is short, make the most of every minute," she said.
Her cancer treatment ends in April. Following graduation, she plans to climb Machu Picchu in Peru and go to Florence, Italy, for a dragon boat race with other breast cancer survivors.
The fellows program begins in August.
"What I've learned this past year is there is so much to look forward to and so much life to live," she said. "I plan to take full advantage of every opportunity."