Six years after public and political outcry over how much the University of Wisconsin System had on hand in unspent tuition money, a report released this fall shows the System has spent down more than half of its tuition balances.
The balances refer to how much tuition and student fees campuses collect to spend on direct education expenses, such as faculty and academic supplies, remain at the end of each fiscal year after all expenses are paid.
To force campuses to spend down their extra funds, the Legislature froze tuition for in-state undergraduates in 2013 and also cut state funding in recent years. The System has responded by spending down 56% of its tuition balances since fiscal year 2013 to cover campuses' operating expenses.
"We need to remember this represents not even thirty-five days of operating expenses for our campuses," Regent Janice Mueller told the UW Board of Regents this fall about the tuition balances level, which was $245 million for the fiscal year ending June 30.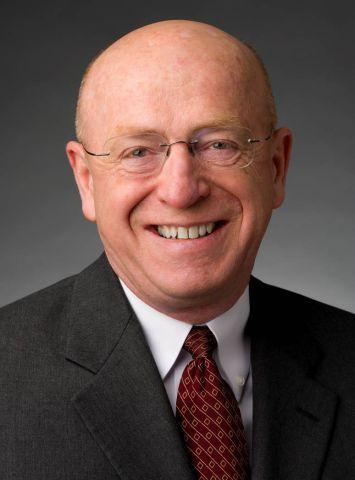 That figure is the lowest recorded since the System began producing reports five years ago in response to Republican demands for more transparency of the accounts.
System President Ray Cross, who was not available for an interview last week, said in a statement that fund balances are necessary for a well-functioning university system to maintain quality and capitalize on emerging opportunities. He also said the tuition balances have "dropped dramatically."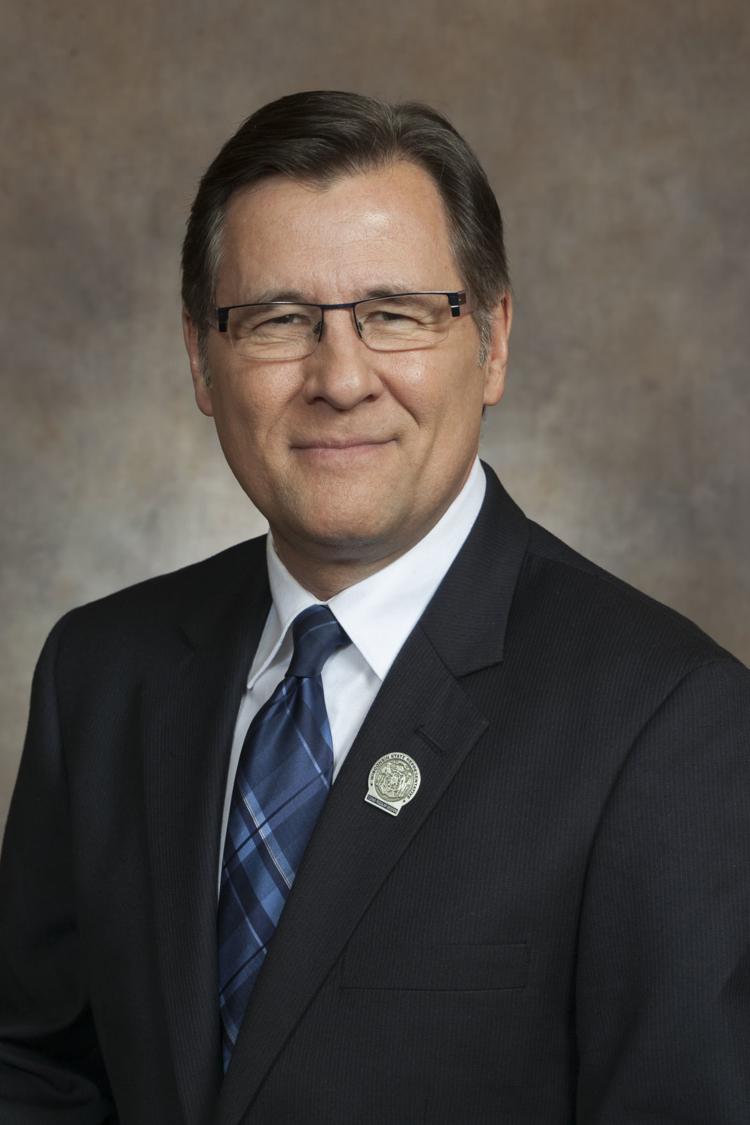 Rep. Dave Murphy, R-Greenville, chairman of the Assembly Committee on Colleges and Universities, said he didn't know what specific dollar amount would cross into fiscally irresponsible territory, but called the downward trend of the System's tuition fund balances an "issue" that deserves a closer look.
"Those (tuition fund balance) levels are getting down there," he said. "I'm a businessman, and you have to have enough money to have cash flow. You need enough money to draw on to pay the bills."
Not a 'slush fund'
A political firestorm erupted in the spring of 2013 when a state audit showed the System accumulated and held hundreds of millions of unspent tuition money while raising tuition 5.5%, the maximum allowed by law at the time, for six years in a row.
"You have embarrassed the state of Wisconsin," Rep. Robin Vos, R-Rochester, who is now speaker of the Assembly, told the System president and UW-Madison chancellor at the time.
You have free articles remaining.
Cross began his post as System president less than a year later. His finance office put together detailed annual reports showing how much money is left over at the end of each fiscal year across thousands of System accounts and how dollars would be spent.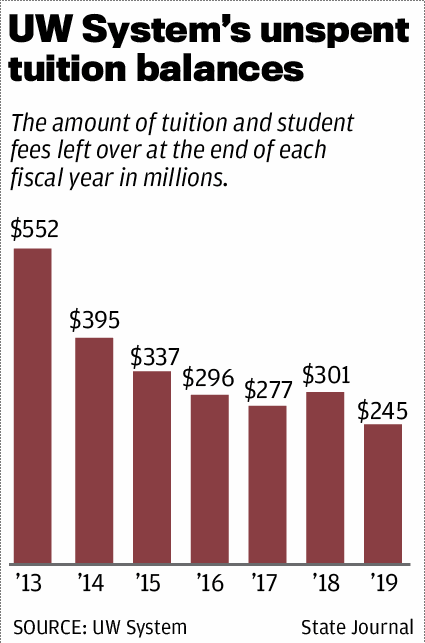 Much of what outsiders interpreted as "slush funds" or "rainy day" reserves were, in fact, already designated or planned for a specific program or project. For example, a campus may set aside money to renovate an academic building before it receives approval from the Legislature so that once it gets the OK, construction begins promptly.
"In the last five years the UW System has effectively managed its fund balances, which are necessary for long-range planning, ensuring positive cash flow, and maintaining an emergency reserve," Board of Regents president Drew Petersen said in a statement.
Emergency money
The System reported $867 million in total unrestricted program revenue balances as of June 30 — a figure that includes tuition balances, as well as other accounts, such as dining halls, parking fees and federal reimbursement for indirect costs related to research.
About 86% of the money was already designated for a specific purpose, according to the report. That leaves UW institutions with about $123 million in real reserves for an unexpected emergency — less than 2% of its roughly $6.7 billion dollar operating budget. The System reported $175 million in reserves five years ago.
Three campuses — UW-Whitewater, UW-River Falls and UW-La Crosse — had less than $1 million designated as true cash reserves to cover unexpected expenses in fiscal year 2019. UW-Madison designated $26 million in reserves. That's down 53% from the $55 million it had in 2014, according to System reports.
Regents have raised concerns about the System's tuition balance levels and the financial impact that the longstanding tuition freeze has had on campuses' finances during meetings in recent years.
In the summer of 2018, Regent Tracey Klein said the board should recommend an appropriate level of reserves to the Legislature. But Regent Regina Millner and others suggested the timing wasn't right with the 2018 election just months away.
Politicians like promoting the tuition freeze on the campaign trail to families worried by student loan debt.
This summer, Klein said it was time to take up the issue of persuading the Legislature to return tuition-setting power to the Regents, which would help relieve campuses from spending down their balances.
"I think it's critical that we help the Legislature arrive at a different conclusion in the next biennium," Regent Bob Atwell said in July.
A spokeswoman for Vos said Friday that it's too early to comment on the next budget process to say what tuition balances level is best and whether the spend-down in recent years means it's time to lift the tuition freeze.
Spokespeople for Senate Majority Leader Scott Fitzgerald, R-Juneau, and Sen. Dale Kooyenga, R-Brookefield, chairman of the Senate Committee on Universities, Technical Colleges, Children and Families, declined to comment.