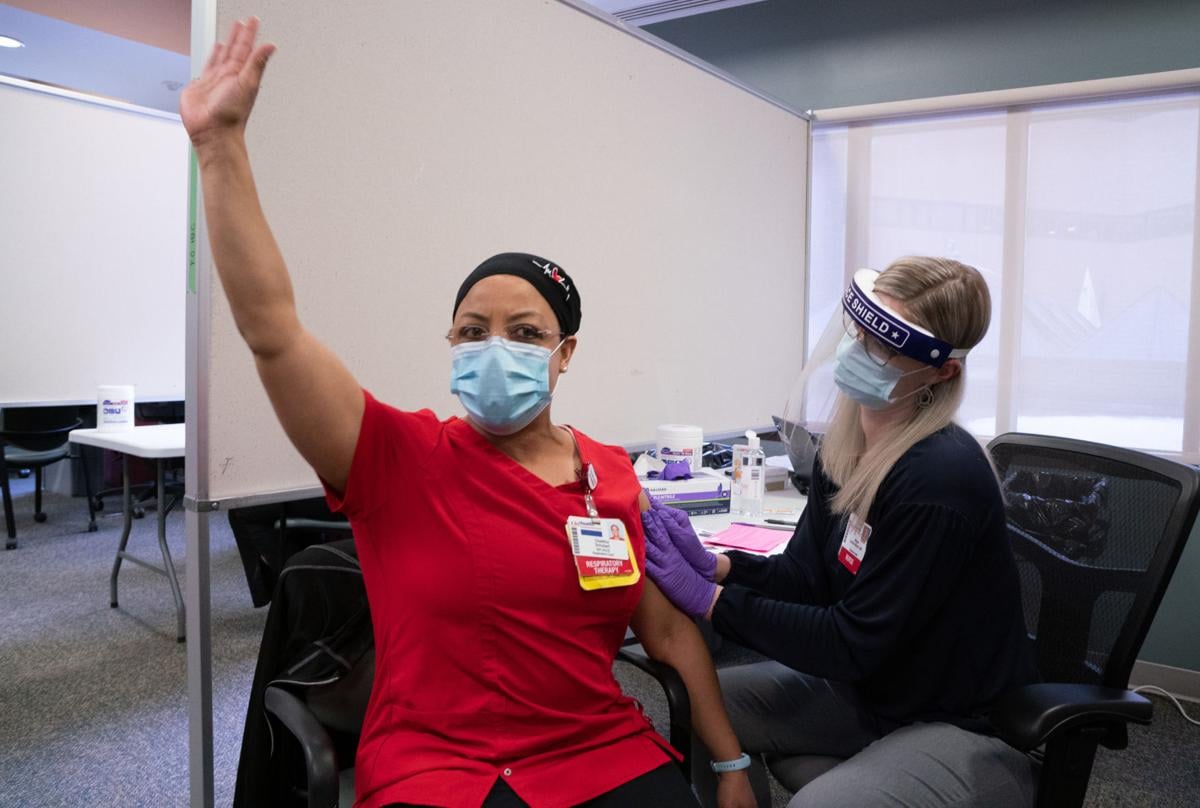 Wisconsin's battle against COVID-19 was boosted Monday by more health care workers being vaccinated, the announcement of a second vaccine arriving this week and the possibility that UW campuses could become vaccination hubs.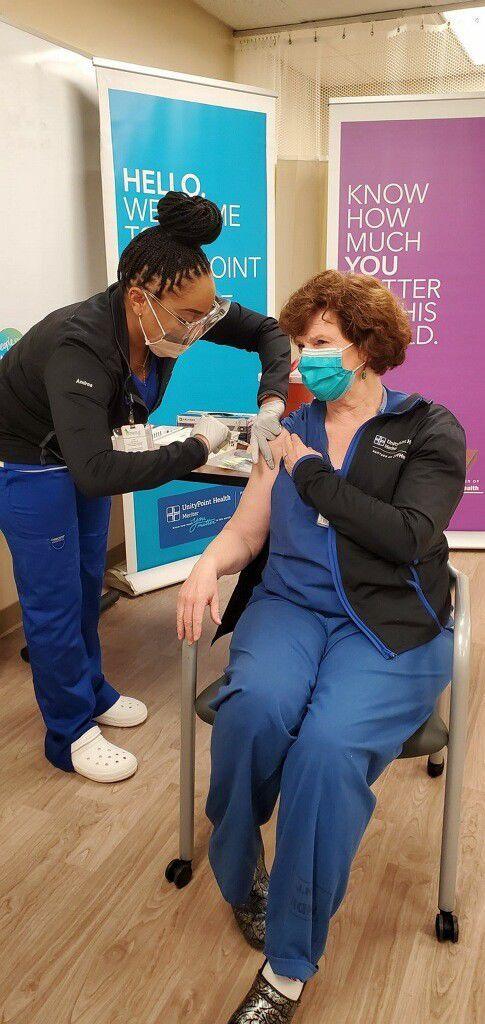 UnityPoint Health-Meriter on Monday joined Madison's other two main hospitals in starting to vaccinate some of its health care workers against the coronavirus.
"This is the light at the end of the tunnel that many across the world have been waiting for," David Williams, UnityPoint Health's chief clinical officer, said in an announcement.
As of Sunday, 10,358 doses of COVID-19 vaccine had been administered and reported to the Wisconsin Immunization Registry, according to the state Department of Health Services.
Gov. Tony Evers on Monday announced that shipments of the Moderna vaccine will begin arriving at hospitals and clinics across the state this week. Officials expect the first shipment to include 16,000 doses and receive about 100,000 total over the coming weeks. Unlike the Pfizer vaccine, which requires ultra-cold storage, the Moderna vaccine can be stored in regular freezers.
The state's supply of Moderna vaccine is expected to be used beginning next week to vaccinate nursing homes residents, in a federal program involving pharmacy chains CVS and Walgreens.
Wisconsin also is slated to receive a second shipment of the Pfizer vaccine this week — about 35,100 doses. That's down from the nearly 50,000 doses received last week.
SSM Health St. Mary's Hospital received its second shipment of Pfizer vaccine on Monday. UW Health has not yet received its second shipment of vaccine.
Julie Willems Van Dijk, deputy secretary with the state Department of Health Services, said during a Monday media briefing that the state expects to receive reduced shipments of the Pfizer vaccine for the next few weeks.
"We're adapting and we understand 35,000 is more similar to what the weekly cadence will be for the next few weeks and we've been told it will adjust again sometime in January," she said.
The goal is to vaccinate the state's roughly 400,000 health care workers and 57,000 nursing home residents before moving on to other essential workers and eventually the general public by the spring or summer. The process could take several months because the vaccines require two doses spread three or four weeks apart.
While the daily vaccination rate continues to increase, Van Dijk said the state's vaccination efforts run the risk of being limited by how many doses are received by the federal government.
"I think the bigger issue is when we open this up to larger populations," she said. "That's where we're going to run into issues if we're not getting significantly higher numbers of doses from the federal government. It will take us even longer."
Plans on where the general public will receive vaccinations are taking shape. Some people may receive them at their doctor's office, local pharmacy or at mass distribution clinics. Public Health Madison and Dane County, for example, plans to use the Alliant Energy Center once vaccines are allocated to the agency, spokeswoman Sarah Mattes said.
Possible hubs
Another option is setting up University of Wisconsin System campuses as vaccine distribution hubs.
UW Board of Regents President Drew Petersen said the idea is under discussion with the federal government, given how well he said the System rolled out free COVID-19 testing to the community through a partnership with the U.S. Department of Health and Human Services.
"There's no reason to believe we can't provide that same service with personnel and vaccines on our campuses," he told the State Journal on Monday. "I think we just have some really strategic advantages. You wouldn't think the UW System, which (the) primary mission is education delivery, would become a vaccine distribution center, but we've got huge physical assets in 13 regions of the state."
UW-Madison Chancellor Rebecca Blank said in a Friday interview that she hopes at-risk staff — such as those working in dining halls and dorms, as well as instructors teaching in-person — would receive vaccinations sometime in the spring semester. What that timeline looks like and what percentage of the campus community will be vaccinated by fall, however, remains to be seen.
"My greatest hope, and I have no idea where we're going to be in place to accomplish this, is that by next fall, we actually are going to have enough vaccines that we can make sure that not only our full community of faculty and staff are vaccinated, but that any students who arrive on campus and are willing to take the vaccine will be vaccinated as well," she said.
Community testing
The System is on pace to exceed 500,000 COVID-19 tests during the past six months, which includes the testing administered to UW students and staff, as well as the surge testing campuses began to offer the larger community in early November.
The U.S. Department of Health and Human Services gave the System 250,000 rapid antigen tests that campuses have made available to any member of the public at no cost to them. The entire testing process takes about 20 minutes and requires an appointment. Staff have administered about 147,000 tests so far.
In Madison, testing is available at the Nielsen Tennis Stadium. Blank said at a faculty committee Monday that the community testing will continue through the first week of January. If more tests are received from the federal government, UW-Madison would again offer community testing but likely at a different site on campus.
It's the first testing partnership Petersen said he is aware of between a university system and the federal government, though individual institutions in other states have also struck up similar collaborations.
State Journal reporter Mitchell Schmidt contributed to this report.
---
Fave 5: Higher education reporter Kelly Meyerhofer shares her top picks of 2020
Fave 5: Higher education reporter Kelly Meyerhofer shares her top picks of 2020
The first story I wrote this year was about a two-legged dog. 2020 only got more weird from there.
In early March, I sat in a room with about a hundred others listening to UW-Madison Chancellor Rebecca Blank brief professors on how the coronavirus might affect campus operations. During the Faculty Senate meeting, she encouraged instructors to consider what classes or meetings could be delivered online.
"We have no idea quite what may be coming, if anything," she said on March 2.
Oh, how quickly did the world change. 
It's been a privilege to bear witness to all of the seismic changes 2020 brought to college campuses, most of which I reported from my kitchen table (OK, and sometimes my couch). I'm grateful to the State Journal's subscribers who help support my job as one of the few higher education reporters in Wisconsin. The five stories listed below were some of my favorites, but you can find the 172 other stories I've written so far this year here.