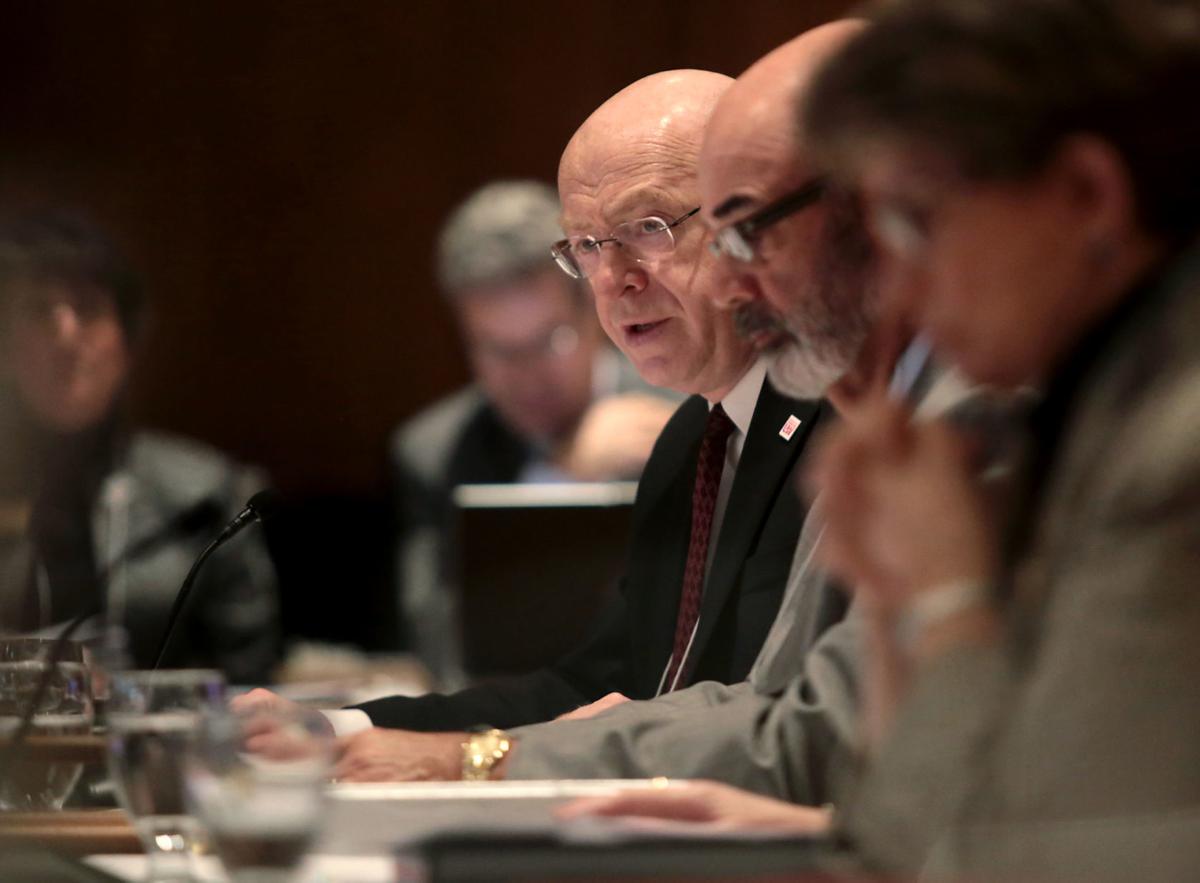 The University of Wisconsin System is asking for $107 million more in state money, three-quarters of which would be awarded to campuses based on how well they meet performance metrics such as student access, progress toward completing degrees, "workforce contributions" and operating efficiencies.
The 2019-21 budget proposal, released by the UW System on Monday afternoon, seeks to address demands from the Republican-controlled Legislature for more accountability from universities. It also does not raise tuition, something Republicans have shown little appetite for doing.
The UW Board of Regents, almost all of whom were appointed by Republican Gov. Scott Walker, will consider the proposal at the board's Thursday meeting in Madison.
The two-year operating budget proposal calls for divvying up $82.5 million among the System's campuses based on each institution's performance on 16 measures developed by the Regents and distributed equally among four broad categories: student access, progress, workforce contributions and efficiency. Each campus determines how much weight to assign to each measure, but each category must be given the same emphasis.
The remaining $24.5 million would go toward expanding programming in high-demand fields such as science, technology, engineering and math.
Investing in the System would help colleges and universities better fill workforce demands across the state, officials said.
"There is high demand for graduates with the kinds of skills and abilities that we help them develop," System president Ray Cross said in an interview.
He noted the System is the state's largest talent pipeline, with more than 36,000 degrees awarded each year and about 81 percent of alumni living and working in Wisconsin five years after graduation.
The majority of UW's current state funding is not tied to performance metrics. Of the $1.1 billion the System received from the state for 2018-19, about $26 million, or roughly 2 percent, is outcomes-based.
Meeting metrics
The 2018-19 school year marks the first time that the outcomes-based model applies to schools. Funding will be distributed this fall, Cross said, based on how well campuses met metrics in the 2015-16, 2016-17 and 2017-18 school years.
Leading up to administrators' request for millions more in funding, officials will present an economic impact study that found the System contributes $24 billion to the state's economy each year, a 23-fold return on every dollar Wisconsin invests in the System.The study "highlights the important role higher ed plays in our country," Cross said.
The System's budget proposal is the first step toward crafting the next two-year state budget. Much of that process will unfold next year, after the November election in which Walker is seeking a third term and many lawmakers' seats are up for grabs.
"They're supportive, but noncommittal, and that's typical," Cross said of lawmakers' reactions to his proposal during an election year. "They've all expressed a renewed interest in supporting and developing education at this juncture, so we're pretty positive. Optimistic, I guess."
Higher-education advocates have been disappointed in past budget cycles when the System received a $36 million increase in the most recent budget after initially asking for $42 million and a $250 million cut in the 2015-17 budget, when the System sought $95 million.
In May, Walker told the UW and most state agencies to assume their next budgets will have no increases in state funding.
Cross' proposal also includes a $1.96 billion capital budget, which would cover about $300 million in maintenance, repair or renovation projects and funding for 18 major projects, including a $128 million addition to the Veterinary Medicine building at UW-Madison and a $129.5 million chemistry building for UW-Milwaukee.
The current state budget runs through June 30, 2019. If enacted on time, the next one would run from July 1, 2019, through June 30, 2021.