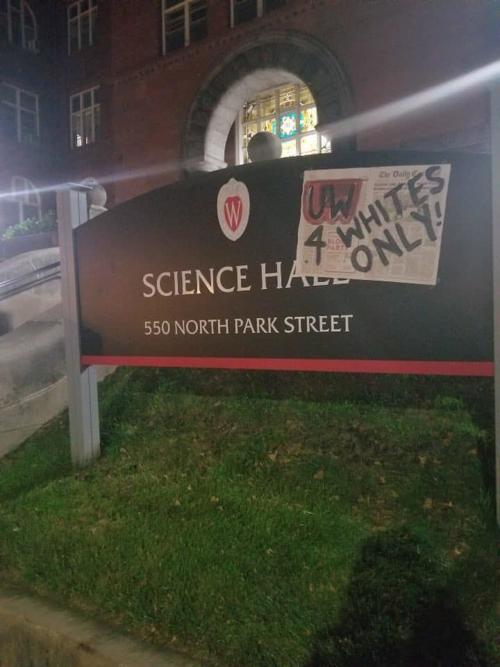 A series of posters that appeared overnight on UW-Madison's campus were apparently a coordinated campaign to call attention to the experience of underrepresented students.
One of the signs, however, used exclusionary language and appeared to be a racist message, according to the university.
"UW 4 whites only" was scrawled on an edition of The Daily Cardinal and posted outside of Science Hall.
A university statement said that while free expression is supported on campus, the posting of unauthorized signs on campus property violated UW-Madison policy.
"We want to be clear that UW–Madison stands against racism and all other forms of hate and any messages of exclusion," the statement said.
You have free articles remaining.
An earlier statement by UW-Madison said university police were investigating the incident. Spokesman John Lucas said later on Friday that information gathering has shifted from UW-Madison Police to the Office of Student Conduct and Community Standards.
The signs appeared a few weeks after a student-created video featured a nearly all-white student body, sparking outcry from many in the campus community and the formation of a new student group, the Student Inclusion Coalition, that aims to support more diversity efforts on campus.
Kingsley Pissang, a UW-Madison senior associated with the coalition, said earlier this week that the group had plans, including a video and demands for the university to meet, in the works for later this week. She said Friday that the coalition was not involved in the hanging of the signs. 
Check back later for updates to this story.