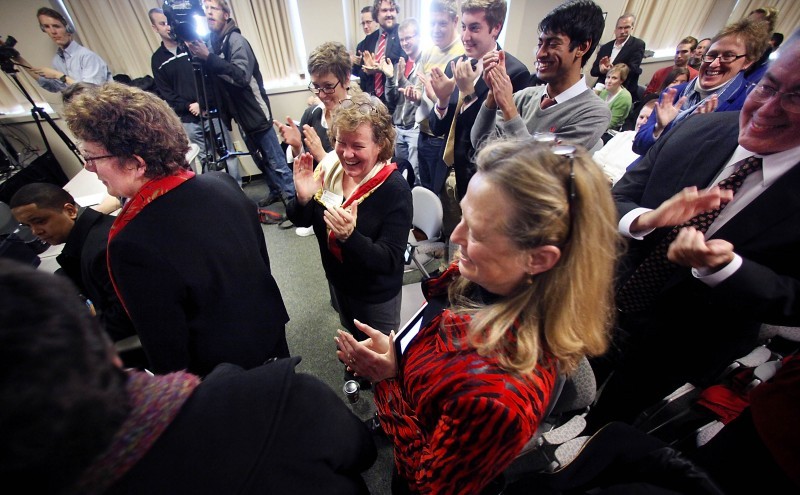 The University of Wisconsin System would lose $250 million in state aid and face its first major restructuring in 40 years under Gov. Scott Walker's proposed two-year budget.
As expected, the budget calls for breaking off UW-Madison from the UW System, giving the flagship university its own 21-member governing board and with it, more independence from state regulations. It would take effect July 1.
The budget proposal also sets the stage for UW-Milwaukee to get  "public authority" similar status to UW-Madison. Walker directed the UW System to spend $250,000 to develop such a plan.
In exchange for greater flexibility, UW-Madison would absorb half of the cuts to public universities — $125 million over two years.
UW-Madison Chancellor Biddy Martin described the proposed cuts — a reduction in state aid of about 13 percent — as "really deep and painful."
"We knew they were going to be deep, but it's still sobering," Martin said. "We're going to have to figure out a way to deal with the pain of cuts in the short term."
But UW System officials say at least UW-Madison was given tools to deal with funding losses through more budgetary authority. Under the governor's budget, UW-Madison would be able to set its own tuition, salaries, and have more control over construction projects.
"To preserve the university as an economic engine, we need more flexibility so that all UW campuses can soften the blow," said UW System President Kevin Reilly.
Walker said in his budget address that he is open to working with lawmakers to expand flexibilities to other campuses.
Of UW System's $125 million cut, the central administration would bear a larger share of the burden. State funding for UW System administration would be reduced by 25 percent — or about $4.8 million — compared with an 11 percent reduction for the campuses.
The $250 million reduction to the UW System isn't unprecedented; it equals that of former Gov. Jim Doyle's two-year budget in 2003. That year, tuition increased between 17 percent and 19 percent to help cover the losses.
The UW System currently gets $1.1 billion annually from the state to run 13 four-year campuses and 13 freshman-sophomore campuses.
Other highlights from the budget include:
• Reducing state aid to technical college districts by $71.6 million over the two year budget. That's about a 30 percent reduction in state aid for Madison Area Technical College, according to college officials.
• Prohibiting technical colleges from raising property taxes above the amounts levied in fiscal year 2010-11 for operations.
• Exempting student financial aid from reductions in state aid
• Making Sept. 30 the cut-off date for enrolling in the Wisconsin Covenant program. One of Doyle's signature programs, it promises some financial help for college to students who study hard and stay out of trouble.
• Eliminating in-state tuition for illegal immigrants at UW-Madison, UW System, and the technical colleges.
• Expanding the Wisconsin GI bill to provide full reimbursement of academic fees for eight semesters or 128 credits, whichever is longer.
Be the first to know
Get local news delivered to your inbox!