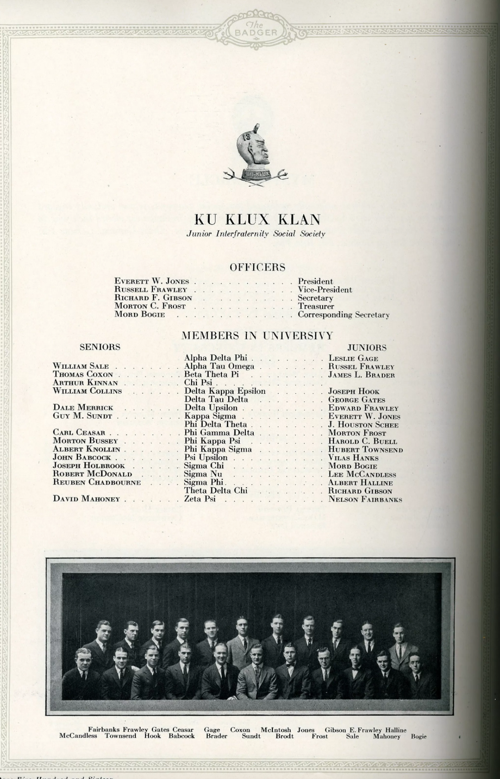 A history professor and the president of a local mentoring and economic development organization will lead a study group this fall to examine the Ku Klux Klan's history at UW-Madison, campus officials announced Monday.
Chancellor Rebecca Blank said the study group will investigate two UW-Madison student organizations that were "named after or otherwise affiliated with" the Klan during the 1920s.
Professor Stephen Kantrowitz and Floyd Rose, who leads 100 Black Men of Madison, will be the chairmen of the study group, which Blank said will also include students, faculty, staff and alumni.
The group is expected to advise UW-Madison administrators in December on "how best the campus can acknowledge and respond to this history," Blank said in a statement.
"In the wake of the tragedy in Charlottesville, it is time to take a fresh look at our history to ensure that we fully understand and appropriately acknowledge the activities of members of the campus community during this time period," Blank said.
You have free articles remaining.
Blank said she will also ask the Wisconsin Union to identify space within the Memorial Union "that could be used to document the history of these student organizations on campus, using the knowledge produced by this study group."
That past is less conspicuous at UW-Madison than it is on campuses where Confederate monuments have become centers of protest.
But as the Klan helped wage a decades-long campaign of terror and murder that targeted black communities throughout the country and claimed thousands of lives in lynchings, records show the group had a foothold — or, at least, admirers — at UW-Madison and in other local institutions.
In a 1993 history of the Ku Klux Klan Honorary Junior Society at UW-Madison posted by The Capital Times, historian Timothy Messer-Kruse, now a professor at Bowling Green State University, wrote that there was not evidence that the group was affiliated with the broader Invisible Empire of the Ku Klux Klan.
Still, Messer-Kruse wrote, the UW-Madison organization "made no attempt to distinguish itself from the Invisible Empire."