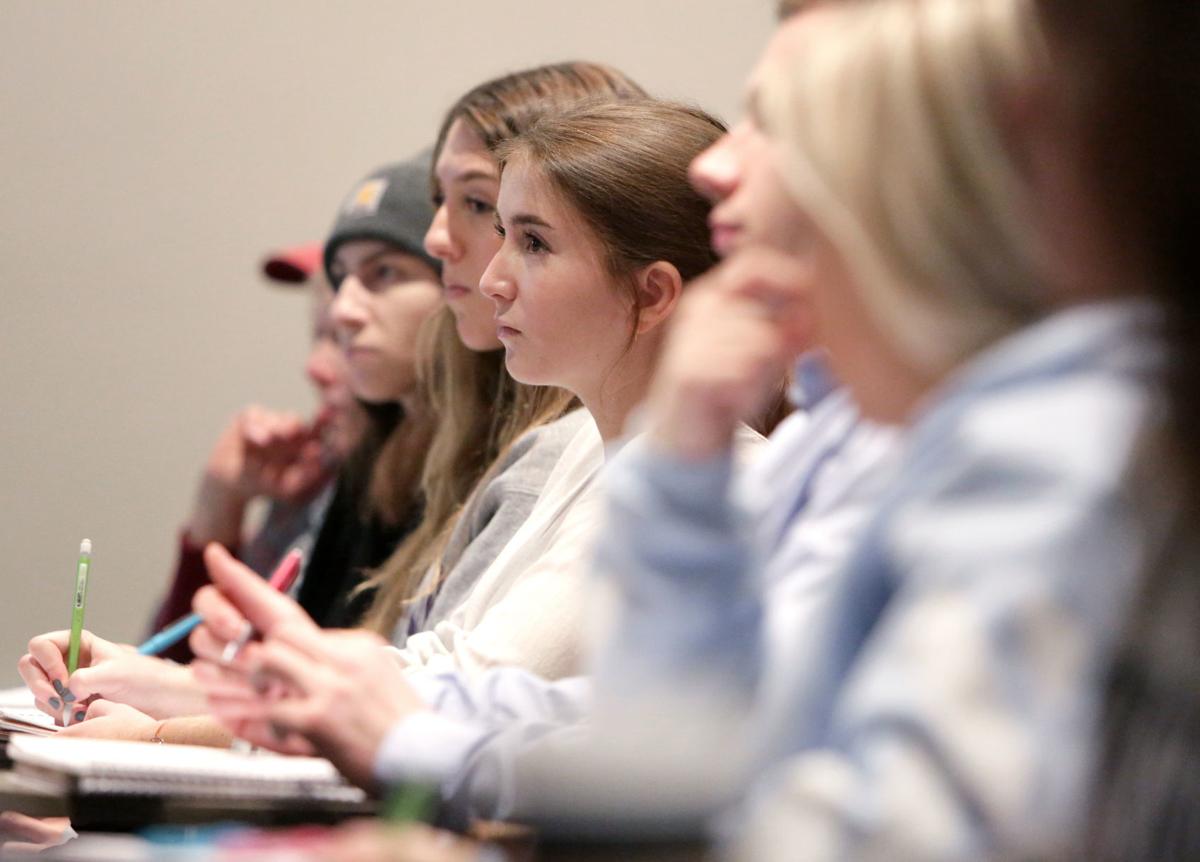 A Republican Assembly leader is criticizing a UW-Madison political science professor's course syllabus for what he sees as a "politically polarized characterization" of Donald Trump's presidency.
Rep. Dave Murphy, R-Greenville, leveled the criticism Wednesday in a letter to UW-Madison professor Kenneth Mayer, who is teaching "The American Presidency" this semester. The first lecture took place Tuesday.
The syllabus' first page includes a two-line paragraph saying Trump supporters "rejoice in his contempt for what they insist is a corrupt D.C. establishment."
It then includes an 11-line paragraph that begins: "To others, he is a spectacularly unqualified and catastrophically unfit egomaniac who poses an overt threat to the Republic."
"If the course description already tells basically what the bias is going to be in the course, it's pretty hard to sift and winnow that," Murphy said, referring to an 1894 Board of Regents statement on academic freedom enshrined in bronze outside Bascom Hall.
Murphy, chairman of the Assembly Committee on Colleges and Universities, copied at least 58 people on his letter to Mayer — University of Wisconsin System President Ray Cross, UW-Madison Chancellor Rebeccca Blank, all 18 members of the UW System Board of Regents, the other 15 members of the Assembly committee, the seven members of the state Senate's committee on universities and 16 members of the Legislature's Joint Committee on Finance, which plays a key role in allocating money to public universities.
The letter is a variation of a feud often fought across the country by conservatives and universities in recent years over academic freedom and the rights afforded to professors, who tend to lean liberal.
Mayer, who came to UW-Madison in 1989 and cites at least five teaching awards on his resume, declined an interview request Wednesday.
Professor defended
University spokeswoman Meredith McGlone said in a statement that Mayer leaves his political opinions out of the lecture hall and cautioned against judging the entire course by a syllabus.
"At a time of perhaps unprecedented political polarization, he presents his students with the latest scholarly work on and contemporary readings about the presidency, seeks to provide students with the skills to put both conservative and liberal views into context, and encourages students to draw their own conclusions based on evidence and thoughtful debate," she said.
McGlone said Mayer used a similar approach in previous courses that delved into the events surrounding the 1998 impeachment proceedings against then-President Bill Clinton.
The College Republicans of UW-Madison also stood up for Mayer in a statement, saying that based on personal experiences with him as a professor, members have found him to be an intellectually engaging professor that treats conservatives fairly.
'Preconceived notion'
Murphy said he became aware of the syllabus when UW-Madison student McKenna Collins posted the syllabus' first page on Facebook Monday.
Collins, a senior studying communications, said in an interview that she has no problem taking a critical look at the presidency. She said she has been a member of both the College Republicans and College Democrats groups on campus, but isn't affiliated with either in her final college semester. She declined to say who she voted for in the 2016 election.
The omission of any of Trump's accomplishments from the syllabus does a disservice to students starting out the course, she said.
"It inhibits our ability to engage in objective and thoughtful dialogue this semester because we now are entering the course with this preconceived notion (of Trump) that (Mayer) has manufactured," she said.
Murphy said in an interview that Mayer makes his opinion of Trump clear in the syllabus, which has a "chilling" effect on students in the classroom.
"If you were a Trump supporter, unless you were supremely confident that you could hold your own against a tenured college professor, you might very well think, 'I'm just not going to go there,'" he said.
Asked what should be added or removed to reflect a more accurate and objective view of the Trump presidency, Murphy said he is not trying to rewrite Mayer's syllabus.
"That's his job, not mine," he said.
If the syllabus swapped Trump with former President Barack Obama to describe a "spectacularly unqualified president," Murphy said he "absolutely" would have sent the same letter.
In the news
Both Collins and Murphy cast doubt on news reports about the Trump presidency, a handful of which are listed as reading on the syllabus. Mayer requires students to read a national newspaper of record, such as The New York Times or The Washington Post.
The syllabus also includes readings with a conservative perspective, such as Margaret Taylor's essay "Declaring an Emergency to Build a Border Wall: The Statutory Arguments." The White House and Donald Trump's Twitter feeds are incorporated into the lesson plans.
Murphy said some of the background Mayer provides — such as multiple Trump campaign officials' guilty pleas and U.S. intelligence agencies concluding Russians hacked the Democratic National Committee computers — is in the public discourse as established fact, but he said issues regarding the Trump administration are still being investigated.
He referenced a BuzzFeed story last week, which reported that Trump directed his longtime lawyer Michael Cohen to lie to Congress. The special counsel's office investigating Russian interference in the 2016 election took the rare step of disputing the news organization's description of statements Cohen allegedly made to the special counsel's office and its characterization of documents and testimony the office had obtained.
"You have a bunch of students who listen to the news, take a lot of the things — for instance, the Buzzfeed report — as fact, and never really find out the real facts," he said. "This doesn't lead me to believe they're going to get the real facts in this situation."
Gesture offered
Murphy, who wrote in his letter that he is a fierce advocate of academic freedom, said his intention is to spark a dialogue on what is, and is not, appropriate for a course syllabus. He issued Mayer an invitation to his office and encouraged the professor to show some good faith and invite a Trump administration official to speak with students.
This isn't Murphy's first foray into critiquing course syllabi.