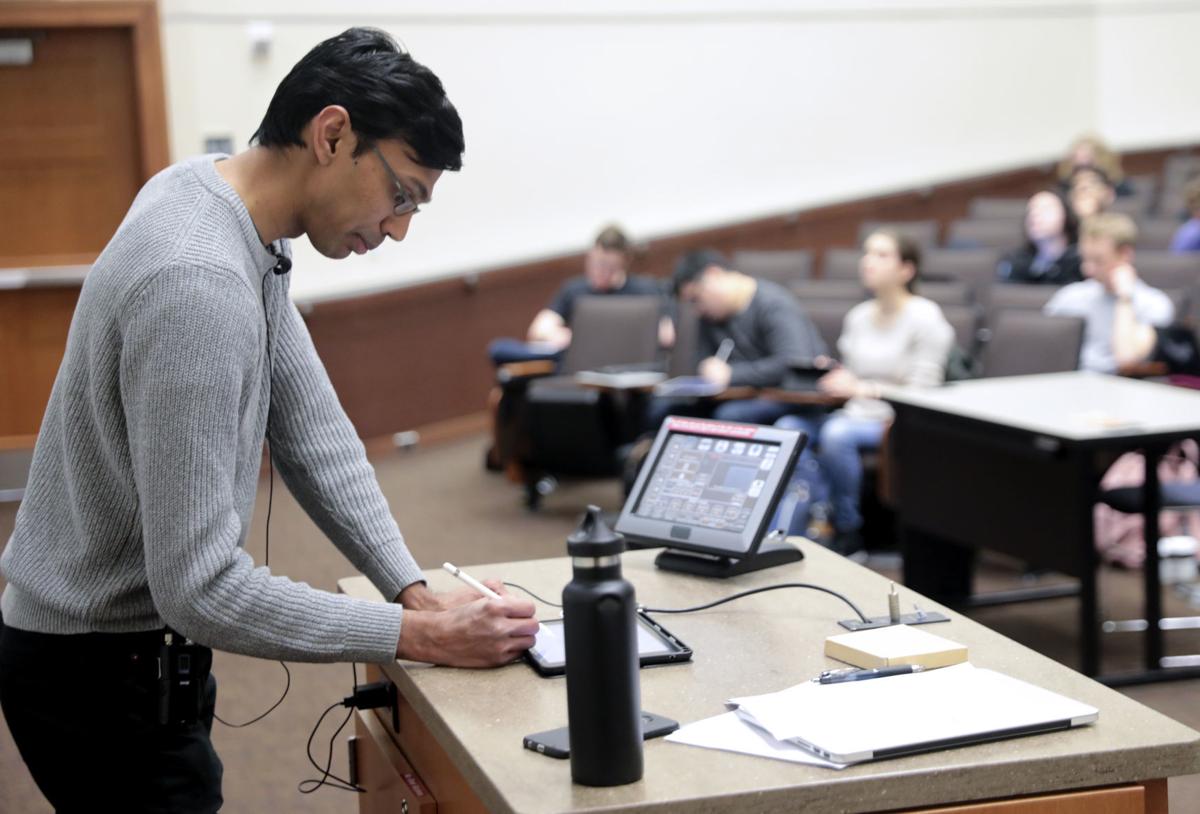 UW-Madison students are signing up in record numbers to study computer science, elevating the program to be the most popular undergraduate major on campus in each of the last two years.
Student demand is nine times larger than it was a decade ago, from 168 in 2009 to nearly 1,600 in the program this academic year.
"The interest shows no sign of abating at this point," said department chairman Gurindar Sohi.
But popularity for an academic program comes with problems, such as difficulty finding lecture halls large enough to accommodate student demand. A week into this spring semester, the computer science department had a combined estimate of 650 names on course waiting lists. The university recently hired eight faculty members to offset three retirements, and more offers are in the works, but recruiting is a challenge when individuals with Ph.D.'s receive salary offers more than two times higher in the private sector than at a public university.

UW-Madison, unlike some other institutions, is not making its program more selective in response to the unprecedented interest.
Instead, the computer science department is embracing what it calls a "Wisconsin Computing Idea" to expose as many students as possible to the type of computational thinking highly sought — and well compensated for — by employers.
Gov. Tony Evers proposed $45 million in his 2019-21 budget proposal to expand high-demand programs at UW campuses across the state, including UW-Madison's computer science department. The money would allow faculty to expand their ranks, add 2,000 seats to popular computing courses and graduate up to 1,000 more students in computer and data sciences.
The Republican-controlled Legislature is crafting its own budget from scratch, and it's unclear which of Evers' funding proposals may be included. Rep. John Nygren, R-Marinette, and Sen. Alberta Darling, R-River Hills, who co-chair the budget-writing committee, did not return multiple requests for comment this week on whether they will include money in their budget proposal to expand UW-Madison's computer science program.
"We're at a critical juncture," said Remzi Arpaci-Dusseau, who will take over as department chairman next year. "We're doing the best we can."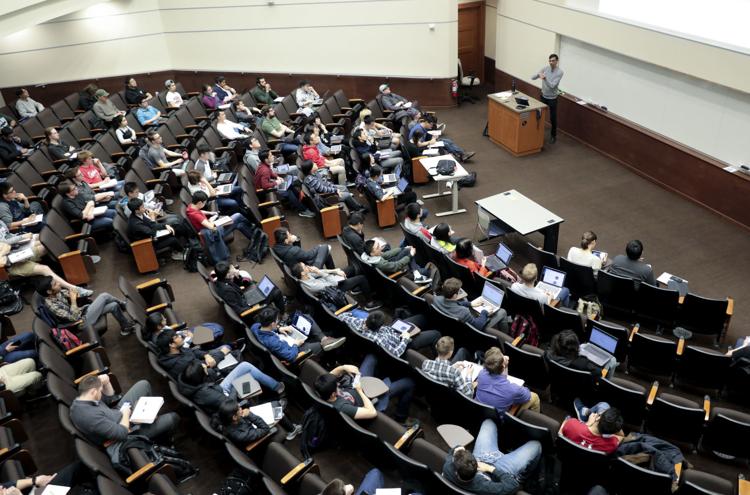 Interest only grows
The challenges facing UW-Madison's computer science department aren't unique. Across the country, computer science departments are grappling with a surge in students and not enough faculty to teach them.
UW-Madison's department thought long and hard about whether to limit the program's size.
Other universities such as the University of Washington have established a cap, accepting only the best and brightest students into the program. Swarthmore College, a private school in Pennsylvania, holds lotteries to select students into computing courses. Some institutions do not offer computer science courses to non-majors. Others make it nearly impossible for students to transfer into the program.
UW-Madison's computer science faculty took a vote in 2016 and unanimously agreed to not place restrictions on the program.
"We felt a mission to educate as many people as possible," Arpaci-Dusseau said, invoking the Wisconsin Idea, the longstanding belief that the university should address the needs of all Wisconsin residents.
Students clamor to get into computer science classes for the high salaries and job security that come with the skill set. They can go on to work in fields as varied as biology, banking, agriculture or insurance.
"It's hard to name an industry that doesn't need these types of skills," he said.
Students majoring in computing aren't the only ones straining the department's resources. Demand for the introductory data programming course offered to non-majors increased nearly 40 percent from 2016-17 to 2017-18, according to university records.
"We're getting to the point where the university doesn't have large enough lecture halls to meet the demand to offer these courses," Arpaci-Dusseau said.
The university uses a priority enrollment system based on the number of academic credits students have earned. At the department level, additional restrictions on high-enrollment courses allow students majoring in computer sciences to enroll for a period of time before non-majors can register for classes.
For high-achieving computing students coming to UW-Madison with 20 to 30 credits earned through their high school's Advanced Placement program, class registration poses few problems.
Students from rural or less affluent high schools where AP courses may be limited, however, are often disadvantaged by this system, which is problematic for an industry struggling with diversity.
Computer science major Saad Choudry, who came to the university having taken one AP course in high school, described course enrollment as a frustrating exercise filled with waiting lists.
For most of the major's required courses, he was able to get off the waiting list and into the course. But for elective classes that piqued his interest, Choudry tried, semester after semester, to register without success.
Choudry has eyed a virtual reality course since his freshman year but could never get in. He will graduate in May without having taken the class. He starts work as a programmer for Liberty Mutual in the fall.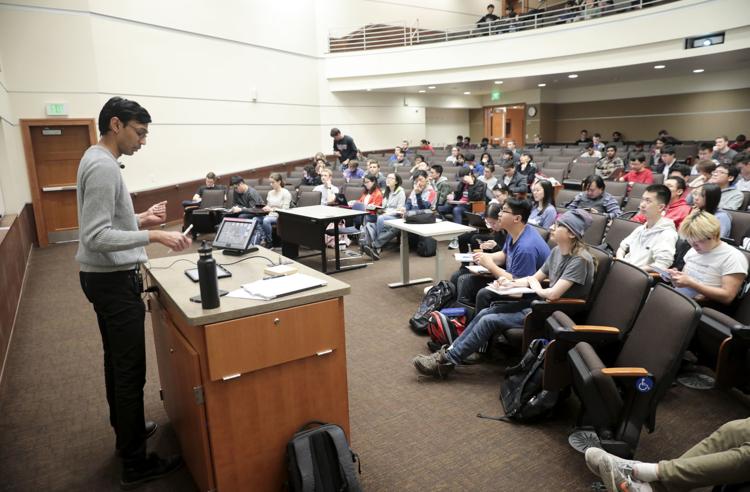 Recruiting challenges
In 2011, UW-Madison's computer science department had 40 tenured or tenure-track faculty members. The department has 37 faculty members this year.
That's about half of the median department size among the top 10 computer science programs in the country, according to a university report.
Recruiting is fierce for computer science doctoral students, not only with other institutions, but with tech companies dangling job offers upwards of $250,000. Depending on one's area and level of expertise, starting salaries can be even higher.
"That's something universities cannot compete with," Arpaci-Dusseau said.
Of the roughly 2,000 computer science doctoral degrees awarded annually, fewer than a third go into academia, according to a national study.
About a quarter to a third of job candidates accept an offer from the department, Sohi said.
Matthew Wolff, a senior studying computer science and genetics, said he has experienced the department's growing pains firsthand.
An Artificial Intelligence class Wolff enrolled in was so popular that the department split the course into two sections, one of which was taught by a graduate student. Wolff was assigned to the section taught by the less-experienced instructor and he said his experience in the course suffered as a result.
"If this hiring campaign isn't successful, I do see critical classes becoming more and more difficult to get into," he said.
Professors say expanding the department's faculty would mean fewer and shorter waiting lists, expanding the university's research into new areas, offering more elective courses, possibly shortening students' time to graduate and increasing undergraduate research opportunities.
"Class sizes can grow, but you can't take on 10 times more students for research," UW-Madison computer science professor Michael Swift said.
A study last year by the National Academies of Sciences, Engineering and Medicine that examined how universities have responded to the growth in computer science offered a bleak outlook for institutions without a plan: "Failure to respond thoughtfully to the demand and the resource deficits will result in negative conditions for students, faculty, the programs, and/or the institution as a whole in the near or long term."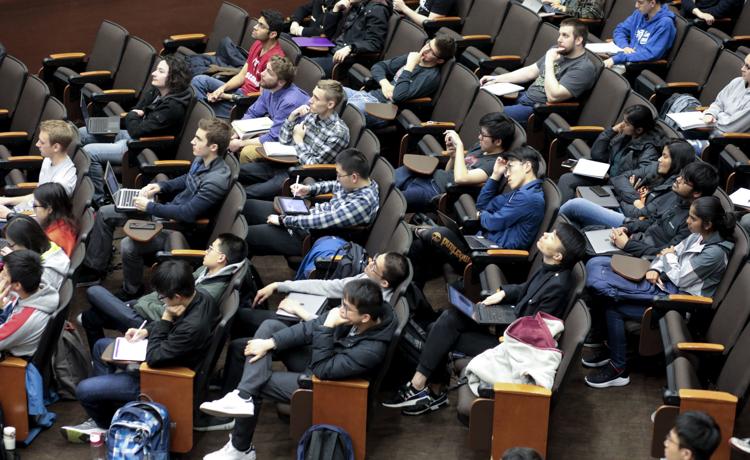 Looking forward
UW-Madison Chancellor Rebecca Blank established a task force in early 2018 to examine how to raise the profile, rank and research output of the computer science department.
The committee last fall released its report, which called for a new school to house computing and data analysis within the College of Letters and Science, the creation of an undergraduate data science degree and fundraising to start for a research-focused Data Science Institute.
The amount of funding for data-driven projects is "dramatically increasing," the report said, so investing is "critical for the future of research funding" at UW-Madison.
The group also analyzed the country's top computer science departments and found all but two have launched computer science-related building projects within the last 15 years. UW-Madison's computer science building, constructed 30 years ago, has about 65 percent of the space that computer science buildings at peer institutions have.
"The department of computer science at UW-Madison has generated so much value over time that to allow it to wither would be a grave mistake for the Wisconsin economy," said Tom Still, president of the Wisconsin Technology Council and a member on the task force.
Alumni of the university's computer science program include the founders of Epic, Abodo, Hardin Design and Development, Propeller Health, EatStreet and HealthMyne — all startups based in Wisconsin, the report said.
"Employers are scrambling to find these kinds of workers," Still said.
Working professionals looking to expand their skill sets to meet those demands can go to UW-Madison for some professional programs.
But the committee found that constrained resources limit the department's offerings, leaving potential revenue off the table. It has led to situations such as Milwaukee-based Johnson Controls encouraging employees to take professional courses at the University of Illinois, according to the report.
Blank said the university has added $1.3 million to the department's budget for teaching assistants since 2016 and will hire at least 14 more faculty members, bringing the department to 50 professors.
Choudry, the computer science student who experienced difficulty enrolling in courses throughout his undergraduate career, wonders what challenges incoming computing students will have without more investment to expand the program.
"If things don't change drastically, I can only see the students facing the same frustrations as me, but even more magnified," he said.
Be the first to know
Get local news delivered to your inbox!