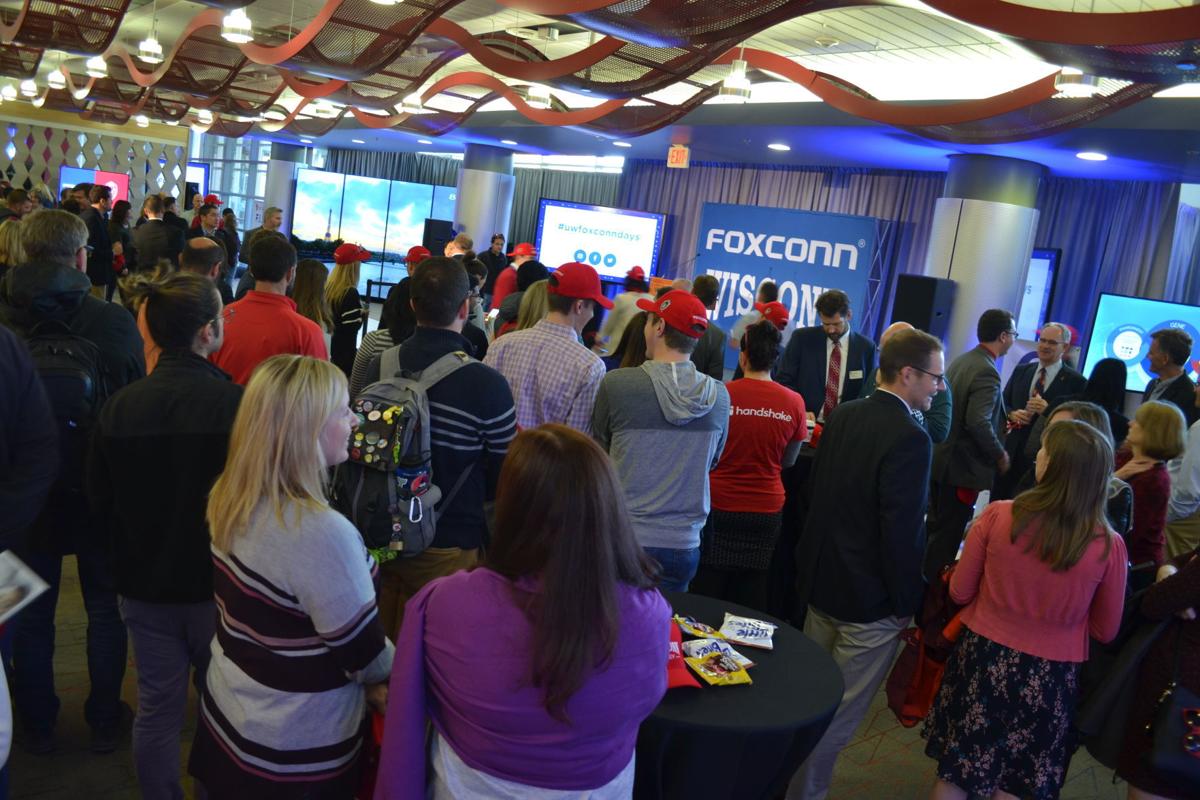 But more than six months later, it's hard to tell what kind of progress has been made on the deal.
Foxconn representatives did not answer a list of questions related to their partnership with Wisconsin's flagship university, instead providing a statement that said the Taiwanese electronics maker is proud of its partnership with UW-Madison.
"This positive and collaborative partnership with UW-Madison is in line with Foxconn's continued efforts and commitment to identify linkages between academia and industry to drive technological advancement in Wisconsin," the company statement said. "As we do so, we will continue to engage constructively with UW-Madison students, faculty and staff."
Foxconn pledged to provide up to a $100 million matching gift to the university to help fund a new building for the College of Engineering and spur research for the company.
Details on those developments, including an update on the status of the campus building and how much UW-Madison has raised in matching funds to date, are scant.
"We don't have new updates to share at this time," university spokesman John Lucas said. "UW-Madison continues to be actively engaged with a variety of Foxconn groups and projects."
Foxconn's statement said: "Further updates will be provided in due course, as appropriate."
A research facility in Racine that the university is jointly securing funding for with Foxconn aims to open by 2020 with a minimum of 100 researchers, some of whom may be paid by the university. The facility, known as the Foxconn Institute for Research in Science and Technology, or FIRST, will serve as a technological hub for initiatives in medical, materials and data science.
Neither UW-Madison nor Foxconn answered whether 2020 and at least 100 researchers are still the projected targets or whether that has changed.
The executive director of the FIRST facility will have an adjunct appointment within the College of Engineering, according to the agreement.
Neither UW-Madison nor Foxconn answered questions on whether a search for the director has started.
The agreement also mentions Foxconn establishing an off-campus presence in Madison.
A limited liability company registered with the state last month using Foxconn's Milwaukee headquarters address. The Capitol Square building connected to the LLC registration, 1 W. Main St., is owned by BMO Harris Bank, but representatives from neither BMO nor Foxconn confirmed a pending deal.
The agreement also requires the university to host a Foxconn Days event for the company annually.
The event was held in the fall at Engineering Hall and Foxconn has also participated in a number of other career fair events on campus, according to Lucas.
The Foxconn agreement with UW-Madison, first reported by the Wisconsin State Journal, shows a partnership that will be conducted largely in secret. UW-Madison officials said they do not believe the committee is subject to Wisconsin's open meetings law.
It's unclear if the steering committee governing the two parties' relationship has met in the six months since the partnership was announced. Their contract requires members to meet at least twice a year, but neither Foxconn nor UW-Madison would confirm whether or not meetings have taken place and who serves on the committee.
UW Health and the Carbone Cancer Center also struck agreements with Foxconn in 2018.
A radiation oncologist from National Taiwan University, where Foxconn CEO Terry Gou is a major donor, began a research sabbatical at UW Health's Carbone Cancer Center last summer. He is working in a cancer lab on radiation and immunotherapy research, according to UW Health spokeswoman Lisa Brunette. Several UW cancer physicians have visited the Taiwanese institution to share their expertise.
Other areas of exploration outlined in the agreement, such as proton therapy centers, are under discussion but there is no formal agreement yet, she said.
Wisconsin Alumni Research Foundation, the designated patenting and licensing organization for UW-Madison, consulted on, but was not a party to the master agreement UW-Madison and Foxconn signed. WARF spokeswoman Jeanan Yasiri Moe said the foundation will remain involved in all future discussions related to intellectual property for the Foxconn agreement.