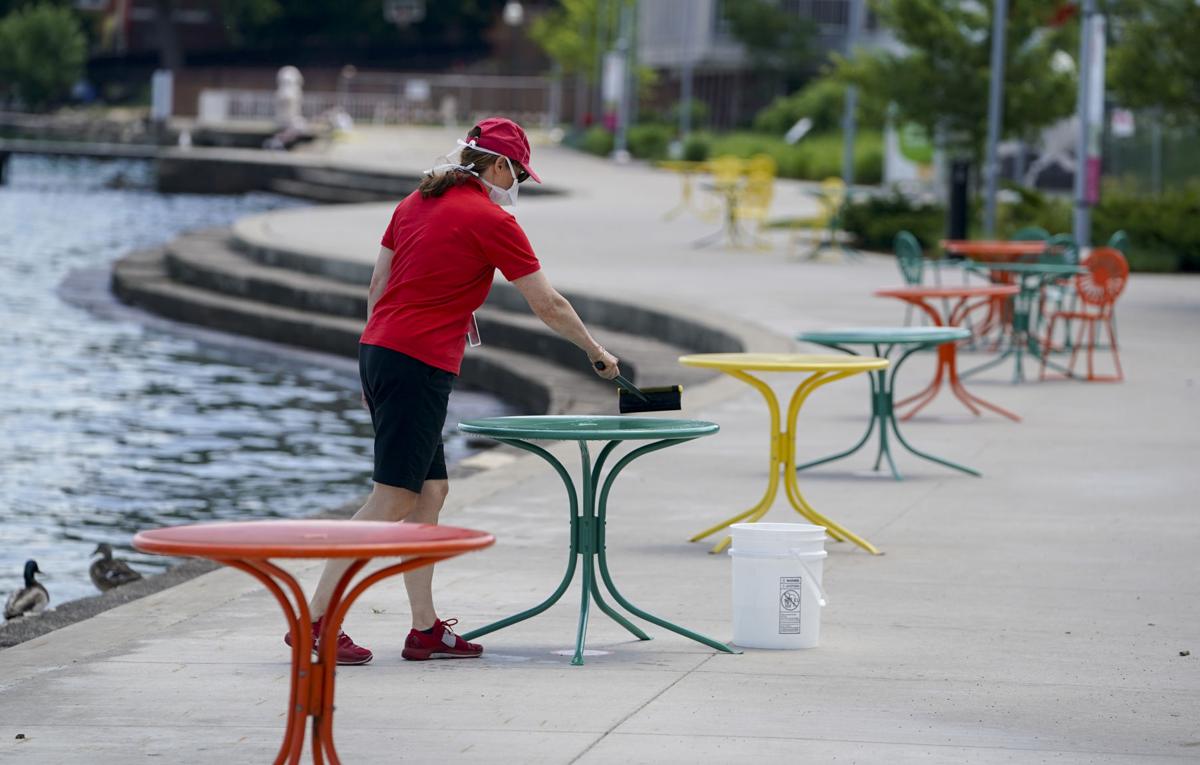 Several University of Wisconsin System campuses, including UW-Milwaukee, reduced student fees this semester because of pandemic-related programming limitations.
UW-Madison, however, does not plan to offer fee refunds even as thousands of students wage a campaign calling on administrators to cut some or all of the $734 they paid in fees this fall. The fees pay for services, such as bus transportation, University Health Services and access to the Wisconsin Union.
Many students see the fees as an unfair charge by the university in the COVID-19 era because some services were unavailable in the spring, when campus shut down, and have operated on a more limited basis this fall. For example, the Wisconsin Union and campus gyms closed during a two-week lockdown last month.
A comparison of last year's fee schedule and this year's shows nearly half of the reduction comes from delaying the student union capital project and scaling back some athletics. UW-Madison does not charge students for its athletics programs through fees. Ticket sales and other revenue cover the cost.
UW-Milwaukee cites canceled and reduced programming, reduced staffing and savings from furloughs as additional reasons for the fee reduction, according to documents submitted to the System.
For example, COVID-19 led to the cancellation of the annual welcome activity known as Pantherfest and UW-Milwaukee did not want to charge students for the event, according to Krystle Anderson, who works in the university's student affairs and enrollment management office.
"We know the spring was hard for students with (the) pandemic and with all classes moving online, and we want to help support our students as much as possible," Anderson said. "We took a hard look at what we can offer in this environment as our services look different with fewer students being on campus and with most classes being online/hybrid. We know that our services are important and want to continue to provide them, but also wanted to align our fees with the services."
Seven of the System's 13 branch campuses also reduced fees for students this semester.
The UW-Milwaukee campuses in Washington and Waukesha trimmed about $36 from students' roughly $200 fee due to reductions in performance arts and lecture series programming. The two campuses will share a counselor because of a decline in enrollment, resulting in some additional savings.
UW-Green Bay's branch campuses at Sheboygan, Manitowoc and Marinette reduced their student fees 55%, from $253 to $115, because of the temporary suspension of athletic programs and related facilities fees.
Similarly, UW-Stevens Point reduced fees for students enrolled at its branch campuses in Marshfield and Wausau by about $113 because of the canceled sports programming, fall drama and virtual music productions. At the Wausau campus, the fieldhouse and pool are closed.
UW-Madison spokesman John Lucas said the university continues to preserve as much programming and as many services as possible while also paying fixed costs. He acknowledged that some services were offered online during the two-week lockdown but they have since reopened.
The pandemic's financial impact at UW-Madison has been "significant" and the university has attempted to shield workers from its effect, Lucas said.
"If fee refunds were to occur, it might not be possible to immediately restore services for students for future semesters," he said.
UW-Madison junior Breon Newble characterized the university's argument as a "keep the lights on approach" that unfairly relies on current students' money to keep services going for future students.
"In the middle of a pandemic, it's not the burden of students to subsidize the university through its downturn," he said.
Newble created a petition last month calling for a partial or full refund of fall semester fees that about 1,600 people have signed.
A full refund would just about cover a month's worth of rent for Newble, who is the first in his family to go to college and is paying his own way for his studies. He said he was "shocked and disappointed" to learn that UW-Milwaukee found a way to save its students some money while Wisconsin's flagship university, with far more financial resources at its disposal, said it cannot.
"Those campus administrators must have a lot more sympathy than at the University of Wisconsin-Madison," Newble said, referring to UW-Milwaukee. "It's the right thing to do."
Concerned about COVID-19?
Sign up now to get the most recent coronavirus headlines and other important local and national news sent to your email inbox daily.