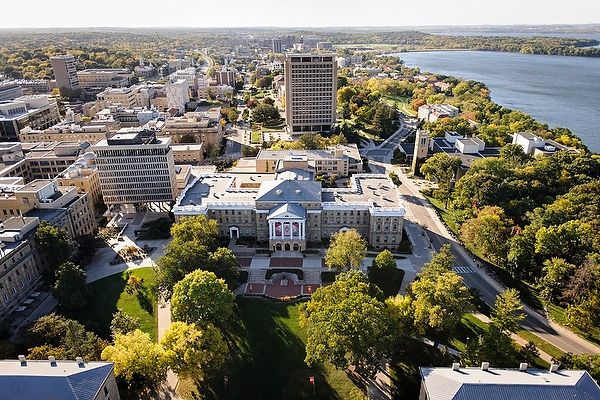 Gov. Scott Walker says he wants to extend the freeze on University of Wisconsin System tuition for another two years. The Republican governor also told UW and most other state agencies they should not anticipate new funding in his next budget.
UW officials and supporters have called for greater state funding for the System after years of budget cuts they say threaten the quality of public higher education in Wisconsin.
But in a letter the governor sent July 25 to the heads of state agencies, he indicated his budget proposal won't include new funding for UW or any but a few other departments.
A list of "budget targets" from Walker's office states that "all agencies should assume there will be zero growth" in state funding, with a few exceptions — the governor writes that he will seek more money for K-12 education and for state departments such as Corrections and Health Services.
Walker said earlier this year he was looking into new higher education funding that would be tied to UW's performance according to certain metrics.
A spokesman for Walker did not respond to an email Monday asking if that idea was no longer being considered.
State agency proposals for the 2017-19 budget are due to the governor's office by Sept. 15. Walker will release his proposed state budget early next year.
Walker said extending the popular freeze, which has kept in-state undergraduate tuition level since 2013, will, along with greater K-12 funding, "help our young people develop the skills they will need for career and life."
"To build on our commitment to student success, we must extend our tuition freeze," Walker wrote. "This will make our universities affordable and accessible."
A UW System spokeswoman said officials are similarly committed to college affordability and will submit a budget request that includes new initiatives with that goal in mind. The UW Board of Regents will take up the System's budget request during its meeting Aug. 18 and 19 in Madison.
That budget, spokeswoman Stephanie Marquis said, "will be financially responsible and remain accountable to our students, faculty and staff, governmental leaders and the citizens of Wisconsin."
The freeze has kept in-state tuition for UW-Madison undergraduates flat at about $10,400 for the past four years, after tuition rose at well above the rate of inflation for decades. Walker and Republicans in the Legislature have touted the freeze, saying it has saved college students and their families thousands of dollars.
Democrats, faculty and others have countered that UW and other public universities across the country raised tuition because states cut their budgets. Wisconsin has reduced funding for the UW System in five of its last six biennial budgets and cut the System's funding by $250 million in the 2015-17 state budget, at a time when many other states were increasing higher education spending.
The combination of budget cuts and the tuition freeze has forced administrators to reduce services and cut jobs, hurting students and the state as a whole, UW supporters argue.
Nick Fleisher, a linguistics professor at UW-Milwaukee, coined the Twitter hashtag #FundTheFreeze to voice his support for affordable tuition while calling for increased UW funding.
"Continuing the freeze is good for students, and I support that," Fleisher said.
But freezing tuition while holding funding flat — or cutting it further, as Fleisher and others fear could happen in the next budget — threatens the quality of UW institutions, he said.
"We would like to see the governor and the Legislature follow through with the other half of the equation," Fleisher said.