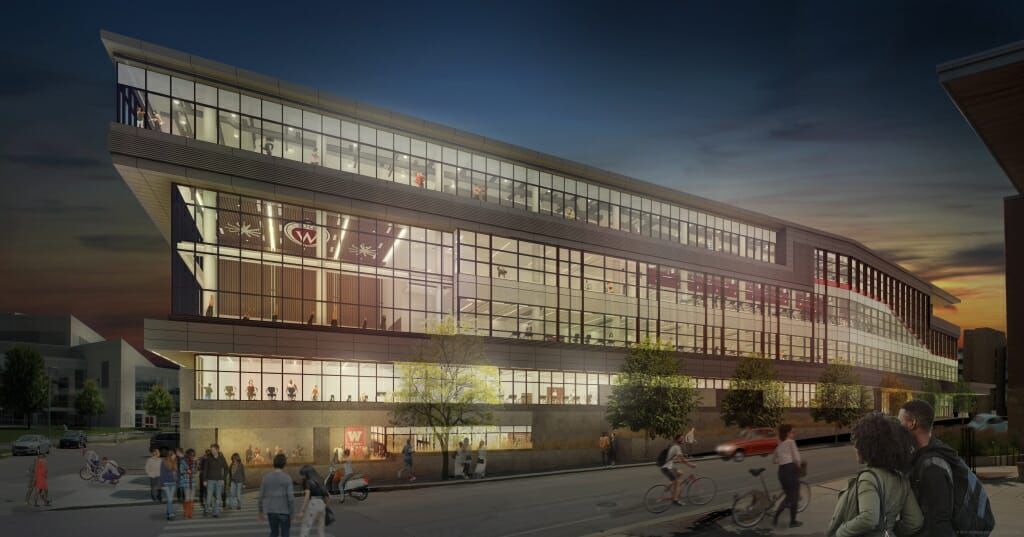 Republican lawmakers are proposing significant changes to the approval process for expensive new amenities such as student unions and recreation facilities on University of Wisconsin System campuses.
Rep. Dave Murphy, R-Greenville, and Sen. André Jacque, R-De Pere, are working on a bill that would ban student fee-funded building projects from moving forward without a majority of all enrolled students on campus approving the project in two consecutive referendums.
Currently only a majority of all students who participate in one referendum are required for approval of the fees.
The changes would make it difficult to construct buildings funded by student fees, according to a UW-Madison student leader familiar with the approval process, which has attracted scrutiny from Republicans who say the fees are making college less affordable.
UW students will pay between roughly $1,000 and $1,600 in annual fees for bus transportation, student organizations and services such as mental health counseling. A portion of those fees may go to pay for construction of buildings such as student unions or sports recreation centers if a majority of students voting in a referendum approve such a move.
Starting in the fall, for example, each UW-Madison student will pay an additional $173 to help fund major upgrades to recreational facilities. About 87% of students approved the increase in a 2014 referendum that brought a third of campus to the polls.
UW-Madison incoming senior Laura Downer questioned the likelihood of half of the campus, or about 22,000 students, turning out and voting yes in two separate campus elections.
"It strikes me as more of a way to prevent buildings from ever being built than as a way to increase student voice," Downer said. She is chairwoman of UW-Madison's student government, which works with different university units to hold referendums when the need for a building is under debate.
Making the case
The bill's intent is to address the "escalating arms race of extravagant facilities and student services, paid for by mounting (student) fees," according to a bill memo written by Murphy and Jacque.
Pressed on whether buildings could ever be constructed given historically low turnout in student referendums, Jacque compared the change in voting requirement to unions seeking recertification, an election process that changed under Act 10 to count all of a work unit's members, not just those choosing to vote. Those not voting are considered to cast no votes, making it more difficult to gain approval.
"You need to make the case to students," Jacque said in an interview Thursday. "We're not trying to make it easy to add to students' debt loads."
There have been cases in which campuses have held multiple failed referendums until one is approved.
About 6% of the UW-Madison student body voted in 2006 to raise student fees by $48 per semester for two years and $96 per semester for several decades after that to partially fund renovations to Memorial Union and build a new Union South. The approval came after two previous elections in which students shot down the fee increase.
UW-Milwaukee's student union was put to referendum in 2010, 2012 and 2017. Each of the questions in those elections had a different project scope and proposed fee increase, university spokesman John Schumacher said. Students approved one of the three ballot measures.
'Negative impact'
Student fees are an increasingly larger part of the college cost of attendance. At UW-Madison fees have climbed 28% since 2013-14, the year an undergraduate resident tuition freeze began.
UW System spokesman Mark Pitsch said in a statement: "College affordability is critical. At the same time, we must ensure the value and quality of the educational experience is maintained for our students. Decisions about how students can spend their money should not be mandated by a one-size-fits-all approach that could lead to unintended consequences."
UW-Madison went a step further, saying limits outlined in the bill "would have a significant negative impact on universities' ability to provide the types of facilities that students expect," according to spokesman John Lucas.
The bill also caps the share of student fees funding a building project to no more than 50%, so university leaders would have to secure state money or private donations in order to move the project forward.
Athletics fees
Another part of the bill limits how much campuses can charge students for intercollegiate athletics annually to $225 or the amount charged in the 2020-21 school year, whichever is less.
All UW campuses except Madison charge a fee for their NCAA athletics programs, even though students are not guaranteed tickets to those events. The fees range from campus to campus, but are highest at the two Division I schools — $301 in 2017-18 at UW-Milwaukee and $355 at UW-Green Bay, according to Murphy's office.
"I think that's pretty pricey," Murphy told reporters at a higher education panel Wednesday. "What is this adding to the education of students? To me, this cries out for fundraising."
UW-Green Bay declined to comment.
The likelihood of the bill gaining legislative traction is unclear. Aides for Assembly Speaker Robin Vos, R-Rochester, and Senate Majority Leader Scott Fitzgerald, R-Juneau, did not return requests for comment Thursday.