A Republican-controlled committee plans to prevent the University of Wisconsin System from imposing mandatory COVID-19 testing, masking and vaccination protocols — a move that interim System President Tommy Thompson said would cripple the campuses' abilities to adjust to rapidly changing conditions of the pandemic when students start returning to school next month.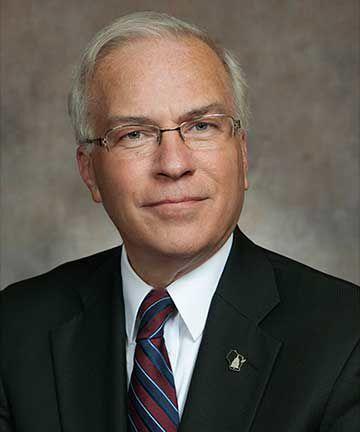 State Sen. Steve Nass, R-Whitewater, said Wednesday he will move to require UW get approval from the Legislature's GOP-controlled rules committee before enacting any virus-related requirements. Nass co-chairs the committee, which he said plans to vote Tuesday to block the UW virus protocols without a public hearing.
The pushback by one of the System's most vocal critics comes as colleges across the country reassess their reopening plans in response to the highly contagious delta variant of the coronavirus. A new recommendation from the U.S. Centers for Disease Control and Prevention this week advising vaccinated individuals in communities with high transmission rates wear masks indoors has also led some institutions to reevaluate their lack of a mask mandate.
UW-Milwaukee on Thursday, for example, announced a weekly testing requirement for unvaccinated students and employees, as well as an indoor mask mandate, both of which would be blocked under Nass' plan.
Thompson, a former Republican governor and U.S. Department of Health and Human Services secretary, suggested in a statement Thursday that the System is well within its rights to implement safety policies.
"Just as we have this past year, the UW System will continue to use its authority to take nimble and reasonable steps that enable us to keep our campuses open," he said, adding that "the biggest threat to in-person classes this fall would be actions that strip the UW System of the tools it has so successfully utilized to date to address outbreaks and reduce the spread of COVID-19."
Rep. Lisa Subeck, D-Madison, who serves on the rules committee, said she believed a review of the policies falls within the committee's authority but dismissed Nass' proposal as "terrible overreach" and "micromanagement" that "ties universities' hands."
"Clearly, UW campuses make policy decisions every single day that the Legislature does not stick our fingers into," she said in an interview. "It is only because Sen. Nass is so adamantly opposed to any measures in place to control the spread of COVID that he's asking us to do this."
Subeck also said it's rare for a controversial proposal to be voted on without a public meeting or discussion. She called for Tuesday's meeting to include open conversation with health experts, university leaders and students who would be affected by rolling back the safety measures.
Increasing cases
Nass accused some UW chancellors of believing they are "not beholden to following state law" and will take advantage of "hysteria" over the delta variant to enact new mandates.
The seven-day average of COVID-19 cases grew to 556 on Thursday, nearly eight times higher than a month ago and the highest since early May. That continues a steep increase that has led state health officials to urge people to get vaccinated to slow the spread and stop an even more deadly variant from developing.
Chancellors had two key policies last school year — mandatory masking and testing — that kept campuses open for most of the year and allowed some classes to be held in person. But Nass' chief of staff, Mike Mikalsen, alleged the System didn't follow the law when establishing those policies.
Mikalsen said any UW policy that mandates a specific action and applies to students or visitors is subject to the committee's review. The committee can suspend part or all of a proposed rule, which in this case would mean blocking any virus-related mitigation measures across every UW campus. Democratic Gov. Tony Evers has no veto power over the committee.
Rep. Adam Neylon, R-Pewaukee, who co-chairs the rules committee with Nass, said he supported the proposal.
UW-Madison plans
No UW campus has a vaccine requirement. Thompson is opposed to mandates, particularly when the shots have still only been authorized for emergency use. The System announced this week it would award $7,000 scholarships to 70 students who get the shot and attend a campus other than UW-Madison that reaches a 70% vaccination rate.
At UW-Madison, additional safety measures for the fall semester include a COVID-19 testing requirement for unvaccinated students living on campus. Instructors can encourage or request but not require masks be worn in their classrooms.
UW-Madison spokesperson John Lucas said the university is consulting with campus public health experts on what additional steps, if any, to take in light of the city-county health department advisory this week encouraging masks indoors regardless of vaccination status.
State Sen. Kelda Helen Roys, D-Madison, whose district includes the Madison campus, said Nass' plan shows Republicans "would like as many people to get sick and die as possible."
"Honestly, I cannot imagine why Republicans are so hell-bent on preventing any safety measures to save people's lives," she said. "The majority of people in this state believe the science and they want to live and they want their kids to live. It sends a terrible message that this cohort of Republican senators don't care about the lives and health of students and people on our UW campuses."