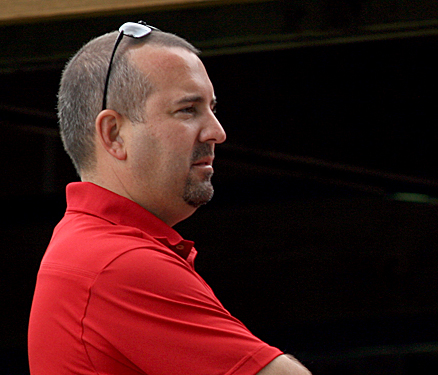 John Chadima made unwanted sexual advances to a University of Wisconsin Athletic Department student employee and threatened to fire him after he spurned the early-morning overture at a Rose Bowl party.
That's according to a report released by the university Tuesday night. The report was commissioned by interim UW-Madison Chancellor David Ward after Chadima, a former senior associate athletic director, resigned amid charges of misconduct earlier this month.
"What has been alleged is not only a sexual assault but also a serious breach of trust within a community that we heard described repeatedly by student employees as a tight-knit and supportive family," a four-person investigative panel wrote in the report.
The panel interviewed 23 people, including professional staff and student employees. Chadima, 46, was invited to speak but declined.
But in a statement released by his attorney, Chadima said he is "deeply saddened by the contents of this review."
"It is certainly not reflective of the type of person I am, my lifestyle, my management style or my faith or beliefs," he wrote.
"However I make no excuses and have come to the realization that over the past few months, alcohol had controlled and consumed my life," the statement continued. "I am taking steps to correct that problem in my life at this time."
The panel was led by former Dane County Circuit Judge Patrick Fiedler, and included former assistant chief of police Dale Burke, former assistant dean of students Yolanda Garza, and former associate dean of students Roger Howard.
The individuals interviewed gave consistent accounts of what occurred prior to the alleged incident.
For at least the last four years at each football bowl game, Chadima has sponsored a party for staff and student employees who work behind the scenes.
Chadima's party at this year's Rose Bowl was held the evening of Dec. 30 into the early morning of Dec. 31, at his suite in the J.W. Marriott in Los Angeles.
Chadima provided alcohol, beer and mixers for guests to serve themselves, including some student employees who were under 21. The alcohol was purchased with athletic department gift funds.
Athletic Director Barry Alvarez and Sean Frazier, deputy athletic director, were aware of the party but did not attend.
There were about 25-30 people at the party. Chadima and others consumed significant amounts of alcohol, but no one saw him acting inappropriately.
As the other students were leaving, Chadima called one student employee back and asked him to stay for a drink. The student, who was over 21, reported making three rum drinks each for Chadima and himself.
At one point, Chadima told the student he thought the student might be gay.
Chadima removed the student's belt, reached inside the student's pants and touched his genitals.
The student said he was shocked and frightened, slapped Chadima's hand away and swore at him.
That's when Chadima threatened the student, reportedly saying, "What are you going to do about it?" and "I could have you fired." As the student left the room, Chadima seemed to gloss over the incident as "just joking around."
The student immediately knocked on the hotel door of his immediate supervisor. He then went to three fellow student employees to tell them. The student emphasized that "he did not want anything from this, no money, no distraction, but just that this was wrong," according to one person's account.
The student returned to Madison on Jan. 3. His supervisors called UW-Madison Police Lt. Jason Whitney on the morning of Jan. 4.
Over the next two days, they met with campus and athletic department officials.
On Jan. 6, Ward and Alvarez placed Chadima on paid leave and decided to appoint the committee. Chadima resigned later that day, after 22 years with the athletic department.
Students described him as friendly, concerned about their welfare and highly respected. That was echoed by UW athletic department officials.
The panel reported that this allegation is the only time its members heard evidence of abuse of authority by Chadima.
However, the panel found a text message that Chadima sent to another student employee on Dec. 30, demanding that the student come to Chadima's hotel suite and threatening to fire him if he did not comply. The student who received the message was not willing to talk to the panel.
The panel questioned the circumstances behind the parties and the wisdom of providing alcohol in such a casual manner.
"We believe there is reason to question the appropriateness of the sort of unregulated service of alcohol to students as well as the practice of a professional staff member drinking with students at university events," the panel wrote.