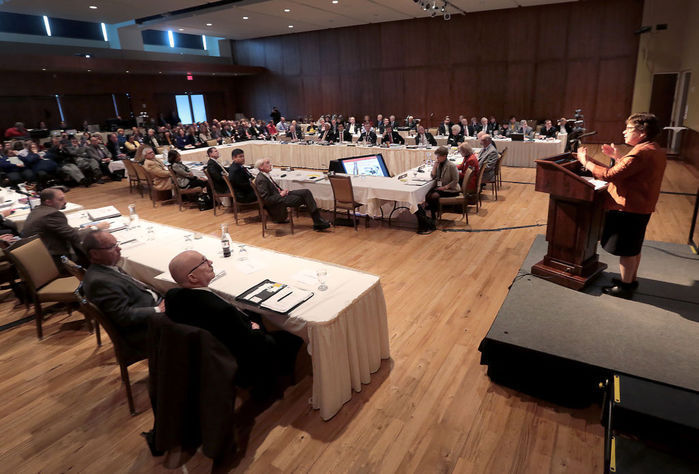 Campus officials would have greater authority to fire professors under new tenure policies approved Friday by a committee of the University of Wisconsin System Board of Regents.
But while state legislators have granted the Regents sweeping power to lay off professors, UW officials mostly chose not to exercise that authority in the new policies, and say the rules offer faculty the same level of protection as those at other universities.
The full Board of Regents is expected to act on the policies at its next meeting in March, when it could also approve separate campus-specific tenure rules.
The faculty layoff policy passed Friday by the Regents' education committee creates a process for administrators to fire tenured professors if their academic program is discontinued for educational considerations.
The policy change was driven by provisions of the 2015-17 state budget that stripped tenure protections from state law and expanded administrators' authority to fire tenured faculty, allowing for layoffs if academic programs are curtailed, modified, discontinued or redirected.
The new policy allows for faculty to be laid off only if their program is discontinued, however, and "clearly restricts" UW officials from using the other justifications lawmakers gave them, said Regent John Behling, who led the task force that wrote the policy.
The Regents also passed a policy for reviewing the work of tenured faculty at least every five years, with the possibility of merit raises for high-performing professors and discipline — including firing — for those that don't meet standards and fail to improve. Each campus would determine its own standards for faculty productivity.
Before the changes in the budget, state law allowed for firing tenured professors only during a financial emergency or for just cause.
Behling said the new policies give faculty protections that are comparable to those at other universities, and borrow from the tenets of tenure rules at the universities of Michigan, Maryland and California, among others.
He also said the policies will not infringe on academic freedom.
But they ensure professors are held accountable for meeting teaching and research standards, Behling said — something he and others say lawmakers will be looking for when they decide whether to increase funding for the UW System after cutting it last year.
"These policies will help us demonstrate accountability, which is what the public wants to see from the System," Behling said. "Without the demonstration of accountability our budget prospects in future years will not improve."
David Vanness, a UW-Madison professor and president of the campus' American Association of University Professors chapter, called some aspects of the policies encouraging, but said they create "loopholes" that will make it easier for chancellors to fire professors when they face tight budgets.
That's because, while faculty will have input in the process for deciding what programs are discontinued, Vanness said, chancellors will have the final say.
"If there's a budgetary shortfall, and you're in a program that's considered not a high priority, they can get rid of you," he said.
Should UW officials use that power, Vanness said, their institutions could face investigations or censure from the AAUP, a national organization advocating for professors.
Once the full Board of Regents approves tenure policies for the entire UW System, it will begin authorizing campus-specific tenure rules such as the ones UW-Madison officials have already written. It could do that as soon as the March meeting in which it will take up the proposals that were approved Friday.
The flagship campus had moved quickly to write its own policies in an effort to assuage faculty fears that they would lose tenure protections.
UW-Madison Chancellor Rebecca Blank said Thursday that, barring any substantial changes by the Regents, UW-Madison's proposal should be in line with the Systemwide one, and would be approved.
"We (would) have a set of tenure rules that are comparable to any of our peers, and that's where we need to be," Blank said.