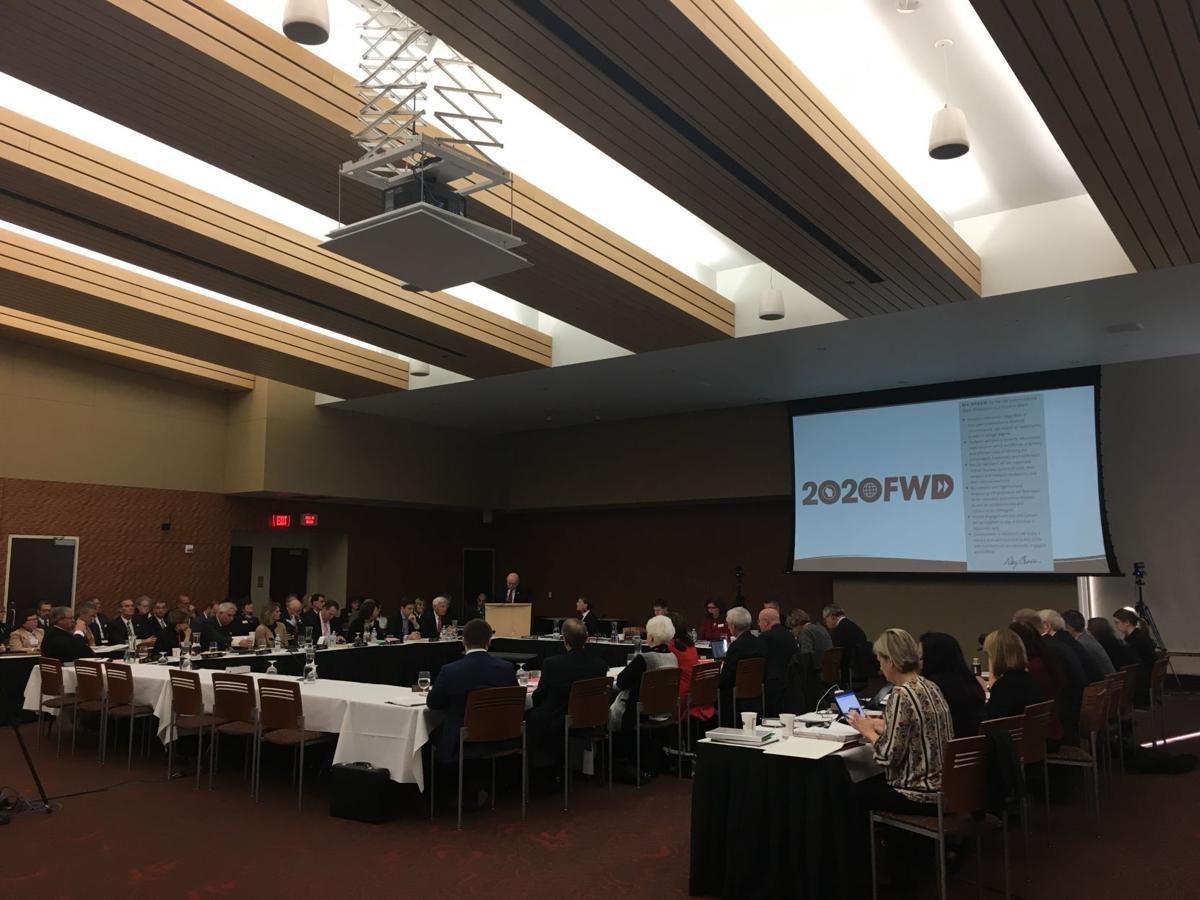 Wisconsin's two-year UW Colleges are set to become branch campuses of nearby four-year universities by the start of the 2018 school year after the University of Wisconsin System Board of Regents approved a sweeping and controversial reorganization of the schools Thursday.
The Regents backed the proposal from System President Ray Cross over concerns from former UW Colleges officials, student and faculty groups, Democratic lawmakers and two board members that it lacks key details and was made with minimal input from those affected by the mergers.
Cross and the plan's supporters say it will change the unsustainable structure of the UW Colleges while ensuring the predominantly rural communities those institutions serve still have access to local higher education.
A motion to move forward with planning for the reorganization, which would also shift the functions of UW-Extension under UW-Madison and central System administration, was approved on a voice vote during Thursday's Regents meeting in Madison.
Although the mergers would unfold on an aggressive timeline — they are set to take effect July 1 — Regents noted that Cross will return to the board at each of its next six meetings to provide updates on the implementation process.
"A vote to merge is not the end, it's the start of hard work," said Regent Bryan Steil, who voted in favor of the plan.
State Superintendent Tony Evers, a Democrat who is running for governor, and Regent Janice Mueller voted against the proposal.
Mueller, a former state auditor, asked to delay a vote on the plan until the Regents' December meeting to give board members more time to understand the proposal and hear specifics about its potential financial impact on the UW System.
UW leaders have said the proposal would result in savings, but did not provide the board with estimates for how the reorganization of Colleges and Extension — institutions with combined annual operating budgets of nearly $300 million — would affect the System's bottom line.
And while Cross acknowledged Thursday that the changes would result in job losses "over time" as campuses consolidate administration and other services, he has not said how many positions would be cut.
'Very little detail'
You have free articles remaining.
"We have to be deliberative, and I don't know if we've had enough time to really study this proposal," Mueller said. "There's very little detail in the proposal; there's nothing in terms of revenues or expenses."
Mueller's concerns mirror some of those raised by the plan's critics, who have questioned the fast pace of the proposed mergers.
Cross presented the question before the Regents on Thursday as a choice between his proposal and less palatable alternatives, such as merging the UW Colleges with technical schools, or keeping their structure the same and eventually being forced by deficits and declining enrollment to close colleges.
"Closing campuses would violate one of our core principles: Our commitment to provide quality higher education that is accessible and affordable no matter where you live in Wisconsin," Cross said. "Our presence in these communities has never been more important — we need them and they need us."
The plan, which Cross announced last month, partners each of the 13 two-year UW Colleges with one of seven four-year universities. UW-Rock County, for instance, would become a branch campus of nearby UW-Whitewater.
Students attending the two-year schools would continue to pay their substantially less expensive tuition.
The System will now put together a steering committee to oversee the merger process, though Cross said many details will be worked out at individual campuses in consultation with students, faculty and staff.
Representatives for those groups have complained that Cross did not involve them when he developed the proposal.
The Regents heard more than an hour of testimony at Thursday's meeting from student and faculty groups, business leaders and UW System chancellors, many of whom supported the plan.
Cross lists benefits
Cross has argued the move will strengthen the pipeline into the four-year schools, make it easier for students to transfer and result in greater educational opportunities at the two-year campuses.
He acknowledged that the proposal was not "a fully developed plan with all the details worked out," but said the time had come to put Colleges and Extension on a more sustainable path.
"We could continue to study this for months or even years before coming to a decision," Cross said. "But the challenges we face will not change."