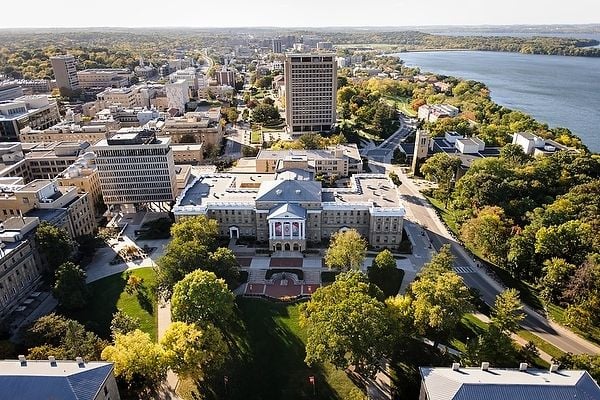 By insisting that the University of Wisconsin System Board of Regents will only consider campus tenure policies once statewide rules are in place, UW System officials have undermined efforts to write layoff protections at UW-Madison, Chancellor Rebecca Blank said in an email sent to them last week.
Delaying approval of UW-Madison's tenure policy could also make it harder for the campus to retain sought-after faculty members, Blank wrote in the Oct. 22 message.
The email was sent to UW System President Ray Cross, Regent President Regina Millner and Regent John Behling.
Despite the objections she raised in her email, Blank said in a statement late Friday that she and System officials were "all in agreement" that they will follow the path laid out in Cross' memo.
"Once a broad System policy is enacted, UW-Madison will have the opportunity to finalize its specific policy," Blank said.
Blank declined to be interviewed Friday.
Behling, chairman of a task force charged with writing System-wide tenure policies, said in a statement Friday, "I am glad Chancellor Blank has clarified her position and that she and President Cross are on the same page."
Alex Hummel, a System spokesman, said Cross and Millner were unavailable Friday and deferred to Behling for comment.
A group of professors at UW-Madison has spent months crafting a proposal spelling out when faculty members can be fired, after lawmakers weakened those protections in the 2015-17 state budget.
That policy will be up for approval at Monday's UW-Madison Faculty Senate meeting, after which Blank planned to bring it to the Board of Regents for final approval in December.
But in a memo to chancellors last week, Cross said the Regents will not consider any campus tenure proposals until they have adopted rules for the entire System — a process that isn't expected to wrap up until spring 2016.
In her email, Blank points out that Cross' memo differs from what he had previously told UW-Madison officials.
"We were assured by Ray and others that Madison could write policies, which would be reviewed by the (Board of Regents) for approval," Blank wrote, "but our separate HR system (and our separate standing as a Research I university) made it important for us to move forward on this front."
Cross' memo, Blank wrote, "suggests that the extensive campus discussion we've been having is irrelevant and will be irrelevant until after BOR acts in April on a general policy."
"If we are told to put this aside, it will be widely interpreted as the faculty process being undercut by the BOR," she added.
Stronger words from Blank
It's not clear if any of the message's recipients responded to Blank — UW-Madison supplied the email Friday after The Capital Times reported on its contents, but officials did not immediately respond to a State Journal request for more email records.
Blank pushed back stronger in her email against Cross' memo than she had in press statements released the same day.
UW-Madison professor David Vanness said the message could be an attempt by Blank to show faculty members she is working for them ahead of Monday's Faculty Senate meeting, where she could face pointed questions about tenure.
"This kind of takes a little of the heat off of her and puts it on Ray," Vanness said.
Many faculty members have been unhappy with how Cross handled the changes to tenure. On Friday, the American Federation of Teachers-Wisconsin union, which represents UW-Madison faculty, staff and employees, said its members unanimously approved a vote of no confidence in Cross and called on him to resign.
Uncertainty could hurt retention
Vanness said Blank's email does little to clarify where UW-Madison faculty stand in the complex process of crafting a new tenure policy.
The chancellor referred to some of that same uncertainty in her email, saying it could make it harder for UW-Madison to keep faculty members on campus as other universities seek to recruit them away.
"We have extensive retention problems here at Madison," Blank wrote, echoing what she has said previously about the impact of the state budget, which cut higher education funding, stripped tenure provisions from state law, weakened layoff protections and reduced the role of faculty in shared governance.
The university wanted to pass its new layoff protections before the end of the year in a bid to reassure faculty members as academia's recruitment season heats up, she said.
Blank referred to a group of "less-than-satisfied" professors who have questioned the Regents' commitment to tenure and have advocated "more extreme" protections for faculty.
Vanness, who has spoken at several meetings in support of strong tenure policies, took issue with that characterization, saying he and others only want to see faculty enjoy the same protections they had before the state budget changed them.
"Major mobilization among our faculty on this issue at this point in time, when multiple retention cases are active, will make those retentions even more difficult," Blank said.