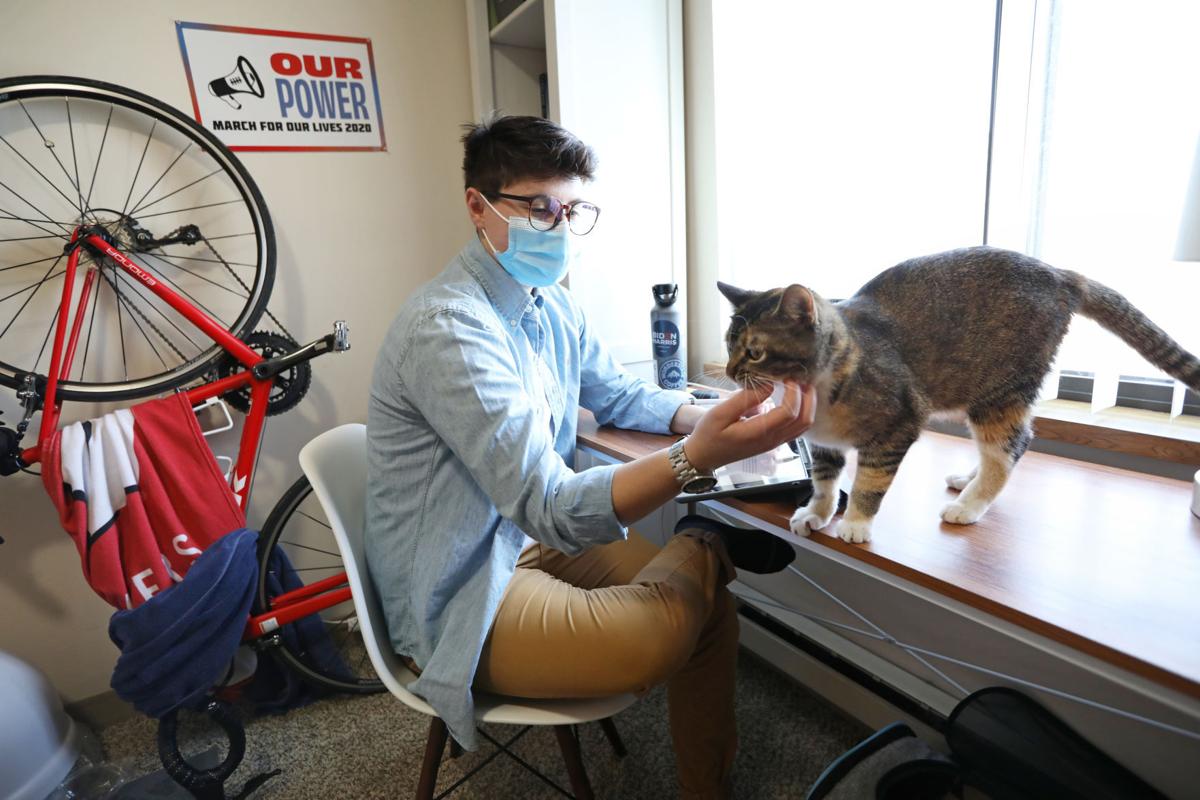 The question can be taken as a temperature check on students' mental health as the one-year anniversary of the pandemic passes and a school year stripped of in-person experiences drags on.
While UW-Madison students are hopeful about vaccination efforts ramping up and spring weather arriving, many are still struggling to make online classes work while also worrying about their finances and health. This month marks the halfway point in a 14-week semester taking place almost entirely online and without a spring break, a schedule that students say is leading to burnout and in some cases damaging their mental health.
The loneliness and uncertainty of the pandemic has taken a toll on everyone's wellbeing, but the effects have been especially devastating on young adults. A Centers for Disease Control and Prevention survey conducted last June found 18- to 24-year-olds reported the highest levels of symptoms of anxiety and depression among adults, and a quarter of them said they had seriously considered suicide.
College students missed milestones and face a restricted social life during an already precarious age that is critical to developing relationships and forming their identities.
"I feel a very big sense of loss," sophomore Cameron Yonan said. "I feel a loss of connectivity. I feel incredibly isolated all the time and on my own even when there's 120 people in my class. College is supposed to be the best four years of your life and I'm obviously not experiencing that."
The challenges plaguing college students — depression, anxiety, stress — have always existed. But the pandemic and racial unrest over the past year intensified mental health concerns, particularly for students of color and those in the LGBTQ community, populations who were already at higher risk.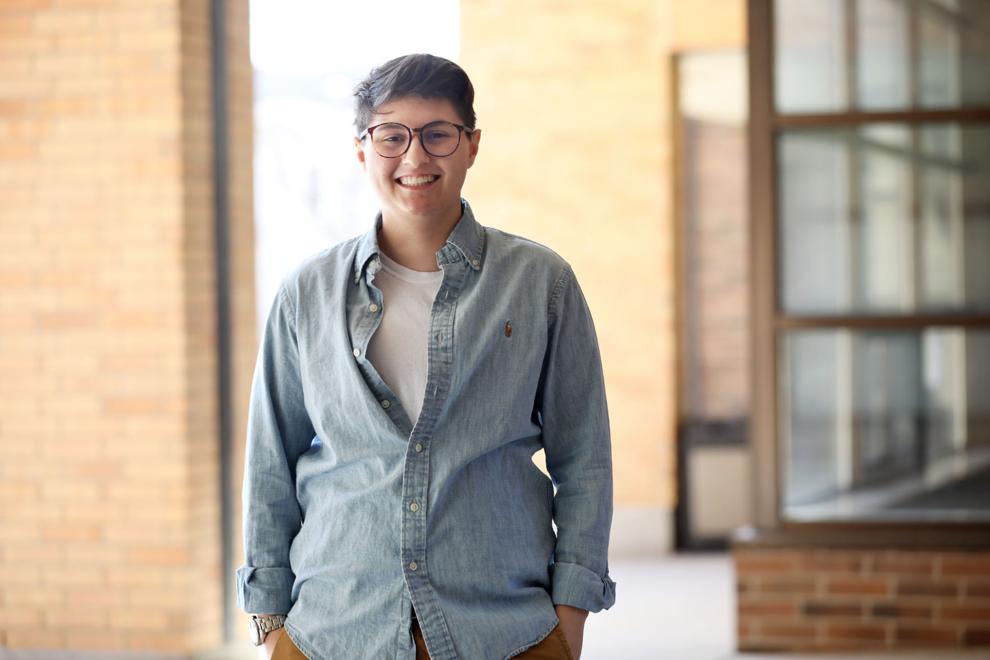 Yonan, who uses they/them pronouns, was diagnosed with anxiety, depression and obsessive compulsive disorder shortly before the coronavirus closed campus last spring. As the past year unfolded, their mental health deteriorated and they now attend therapy multiple times a week.
Days pass by in a blur of Zoom sessions, punctuated by the WiFi dropping in and out for Yonan and three others living in their apartment. Some professors have dropped a discussion section or two in recent weeks to give students some time away from their screens, but others haven't.
For someone who previously loved school, Yonan now feels a sense of dread every time they log into class.
Rising demand
"I think we need to be careful to not say COVID put this massive stress around students cause it was already there," said Sarah Nolan, UW-Madison's mental health services director. "This has called people's attention to how bad things are for college students."
UW-Madison last fall had about 92% of the individual counseling appointments that the university scheduled in 2019, which Nolan attributed to initial skepticism about telehealth appointments and general online fatigue. Data for this semester shows student visits rebounding to what UW-Madison was seeing before the pandemic hit.
The System set a goal of providing at least one mental health counselor for every 1,000 students. While the counselor-to-student ratio has improved on most campuses since 2015, only two campuses, Madison and Stout, met the benchmark last school year.
Even then, some UW-Madison students report long waits to see a counselor and disapproval of a limit on the number of appointments one can have in a given school year.
The university aims to offer students an appointment within two weeks but sometimes their schedules conflict with counselors' availability, leading to an appointment further out on the calendar, Nolan said. Students are generally limited to 10 sessions per year but if a counselor feels a student needs more help, they can request it.
Pressures mount
Alex Villa, a geoscience graduate student and teaching assistant who struggles with anxiety and depression, said she had a hard time getting an appointment with a university counselor before the pandemic.
Over the past year, Villa's mental health nosedived. Her research was halted. She stressed throughout the summer about whether she'd have to teach in person and said she learned just a few weeks before classes began that she'd teach online, a style for which she said she received little training. The first-generation Latina student also worried about her family in southern California, which was a COVID-19 hotspot in late 2020 and early 2021.
Even in Villa's own studies, she recalls just one professor in three semesters' worth of classes telling students to take time off if they need it. She eventually sought an outside therapist, whom she sees weekly.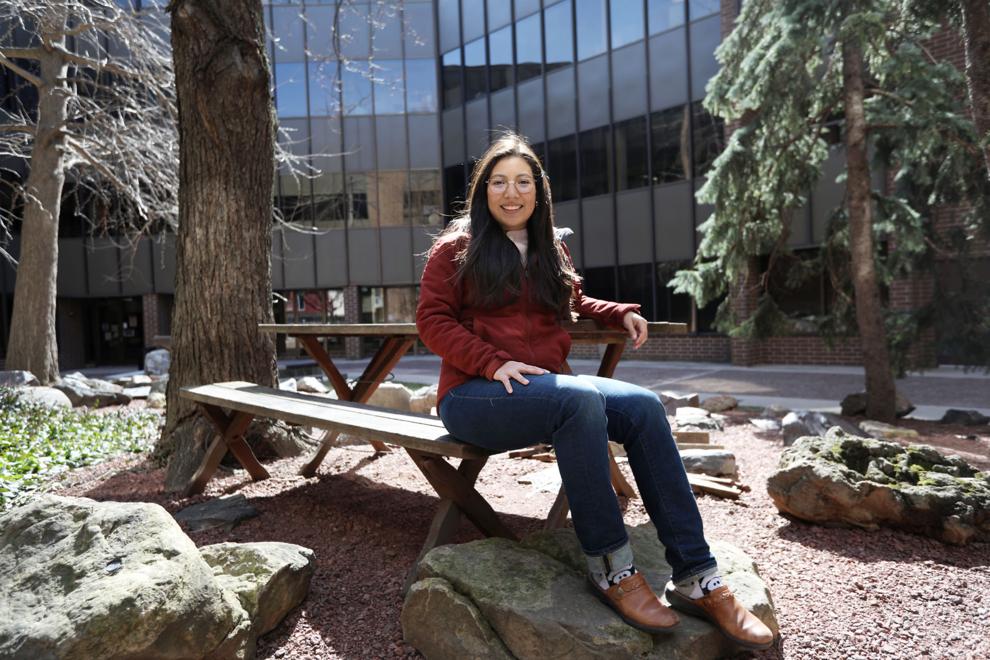 Villa doesn't fault UW-Madison for what she sees as limited access to mental health resources on campus. It's part of a broader systemic funding problem, she said.
Democratic Gov. Tony Evers proposed $10 million in his 2021-23 budget proposal to improve UW campus counseling services.
The Republican-controlled Legislature is crafting its own budget from scratch. A representative for Rep. Mark Born, R-Beaver Dam, who co-chairs the budget-writing committee, did not respond to an email asking whether he supports spending money to expand campus mental health services. Sen. Howard Marklein, R-Spring Green, the other co-chair, declined to comment.
No spring break
Colleges across the country struggled with whether to keep spring break on their calendar, a choice that essentially pitted public health against mental health.
A study found that student travel to popular spring break destinations in March 2020 was associated with the spread of COVID-19 on campuses and in surrounding communities.
UW-Madison initially scheduled a spring break for late March but the Faculty Senate overwhelmingly voted to scrap it from the calendar in an effort to discourage students from traveling and potentially bringing the virus back to campus. The vote came in mid-September when the university was struggling to control COVID-19 on campus.
Madison Area Technical College and Edgewood College kept their spring breaks, both of which were held this past week.
UW-Madison instead designated three days without classes, two of which fall on Saturdays. The arrangement has left many students confused at how the university can claim these days as "breaks" when the days fall on weekends.
UW-Madison spokesperson Meredith McGlone said about 1,200 students have a Saturday class. She also said it isn't possible to change the spring calendar at this point in the year without causing significant disruption to courses.
"This situation highlights one of the many unprecedented challenges universities face during a pandemic — how do you effectively plan months in advance, based on the best information available at the time?" she said.
Culture of self-care
"I think the sentiment is good," sophomore Hope Karnopp said of the campaign. "But you want us to attend another Zoom webinar when we still have classes all day? Trying to do these events to help isn't really what students are looking for."
Karnopp, who is studying journalism, understands the university's intent in canceling spring break. But scrolling through her social media feeds she sees students still taking vacations to far-flung destinations. She supports the idea of wellness days and wishes more instructors would realize how much a break is needed at this point in the semester.
"I was never a student not paying attention in class, but now it's very, very hard to maintain momentum for online learning," she said.
Karnopp considered seeing a UW-Madison counselor during the pandemic, but was deterred by what she heard was a big backlog and an overall sense that her mental health didn't warrant a counseling session.
It's an attitude sophomore Maddy Aaronson has often heard from students, which is why last fall she started Active Minds, a student group trying to normalize conversations about mental health.
"A lot of people think everyone else is struggling so they don't need help," she said. "People are excusing their own struggles by saying everyone's going through it but that doesn't make their problems any lesser."
Nolan, UW-Madison's mental health services director, acknowledged a wellness day could help some students but suspected many may use the extra time to plow ahead on schoolwork. She sees an even greater need for a shift in the mindset of students, many of whom are hardworking high-achievers unaccustomed to taking time off or seeking help.