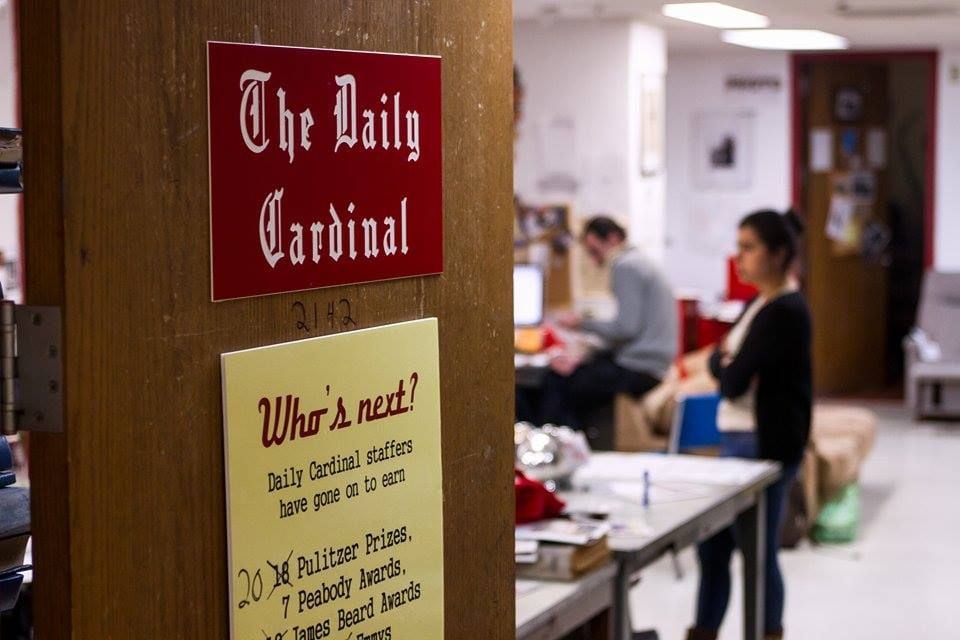 The Daily Cardinal plans to cut production of its print edition to two days per week, leaving UW-Madison without a daily student newspaper only a few years after the campus had two of them.
The Cardinal will print on Mondays and Thursdays next semester, dropping from four editions per week as part of a shift that will see the 123-year-old company focus more on its web and mobile products, editor-in-chief Jim Dayton said.
Coupled with similar production cuts at The Badger Herald, once a daily newspaper that now prints weekly and focuses primarily on online reporting, the Cardinal's change marks another shift in the media landscape at UW-Madison, once the only university in the country where two student newspapers competed in print each weekday.
Dayton said student media — including the Cardinal, which carried reports from the Spanish American War, university reaction to the attack on Pearl Harbor and coverage of clashes between police and protesters in the 1960s — are not immune from dropping ad revenues that have wounded the newspaper industry.
"College paper, any paper — I don't think anybody's thriving the way they once were off of print revenues," Dayton said. "Those changes in journalism have affected us just like they've affected everyone else."
UW-Madison journalism professor Katy Culver said a combination of factors has hit student media as a whole especially hard.
There are fewer locally owned businesses around college campuses these days, and national chains are less likely to advertise with student media. Also, while college papers once offered a "captive audience" of students, she said, businesses can now reach young consumers directly through social media.
And because student newspapers are distributed free, they are more vulnerable to falling ad revenues than their professional counterparts, because they can't make up for that lost money by charging more for subscriptions. The result, Culver said, has been a "shift away from daily print at student newspapers" across the country.
UW-Madison's newspapers started cutting print editions and putting a bigger emphasis on their websites in 2012, when the Herald dropped its Friday paper before moving to a twice-weekly format in 2013 and weekly this fall.
You have free articles remaining.
That left the Cardinal, which cut Friday papers in 2014, as the last daily student newspaper in Wisconsin.
Dayton said printing costs are the paper's biggest expense by far.
Neither the Cardinal nor the Herald gets money from UW-Madison, though a deal with the university means the Cardinal doesn't pay rent for its on-campus space in Vilas Hall, which sits on the former site of its offices.
With ad revenue declining, Dayton said it would have been "a struggle" to keep printing four days a week. The Cardinal's leadership started talking about a switch to a twice-weekly newspaper last year, and Dayton said staff members and many alumni understand the move is necessary to keep the paper sustainable.
"As editor-in-chief, it is my responsibility to put this newspaper in a position to keep it thriving for 123 more (years)," Dayton wrote in a message to the Cardinal's readers.
While there won't be a student newspaper with a print presence every weekday, Culver, Dayton and Herald editor-in-chief Aliya Iftikhar all agreed that won't translate to less robust coverage of UW-Madison by student media.
"We cover the same amount of news on any given day that we would have a few years ago," Iftikhar said.
The Herald covers daily and breaking news on its website, then uses the weekly print edition to write more in-depth news and feature stories. Dayton described a similar plan for the Cardinal's website and print editions.
As the Cardinal and Herald move into a new era defined more by smartphones and social media than print newspapers, the key to the transition for both outlets could be an age-old problem for campus media: They have to provide coverage that engages their fellow students, Culver said.
"They're going to have to look at how they connect with this campus community and get it to care about what they do," Culver said.