As classes resumed Wednesday on the UW-Madison campus, a rule meant to prevent the spread of COVID-19 in residential dining halls has raised concerns about its effect on student access to food.
While all dining facilities will remain open, the university's Smart Restart plan limits access to only housing residents and housing staff through a key-card system. During peak meal times, students can order from the dining halls on the GrubHub app and pick it up outside.
The restriction is currently only planned for the fall semester, but may change, according to Peter Testory, director of dining and culinary services. University officials hope to loosen the restrictions as soon as possible, in accordance with public health protocols.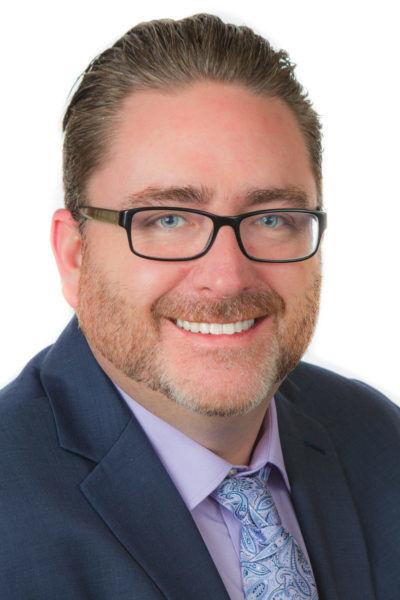 Several students who live off-campus said they would be relatively unaffected by the change because they rely on Downtown grocery stores and delivery services for food. But for others, losing access to dining halls means spending more money and time accessing food.
"I won't be able to get food as easily," said Nathaniel Israel, a sophomore studying computer science who relied on dining halls for meals two or three times a day. "While I could easily get dining hall food that's already prepped before, now I have to make more food by myself, with the limited time I have."
Israel may turn to his parents to drop off food because he said grocery stores near campus are expensive.
"I'm lucky that my parents live within a half hour," he said. "However, most people aren't as lucky."
Fueling a campus
Access to food is a significant campus issue that may be even more widespread than people realize because it's not discussed much, said Brooke Evans, who graduated from UW-Madison in 2017. She wants to see more affordable food options on campus, especially for low-income students, during and beyond the COVID-19 pandemic.
During Evans' time on campus, she experienced homelessness and received most of her assistance from community food banks and student-led organizations, not the university.
Evans joined UW-Madison's student government and other organizations to advocate for students like her who weren't getting their basic needs met. She helped organize Open Seat, the student-funded food pantry.
"The institution likes to talk about poverty — we have the Institute for Research on Poverty — but they don't like to talk about poverty actually there," Evans said.
Twelve percent of UW-Madison students have reported not always being able to afford sufficient food and housing, according to the school's 2016 climate survey. LGBTQ students, students of color and students with disabilities were all more likely to report higher rates of difficulty securing food and housing.
"I used to get told if I was really homeless and having trouble feeding myself, I shouldn't be a student, I should just enroll somewhere like a community college where I'd 'find more people like me there,'" Evans said.
She said she would like to see the university get feedback from students affected by their decision to restrict dine-in service to those living in the dorms.
Lydia Zepeda, a UW–Madison consumer science professor whose research focuses on food production, food consumption and access to food, described "food insecurity" as a huge hidden issue on campus, and said it not only affects students, but staff as well.
"Food is one of the expenses students can control. They don't get to negotiate rent or tuition or utilities, so many use food as the way to budget by skipping meals and eating cheap, unhealthy foods," Zepeda said. "If UW wants to reduce food insecurity it needs to make sure it pays students and staff adequately and increases financial aid to students in need."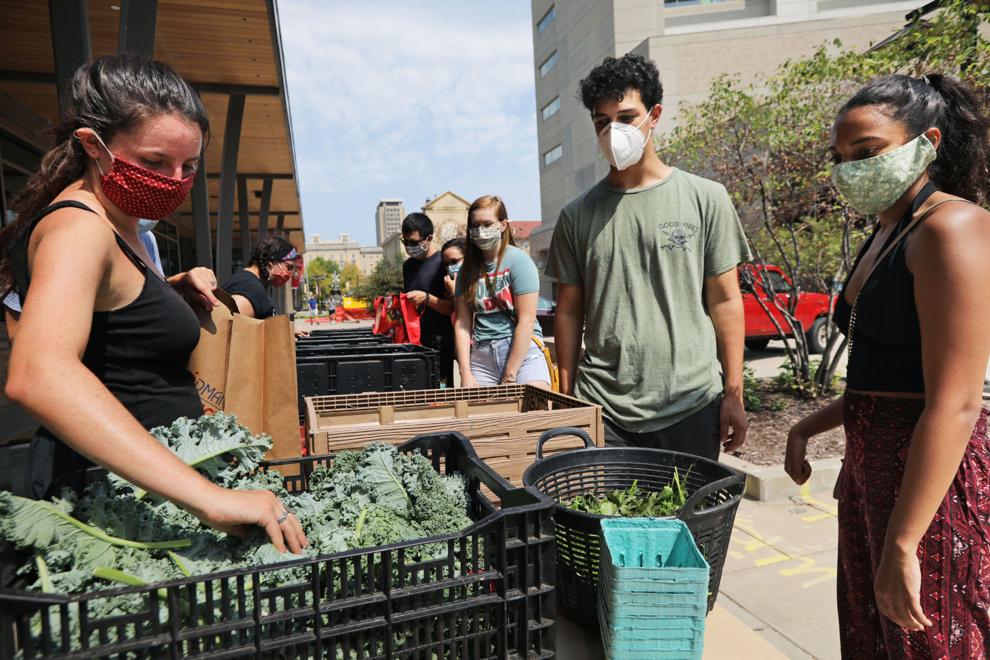 Student groups respond
Student-led organizations are working to make food more accessible to students.
F.H. King Students for Sustainable Agriculture farms fresh produce to give away to students every Tuesday at Union South. The group saw its biggest crowd last week, and it is expecting more demand with the start of classes, said Tyler Beamon, administrative director.
The student-run food pantry, Open Seat, has been offering pre-packaged produce to students alongside F.H. King throughout the pandemic.
"Our food system is already really hard to navigate, and then you throw in the pandemic that affects every aspect of our life and makes a complex thing even more complex," Beamon said.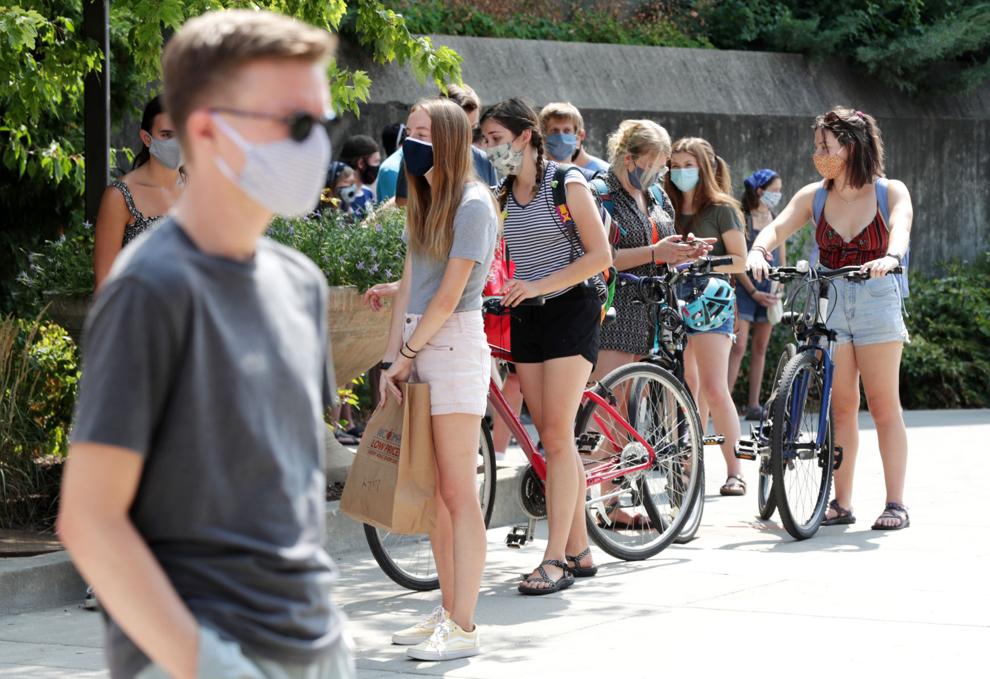 Serving customers
The restrictions to dining halls have added to the complexity of the issue.
The changes are "purely the protocols that we have to put into place to be able to serve customers with our capacity," Testory said. "We are UW Housing, so we want to make sure that we are serving the residents."
Dining halls are funded through the money students pay for room and board and meal plans, not through tuition or other student fees.
However, some students living off-campus argue they are customers of the university, and should still get full access to dining halls.
"I think all UW students should be allowed to use UW dining halls, given we're paying tuition to go here," Israel said.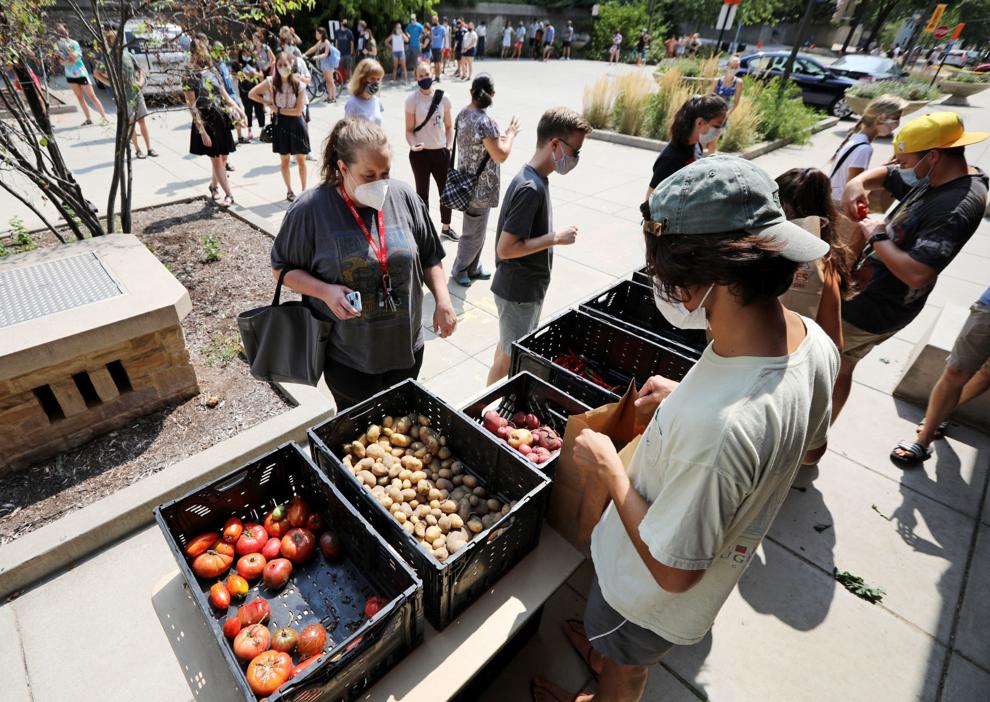 Several students who live off campus noted they still have funds on their Wiscard dining accounts even though they can't enter dining halls.
Testory said during peak meal times, students can order from dining halls with their Wiscard on the GrubHub app to pick up outside. They can also use the Starship delivery robots if their address is within range. The Flamingo Run market in Gordon Hall and Starbucks in Smith Hall also will remain open to non-housing residents.
Memorial Union and Union South will be open to students and is an option for students to use their Wiscard, but university officials are encouraging students to use the GrubHub app and take meals to-go to avoid creating crowds or lines.
However, if students want a refund on their Wiscard dining funds, they will have to wait until they graduate or officially separate from the university.
While Beamon understands the university is trying to reduce the transmission of COVID-19, she hopes the university will "step up to the plate" to address student access to food.
"I think that if they are making the decision to open campus, which I don't personally agree with, they need to make sure that every student on campus that they're inviting back has access to food," Beamon said. "That's unfair of them to bring everyone here and then close everything that you would normally survive on."
Editor's note: After publication, the UW-Madison asked to provide additional comment for this story, which included the following statement: "We are also committed to helping reduce food insecurity on campus for students. University Housing provides an average of 250 meals a week to students in need as part of the Food Recovery Pre-Package Program run in partnership with The Crossing, a Christian Campus Ministry and registered student organization. Any cooked and unserved food from our dining markets are packaged in easily microwaveable containers and then frozen. Any UW-Madison student who feels the need for food can stop by The Crossing and grab these meals. This program has packaged over 1430 pounds of unserved food for a total of 1800 meals to date. In addition, we work with our campus partner, Food Recovery Network (FRN) and community partner, Community Action Coalition, to donate unserved food from our Markets."