A single act of disobedience inextricably ties Pamela Perry to one of the grimmest days in U.S. history — September 11, 2001.
Perry, now a Madison Area Technical College court reporting instructor, worked as a stenographer for the U.S. Marine Corps in her previous life, typing up trial transcripts as fast as her fingers could fly.
In 2008, the Corps began phasing out stenographers, who manually record court proceedings in real time, to a digital recording method that cost less money.
Just two years from retirement and with no desire to learn a new approach, Perry refused.
Which is how she spent her last tour with the Marines at Guantanamo Bay, chronicling the legal proceedings against some of those accused of coordinating the largest terrorist attack on American soil.
"That's how I got to Gitmo," the Sun Prairie resident said.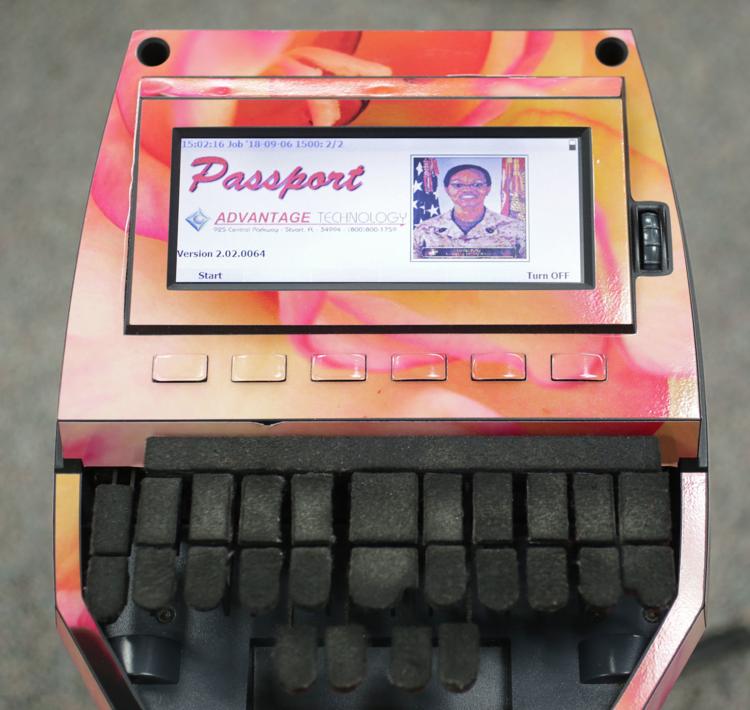 From 2008 to 2010, Perry was one of a select few stenographers on call to cover court commissions at Camp Justice. She estimates she took about 19 trips to the base.
Other court reporters volunteered to go to Camp Justice. Not Perry.
With the 9/11 commissions receiving widespread publicity, she said she feared for the worst: another terrorist attack.
"What better place to take out everyone?" she asked. "You can send me into combat in a supporting role, and I'm fine with that. I expect it there. That's what the Marine Corps trains you for. In a courtroom, I have nothing whatsoever."
She remembers the flexible pencils.
"I don't know how they make bendable lead," she wondered of the pencils provided to detainees at Guantanamo Bay. The instruments' elasticity prevented them from being turned into weapons but allowed the accused to write notes to their attorneys during the court proceedings.
It was a small gesture but one that struck Perry as emblematic of the treatment of prisoners she said she witnessed at Guantanamo Bay.
"When you sit as a court reporter in a courtroom … and during that time the accused says 'If you let me go, I'm still going to kill as many Americans as I can,' then you don't think that we're mistreating them or that we're detaining them unjustly," she said.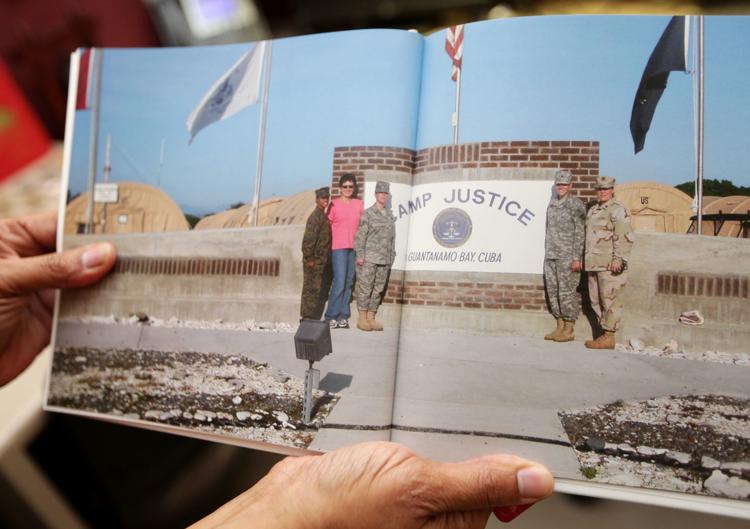 Perry, 50, cannot divulge much of what happened during the commissions. One person who testified was in the witness protection program.
The steno machine she used to type the official record was left on base to reduce the chance of someone downloading what she had typed.
The transcripts she typed varied in length. Some sessions were long and it was dark when she left the building for the day.
But she noted that more breaks were taken during court in Guantanamo Bay than in other courtrooms she'd worked. That's because many of the detainees were practicing Muslims, a faith that requires prayer five times a day in the direction of the city of Mecca.
A natural fit
Born and raised in Cleveland, Perry joined the Marine Corps as soon as she turned 18. She spent the first part of her military career fixing airplanes in the late 1980s.
When Perry transitioned from active duty to the reserves, she hunted around for another job.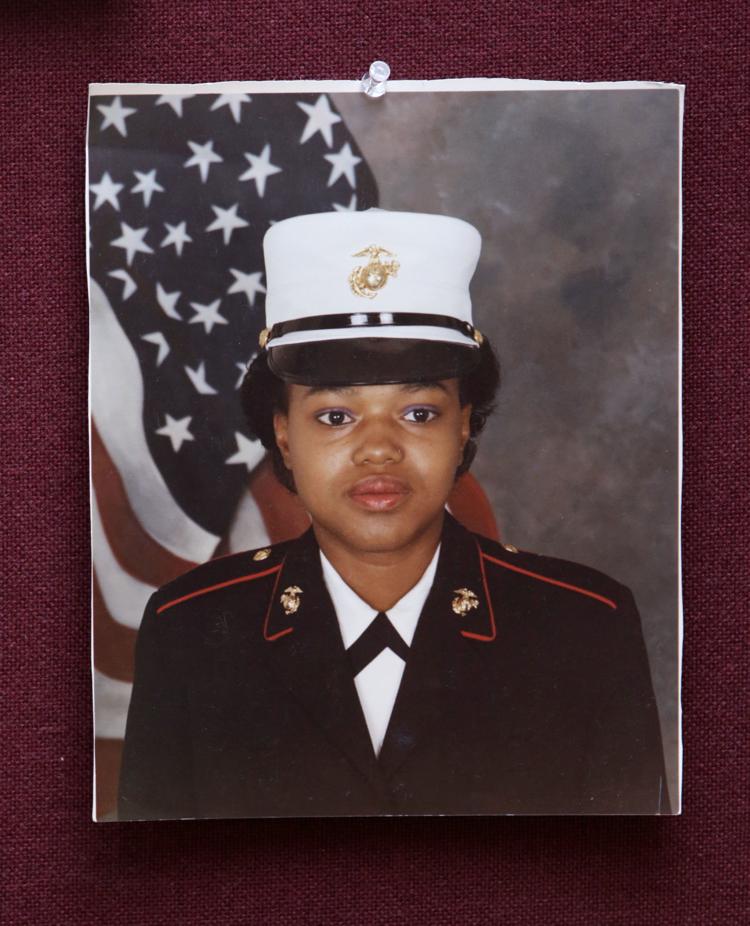 With her nosy nature — she was a fan of the daytime soap opera "Days of Our Lives" — court reporting seemed like a natural fit.
"I don't have to pass judgment," she said. "I'm not responsible whatsoever of whether you're guilty or not, but I get all of the inside scoop."
She enrolled in a civilian court reporting program that offered night classes. But the schedule wasn't working for Perry, who was then a single mother to two young boys.
So Perry pursued transferring to the Corps' court reporting program where her schooling would be paid. The Corps' program, however, was only available to those on active duty — which Perry was not at that time.
The Corps agreed to enroll her in the program with one caveat: If she failed, she was out of the Corps entirely.
According to Perry, about 1 in every five people who enroll in a court reporting program — civilian or military — pass.
"It was basically do or die," she said of that moment in her military career.
'The original texters'
Court reporters dictate at the speed of speech, but the job entails more than being able to type fast.
Some compare it to learning a new language. Others liken it to learning a musical instrument. And a few say it's like learning to do both of those tasks at the same time.
There are 22 keys on a steno machine. Some letters, like "S" and "T," are on multiple keys. Others, like "V" and "I", are missing entirely and must be produced by punching in a combination of other keys.
For example, if the word "city" is said in a courtroom, Perry punches in "STE" and the machine converts the shorthand to spell "city" in the transcript.
"My co-worker calls us the original texters," Perry said of stenographers' shorthand.
Because of the emphasis on phonetics, Perry said that she and other court reporters can dictate someone speaking a foreign language — with no clue as to what is being said — as long as the person speaks slowly enough for the stenographer to hear individual sounds.
To receive certification, students must achieve an accuracy of 95 percent and a speed of 225 words per minute during the "question-and-answer" portion of a trial, when an attorney questions someone on the stand.
Getting up to that speed "takes hundreds and hundreds of mundane, tedious hours," said Lisa Hubbacher, director of MATC's court reporting program.
The school's six-semester program starts testing students at 20 words per minute and, with enough practice, students can advance about 10 words per minute each month.
One of Perry's students, Portage resident Michael David, said he practices about three hours a day, six days a week. Since he started the program in 2017, he has reached 80 words per minute.
Classes are almost entirely taught online. Perry, who started as an instructor at the school in 2017, has a weekly video conference through Skype with each of her more than 50 students.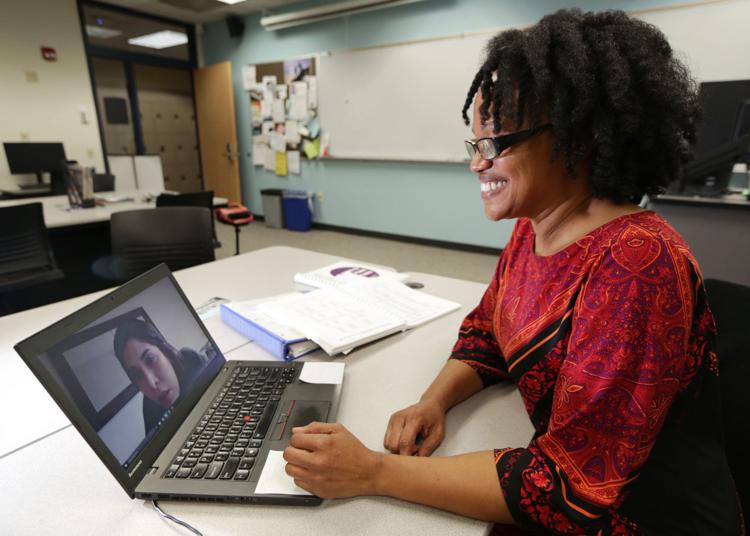 Nationwide shortage
Stenographers privately carry tales of crazy courtroom drama. Court reporters dictate depositions that may never see the light of day. The job puts them in the middle of medical malpractice suits and murder trials.
Julie Chavez, another one of Perry's students, said the job is like "being a paid eavesdropper."
And yet recruiting students to the profession is a challenge across the country. There's a national shortage of about 5,000 stenographers in 2018, according to Chris Willette, a Wausau-based court reporter and former president of the National Court Reporter's Association.
She describes days when Wisconsin's courts are scrambling to fill slots on their calendar with stenographers.
About 350 stenographers across the country receive certification each year. The starting salary for a Wisconsin court reporter is $50,000 to $60,000, she said.
MATC houses one of two court reporting programs in Wisconsin, according to Hubbacher. Enrollment is up from about 15 students in 2014 to 56 this academic year, in part, because of a federal grant.
Advances in technology have created a perception that stenographers are being replaced, even though digital recording is imperfect. Digital devices can't distinguish who is speaking and can't interrupt the court to ask someone to repeat what was just said. These undesirable features are what keep stenographers in high demand.
The Marine Corps has completely phased out stenographers to the digital recording method — a shift Perry refused to adapt to, which led to her assignment in Cuba.
But officials on base have found themselves relying on civilian stenographers, Hubbacher said, because lawyers and government officials need the transcripts faster than what the digital method can provide.
"We're the best-kept secret in town," she said of her profession. "We sit in the corner quietly and do our jobs. If we do it well, you never hear from us."
[Editor's note: This story has been updated to reflect a correction. The original version incorrectly stated the length of time Pamela Perry has lived in Dane County. She is a resident, but not a native, of Sun Prairie.]
Be the first to know
Get local news delivered to your inbox!