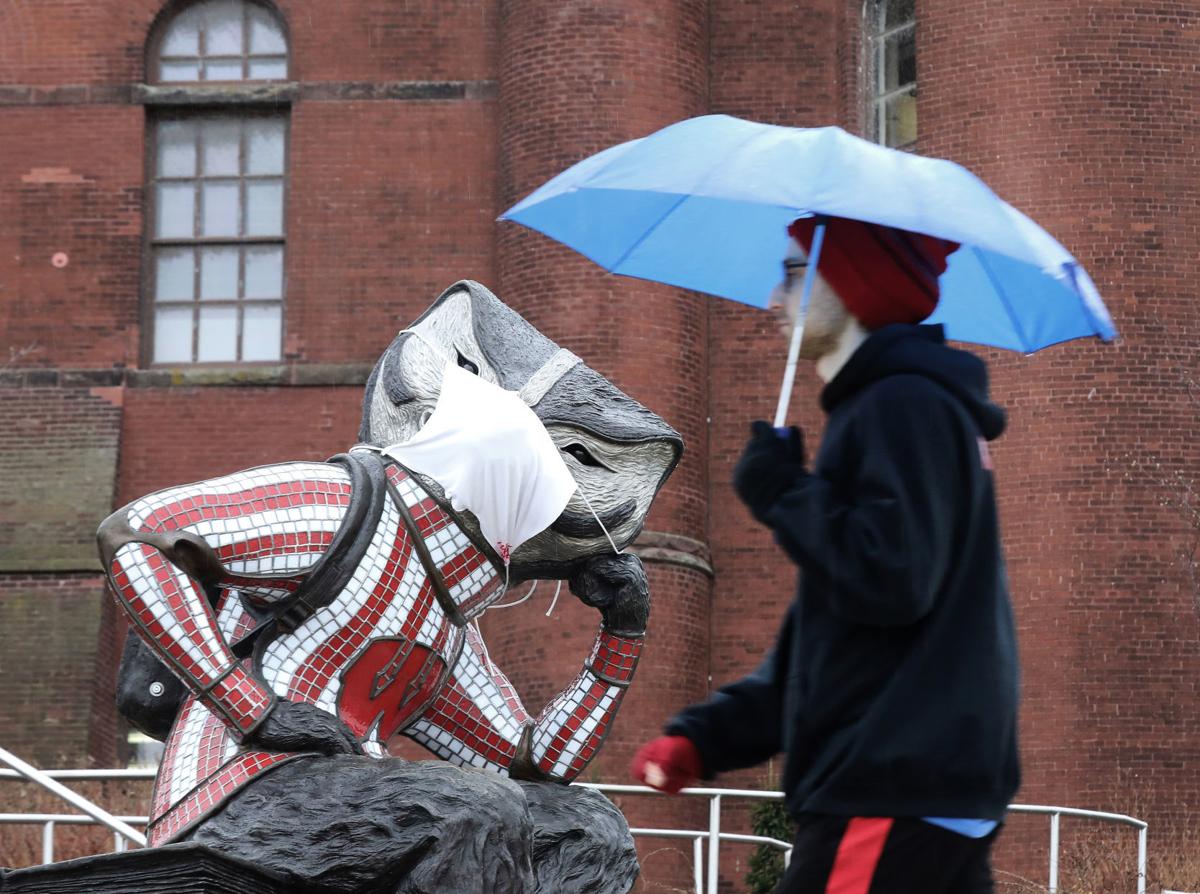 Students and employees on University of Wisconsin campuses this fall must wear a face covering in classrooms and other indoor public spaces.
The UW Board of Regents unanimously passed the mask mandate Thursday, a few weeks after UW System guidelines recommended masks but stopped short of requiring them.
Nearly all campuses surveyed by the Wisconsin State Journal last month had already planned some sort of mask requirement, but several chancellors and Regents said a System-wide requirement would help with enforcement.
As the start of the fall semester nears with no vaccine in sight, reopening plans at the 26 campuses continue to take shape. Key to safely bringing back thousands of students and staff amid the pandemic is a mask requirement, said interim System President Tommy Thompson.
"I don't think you can (open) safely without this mandatory policy," he said.
The former Republican governor and U.S. Department of Health Services secretary, who started his new job July 1, acknowledged that some people see a mask requirement as infringing on their constitutional freedoms. But he said health and safety must take precedent. The policy passed Thursday also "strongly encourages" wearing masks outside when physical distancing is not possible.
Campus leaders are grappling with a host of other problems associated with reopening, including the cost of COVID-19 testing, whether to charge student fees for services that may not be offered this semester and the latest federal guidance that could send thousands of international students home.
As COVID-19 cases rise, particularly among young adults, more professors and staff are raising concerns that reopening is far less safe than keeping all classes online.
Regent Karen Walsh pressed System leaders on whether instructors would be forced to teach face-to-face and if they would have to divulge personal medical information to get the accommodations they need.
Rob Cramer, System vice president of administration, said campuses are working with individuals on a case-by-case basis and are used to dealing with employees' health conditions and the privacy issues surrounding them.
Thompson reiterated the System's commitment to offering in-person instruction, but also said it is "absolutely imperative" for professors to feel comfortable teaching classes in person.
The mask mandate will play a role in easing faculty's fears, he said, but so will widespread testing.
While UW-Madison unveiled a plan that will randomly test up to 2,000 individuals per week, as well as offer free, drop-in testing to any students and staff, most other campuses have been mum on their testing plans — likely because of a lack of money to carry it out.
The System asked Gov. Tony Evers late last month for $60 million to offer free testing this fall to students and employees showing symptoms of COVID-19. Officials also requested another $50 million for masks, hand sanitizer, cleaning supplies and other personal protective equipment.
Evers spokeswoman Melissa Baldauff did not respond to a request for comment on the System's funding request.
Student fees
The Regents also signed off on letting Thompson approve campuses' requests to decrease students fees next year.
At UW-Madison, for example, students paid about $1,400 last year in fees that pay for campus services — some of which were shuttered in the spring because of the pandemic. Many students have argued it is unfair to pony up cash for services they cannot use, while campus leaders have countered that some services are still available remotely and the fees go toward building debt that must be paid.
UW System spokesman Mark Pitsch said there have been informal discussions about fee decreases, but no formal request submitted to the board.
UW-Madison does not plan to amend its fee schedule for the 2020-21 school year, university spokesman John Lucas said.
International students
The latest hurdle for universities' reopening plans came from the the U.S Immigration and Customs Enforcement, which released guidance earlier this week requiring international students to return to their home countries, risk deportation or transfer somewhere else if they don't take at least one face-to-face course.
All UW campuses plan to offer at least some in-person instruction. But chancellors have emphasized the need to remain flexible and potentially move all coursework online if an outbreak emerges — a scenario that could send student visa holders packing.
Several other universities filed suit against ICE over the rule, but Thompson said the System doesn't plan to join. System lawyers determined the federal guidance doesn't directly affect UW campuses, he said, because of the System-wide plan to offer hybrid instruction.
An ICE spokeswoman, however, told the State Journal that the guidance applies to universities if their plans change mid-semester and campuses move to online-only instruction.
Thompson indicated the System's financial strain also played into the decision to stay out of the lawsuit.
"I'm in a money crunch and pennies are important right now at the university and so we have to be very selective," he said.