A Madison Area Technical College student studying in the health care field found herself on the state's caregiver misconduct registry after tending to a nursing home patient with a history of abusive contact and language. Landing on the list jeopardized her ability to work in her chosen field and continue schooling.
The student turned to MATC's legal clinic, which helped her secure letters of support from school staff and prepare for a rehabilitation review hearing, where the request to have her name removed from the registry was granted.
The student's case illustrates how the clinic has saved students from situations that threaten their livelihoods, MATC clinic coordinator Norma Kropp said. In other cases, it has given students a new lease on life by assisting with expungements, pardons and driver's license restorations.
The free legal clinic at MATC, also known as Madison College, opened up shop in September 2019, thanks to federal funding that supports Legal Action of Wisconsin and grant money from Ascendium Education Group. In the two years since the clinic started, Kropp said, staff have received more than 800 requests for legal assistance from students or low-income community members.
One of those requests came from a nursing student who, at 18, made "a stupid mistake" and was convicted of misdemeanor retail theft, Kropp said. Five years later, the conviction prevented her from getting hired at most jobs and made it nearly impossible for her to be placed in a clinic program, a requirement to earn her degree. An attorney helped petition the court for expungement, which was granted.
There are, of course, other places in Madison where individuals can seek free legal advice. But Kropp said housing the clinic on campus brings more visibility to students and offers a level of trust they may not feel from an outside source.
"That's where we've found we can best reach students," she said.
The clinic is also part of a more recent push by community colleges to offer help beyond the classroom. In the same year the clinic began, MATC established a food pantry for students who cannot afford groceries.
"We're trying to do what we can to provide services over and above education," Kropp said. "We try to help the whole person."
The clinic has recently been renewed for another two years of funding, she said, and its model has expanded to some other technical colleges across the state through a program called "Lawyers for Learners."
Attorneys can help clients face to face, online or in a hybrid format, where a client without reliable Wi-Fi comes to the college's Goodman South campus for a Zoom meeting with an attorney.
The most common requests for help involve child support and family law, followed by immigration issues, Kropp said.
Requests slowed in the early months of the COVID-19 pandemic but have picked up since then. Since the eviction moratorium was lifted earlier this year, the clinic has fielded many more questions related to rent and landlord-tenant issues.
No MATC staff provide legal advice. Instead, help comes from attorneys for Legal Action of Wisconsin or local lawyers offering their services for free. Students in the legal studies/paralegal program, which Kropp heads, can intern or volunteer at the clinic, which provides them with experience in legal research, document preparation and drafting.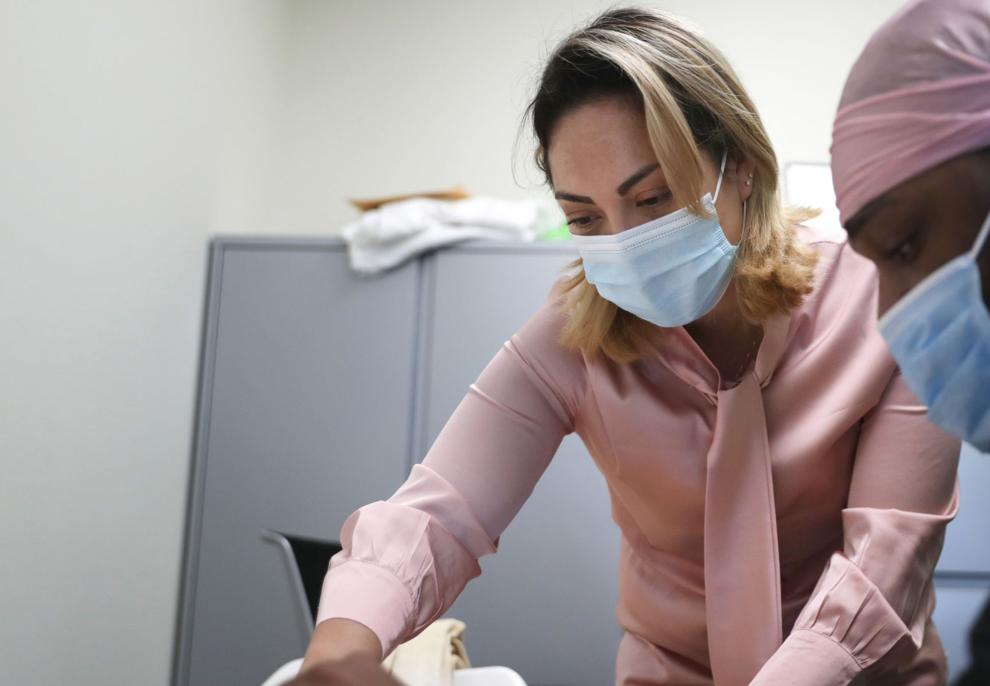 Lyvia Skroblin, who started in the legal studies/paralegal program this semester, interns at the clinic for 15 hours each week. The work has been meaningful, she said, especially the cases involving pardons because "you really see the essence of the person" when conducting such extensive reviews of the individuals and their cases.
"Every time I have a client coming in, they tell me how important the clinic's work is and how we're helping them get a better life," she said.
"Every time I have a client coming in, they tell me how important the clinic's work is and how we're helping them get a better life."

Lyvia Skroblin, clinic intern