Sun and sand awaited UW-Madison junior Jonathon Kreuzer after final exams.
The economics major had already booked his flight to visit grandparents on Hilton Head Island in South Carolina. But when he tried booking a COVID-19 test through University Health Services, he found no appointments left.
Kreuzer and his three roommates headed off campus Tuesday to a free testing clinic on South Park Street. No luck there either.
Kreuzer canceled his flight. His roommates, too, are reconsidering their travel plans because they said they don't want to potentially infect at-risk family members.
"The school needs to understand it's our family's health that we care about as much as our own," said Ravi Singh, a junior studying computer engineering who is one of Kreuzer's roommates. "I guess we might have to do Christmas with the boys."
The situation students are seeing in Madison is not unique. Across the country, demand for testing is outstripping supply as the highly contagious omicron variant takes hold. Some are standing in line for hours at community clinics. Others are flooding pharmacies to buy at-home rapid antigen tests. The New York Times this week wrote about the testing frenzy in a story headlined, "All Anyone Wants for Christmas Is a Covid Test."
The city-county health department expanded testing hours at its South Madison Office this week by about 20%, in addition to adding more hours on Christmas Eve and New Year's Eve, spokesperson Rebecca LeBeau said. There were many opportunities for students to plan ahead and make an appointment at one of the 30 testing sites listed on the agency's website. The state also offers a free mail-order test kit that can be ordered ahead of time.
UW-Madison urged students to start thinking about travel testing as early as Dec. 15, university spokesperson John Lucas said. The testing experience in the lead-up to Thanksgiving led campus officials to adjust its preparations for this week by adding capacity.
"We appreciate the stress that this time of year can bring to students as they wrap up exams and plan for travel for the holidays," he said. "Since the start of the pandemic, UW-Madison has offered widespread testing above the rate of the surrounding community. We have tried to communicate as early and clearly as possible in the face of a developing situation."
There were 3,200 appointments available for this week as recently as Saturday, including some open as late as midday Monday, Lucas said. But staffing and lab capacity constraints prevented UW-Madison from adding more appointments.
"Despite the shortage, we still believe that it's important for us to convey updates as recommended by public health experts to our community so they can take steps, here or in their home communities, to safely enjoy holiday gatherings," Lucas said. "We have advised campus to seek community-based tests and rapid tests as possible solutions, but we recognize these options have become scarce as the general public seeks them as well."
UW-Madison senior Kiera Sundeen turned to an at-home rapid antigen test when she couldn't get one on campus. When the result came back positive for COVID-19, she canceled her flight to visit family in Arizona over break.
"I don't want to risk my grandma's health," she said.
Hoping to get confirmation from a PCR test, which is more reliable, Sundeen tried several Walgreens and CVS pharmacies in the area, along with the South Park Street clinic that is run by the Center for Covid Control. Her friend, another UW-Madison student who accompanied her to the clinic, also tried to get tested because she had been notified of potential COVID-19 exposure and needed to know if she should reschedule a final exam.
But they and about a dozen other UW-Madison students who stopped by the clinic, 405 S. Park St., within a half-hour window when the Wisconsin State Journal observed on Tuesday afternoon were out of luck.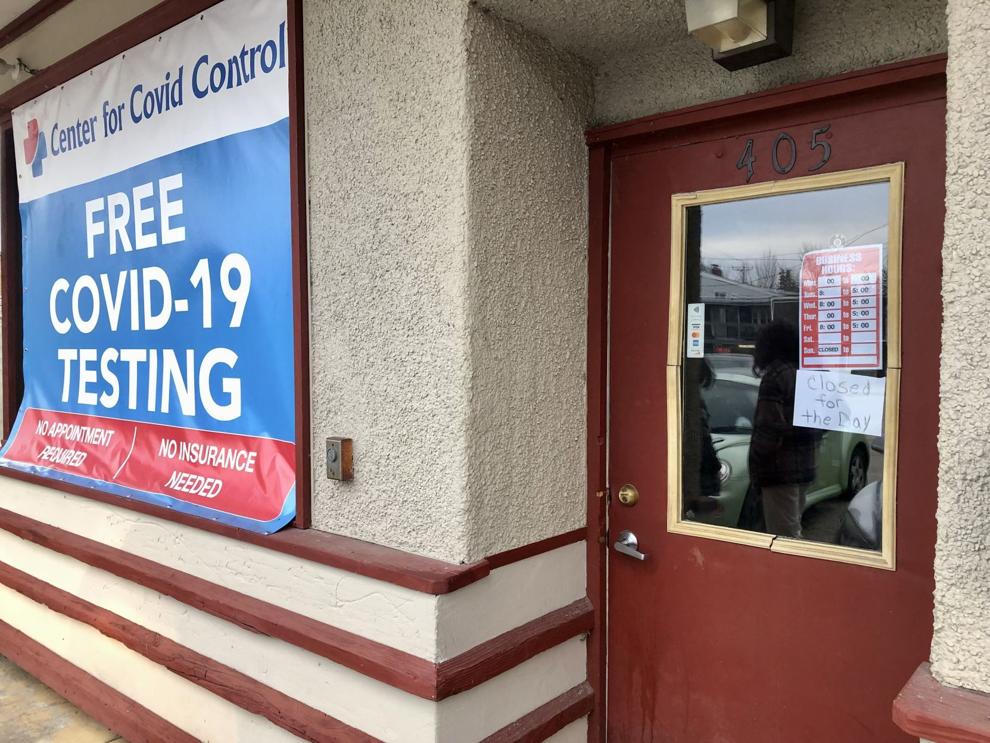 A sign taped to the clinic door read "Closed for the day" despite the posted hours indicating the clinic should be open at the time of their visit. Calls to the clinic went unanswered and the voicemail was full on Wednesday.
Junior journalism major Abby Bradbury, who is fully vaccinated and boosted, went there to get tested as a precautionary measure before heading home to visit family who are at higher risk of contracting the virus. Bradbury's shoulders heaved when she read the sign.
"I guess I'll try again tomorrow?" she said.
---
Higher education reporter Kelly Meyerhofer shares her favorite stories of 2021