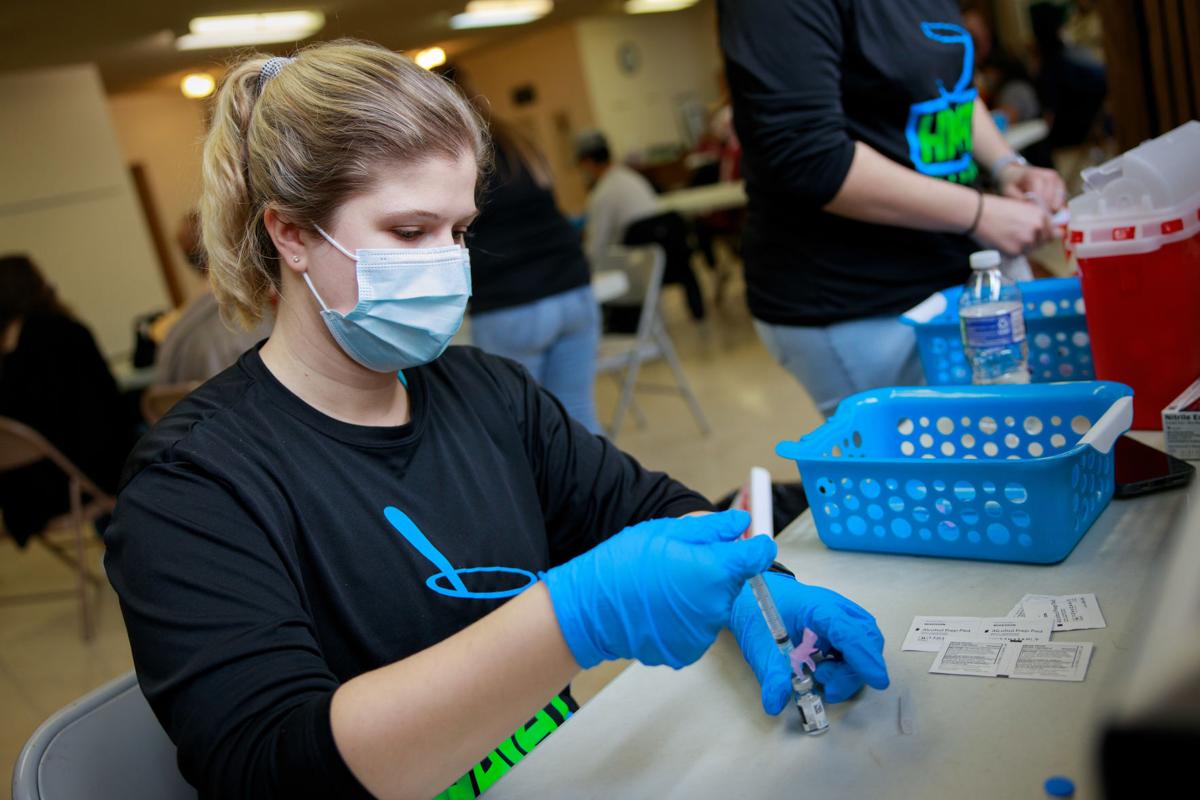 A small private university in Appleton announced that students coming to campus this fall must receive the COVID-19 vaccine, likely becoming the first institution in Wisconsin to require it.
The vaccine mandate for the 1,500 students attending Lawrence University will begin in June, just in time for those enrolled in summer courses.
The University of Wisconsin System has already announced that campuses will encourage but not require the vaccine as a condition of enrollment. Interim System President Tommy Thompson cited legal restrictions, noting that the shots are authorized for emergency use. The former Republican governor also said that it's unhelpful to prevent people with religious, political or ideological reasons against getting the vaccine from going to college.
Dorms, however, add another layer to colleges' conversations about vaccines.
UW-Madison Provost John Karl Scholz told a faculty committee late last month that the university is discussing whether students living in dorms should be required to get vaccinated.
UW-Madison Chancellor Rebecca Blank at last week's Faculty Senate meeting also indicated it could be a possibility because living in residence halls is voluntary. But imposing such a requirement campus-wide is unlikely.
"The politics of this state makes that very difficult," Blank said, adding that those who skip the shot will likely be required to regularly test for COVID-19.
UW-Madison spokesperson John Lucas said Tuesday he had no information to share about the status of the discussion around a potential vaccine mandate for students living in dorms.
System spokesperson Mark Pitsch said there's been no change to Thompson's position encouraging but not requiring students get vaccinated.
Other schools
There are a few noticeable trends among the couple hundred institutions with vaccine mandates. Elite universities with large endowments and less enrollment pressure were among the first to announce a requirement. Of the schools that followed, many tend to be private institutions that aren't subject to the whims of a state legislature for funding to stay afloat. They also tend to be located in blue states where a vaccine mandate is less likely to stoke a culture war.
Leaders at Marquette University, the largest private institution in the state, are still discussing whether to require COVID-19 vaccination, spokesperson Lynn Griffith said Tuesday.
Edgewood College is encouraging but not requiring students to get vaccinated, spokesperson Ed Taylor said.
Rolf Wegenke, who leads the Wisconsin Association of Independent Colleges and Universities, said late last month that he was unaware of vaccine requirements at any of the organization's 23 schools. On Tuesday, he said he was aware of Lawrence's decision but was still working to compile an updated list.
At the state's 16 technical colleges, vaccine requirements will be a school-by-school decision made by each local board, according to Wisconsin Technical College System spokesperson Conor Smyth.
Madison Area Technical College President Jack Daniels said vaccines won't be required.
Following science
At Lawrence University, where about 98% of students live in campus housing, imposing a vaccine requirement for students "made sense," said Christyn Abaray, who heads the university's pandemic planning team and also serves as assistant to the president.
"Science — that's what we've been following this whole time," she said.
Lawrence has mandated other vaccines for many years and allows exemptions for medical reasons, religious belief or personal conviction, Abaray said. Fewer than 1% of students seek exemptions.
Students who don't provide proof of their vaccine or submit an exemption form will face disciplinary action, according to the university's COVID-19 vaccine policy. Employees are encouraged but not required to get vaccinated.
A lot of thought went into Lawrence's decision requiring students to get shots, Abaray said, but it wasn't necessarily a difficult call.
"Our guiding principles do not include the Legislature," she said when asked about the potential political implications of the school's decision. "The health and safety of our community, our academic mission — that's how we made our decision."
Virus by the numbers: 10 charts that show how Dane County is coping with COVID-19
Wisconsin COVID-19 vaccination rates, by county
Wisconsin hospital capacity, by county
Madison-area hospital bed occupancy
Wisconsin COVID-19 vaccine distribution
COVID-19 vaccination rates: How Wisconsin compares
Wisconsin COVID-19 hospitalizations and ICU usage
Wisconsin ICU capacity, by county
Wisconsin COVID-19 testing
Dane county COVID-19 cases
Dane county COVID-19 deaths